PREVIOUSLY: Motorcyclist Killed in Collision on 299 Last Night; CHP Faults Unsafe Passing by Car Driver

# # #
A Eureka man placed on probation for vehicular manslaughter in 2015 was sentenced today to six years in state prison for causing about $200 damage to a business on Harrison Avenue.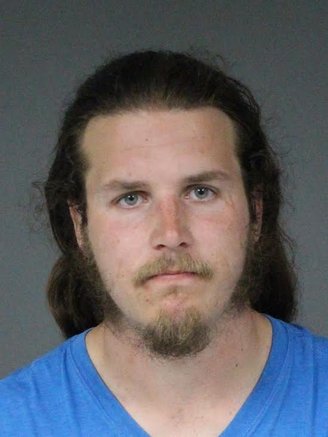 Andrew Joseph James Carrigan, who caused a fatal collision on State Highway 299 in February 2015, admitted last month that he violated his probation by scrawling graffiti on the Lima's Pharmacy building earlier this year.
Judge Timothy Canning sentenced the 27-year-old Carrigan to the six-year-prison term that was suspended when he pleaded guilty to vehicular manslaughter in September 2015.
Carrigan, wearing glasses and a long brown ponytail, seemed accepting of his punishment. He expressed gratitude to the judge and even the prosecutor, Deputy District Attorney Whitney Barnes.
"Thank you, Your Honor," Carrigan said. "Thank you, Madam DA."
Carrigan was not driving under the influence when his car struck and killed 54-year-old Jerry Dean Hathcock on Highway 299 east of Lord Ellis summit. But, according to the California Highway Patrol, he was trying to pass two vehicles by driving on the wrong side of the road on a curve. He had made it past one car and was overtaking the second when Hathcock came around the corner on his motorcycle. Hathcock was pronounced dead at the scene.
Deputy Conflict Counsel Meagan O'Connell represented Carrigan today. He was given credit for about 600 days served, including "good time" credits.