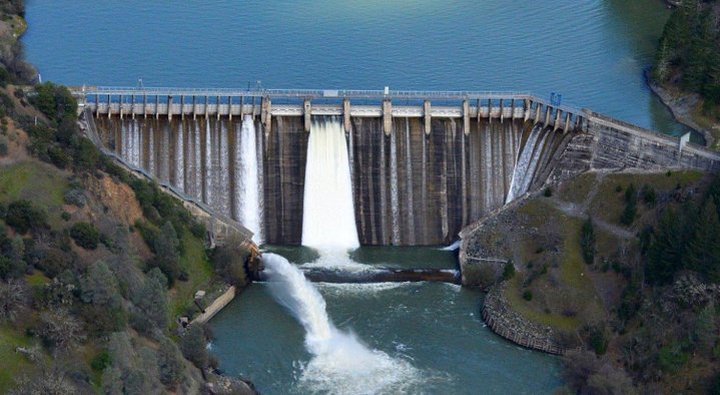 PREVIOUSLY

###
Pacific Gas & Electric has owned and operated the 110-year-old Potter Valley Project since 1930, the heyday of hydroelectric dams in the United States. But now, almost a century later, demand for electricity is down, the project is no longer cost-effective, and PG&E wants out.
In May the utility company announced plans to auction off the Potter Valley Project. The auction process is scheduled to begin Sept. 3. However, PG&E also indicated that it's open to negotiating with interested parties before the auction, and on July 31 a group of Mendocino County government interests, united as the Mendocino County Inland Water and Power Commission (IWPC), sent PG&E a letter, initiating a discussion about simply transferring the project, rather than holding an auction.
Their interest is not in the project's electricity-producing power. (The 9.4 megawatt hydroelectric plant produces enough to supply roughly 6,900 homes.) No, at this point in California's history, electricity is really a secondary commodity, as Congressman Jared Huffman observed earlier this week.
"This [the Potter Valley Project] is a hydroelectric project in name, but in terms of its function it has really become more of a water project," he told the Outpost.
Indeed, the project uses two dams and a tunnel to divert more than 20 billion gallons of Eel River water each year into the Russian River, supplying precious hydration to cities, vineyards and other agricultural interests in Lake, Mendocino and Sonoma counties.
Janet Pauli, chair of the IWPC, recently underlined the high stakes here, telling the Santa Rosa Press Democrat in no uncertain terms, "The water supply needs to be protected. It's very serious. There's no way around it."
Many North Coast locals, meanwhile, argue that the project's water diversions — along with the dams' blockage of historic spawning habitat — have contributed to the precipitous declines of coho salmon and steelhead trout populations in the Eel River basin. Environmental groups, tribes and others have argued that the Potter Valley Project's dams — particularly the larger Scott Dam — should be decommissioned and torn down.
With ownership of the Potter Valley Project now up for grabs, the long-simmering conflict over water use is heating up. Friends of the Eel River, perhaps the most outspoken critic of the project's environmental impacts, worries about the prospect of a takeover by the IWPC.
"This is a bid to maintain the status quo," said Scott Greacen, conservation director at Friends of the Eel. The IWPC, he said, brings together all of the interests that are thirstiest to maintain that status quo.
But Friends of the Eel's biggest fear, Greacen said, is that the IWPC will pursue a non-power license for the project, abandoning energy production altogether in a gambit to evade oversight from the Federal Energy Regulatory Commission (FERC). The agency's requirements for hydroelectric dam projects include water quality standards and providing fish passage where feasible. Greacen thinks the IWPC may seek to bypass those rules and monetize the project's water supply.
Asked if the IWPC would indeed seek a non-power license for the project, Pauli said, "I don't see that happening at this point in time. … Currently we would anticipate acquiring the license for power production."
However, at an August 7 meeting of the Mendocino County Board of Supervisors, Pauli admitted to skepticism about the financial viability of that model.
"Obviously we do know that if Pacific Gas & Electric Company can't make it making power with that project, probably we can't as well," she said, addressing the board. Until the IWPC gets a look at PG&E's books, revealing the project's profits and liabilities, she said, "we really don't know exactly how we'll be able to move forward."
But the stakes — and the objective — are clear. "We're at the beginning of a project that will result in us collectively controlling and protecting our regional water supply resource," Pauli said.
In the midst of all this maneuvering, Congressman Huffman has assembled an ad hoc group of stakeholders, including tribes, environmental groups and water interests, in hopes of finding what he calls a two-basin solution — that is, something that could work for both Eel River interests and Russian River stakeholders. The group is exploring ways to improve fish passage on the Eel while meeting the water supply needs on the Russian.
Regarding the IWPC's overtures to PG&E Huffman said he's "not at all surprised" that stakeholders on the Russian River side are pursuing a takeover of the Potter Valley Project. "Whether this goes anywhere remains to be seen," he hastened to add, noting that the financial challenges would likely be daunting for "such a small agency," considering the project's liabilities.
Those liabilities, like PG&E's financials, remain mostly hidden from public view, spelled out only in documents available to company employees and interested parties who sign a non-disclosure agreement. However, a couple of documents obtained by the Outpost reveal some of the challenges new owners of the Potter Valley Project will face.
A 2017 study from consulting engineering firm Mead & Hunt, for example, found that constructing a functional fish ladder at Scott Dam would likely cost between $55 million and $93 million. The study concluded that, "The most feasible and cost-effective fish ladder design would be challenging to build, complicated to operate, very costly, and would have uncertain effectiveness … ."
There are also seismic concerns. Not only are the two dams, like all infrastructure in California, vulnerable to future earthquakes; they've already been impacted. There's a large landslide, active since the 1970s, along Scott Dam's southeast abutment.
Perhaps more alarming, in 2016 PG&E workers discovered a "spraying leak" about halfway down the 134-foot face of Scott Dam. In a subsequent letter to FERC, PG&E's chief dam safety engineer, David Ritzman, said, "The leak does not appear to be a dam safety issue." Regardless, his letter noted that Scott Dam has a history of leaks and seepage, and the new spraying leak would require extensive inspections and corrective actions.
Asked about the liabilities involved, Pauli didn't sound overly concerned. "We would have insurance for that sort of thing," she said, regarding earthquake risk. "Beyond that," she added, "those dams are inspected yearly by the California Department of [Water Resources Division of] Safety of Dams."
PG&E spokesman Paul Moreno said any agency pursuing a non-power license would have to go through a licensing process very similar to the ongoing relicensing process. (The current license issued by FERC is set to expire in 2022.) The agency would also need to address the same environmental issues and would not avoid requirements for fish passage, Moreno said.
Huffman said the bureaucratic hurdles to obtaining a non-power license are substantial, and it likely wouldn't be a viable alternative for Russian River stakeholders like the IWPC because the water rights are ancillary to hydropower production. Plus, he said, any such license transfer would inevitably involve the state water board, which would hold hearings to address fisheries and public trust issues.
"Any way you cut it, no one will be able to buy and convert [the Potter Valley Project] easily into water supply without addressing the fish passage piece," Huffman said.
While PG&E prepares for a public auction and negotiates privately with interested agencies, Huffman's ad hoc committee continues to pursue a two-basin solution. From the outside the prospect of compromise — from either side — looks challenging.
Russian River interests say the water diverted from the Eel and stored in Lake Pillsbury is absolutely essential to the lives and livelihoods of residents in Lake, Mendocino and Sonoma Counties.
Greacen, meanwhile, says there can be no two-basin solution unless Scott Dam is removed. The chinook habitat under the reservoir and the summer steelhead habitat behind the dam are essential to the survival of those populations, he said.
Huffman, for his part, remains optimistic. He has developed a set of principles for his ad hoc group that includes fish passage and water supply. "We're trying to see, are there some sweet spots to do both?"
Scott Dam and Lake Pillsbury.