Two men charged with murdering a 16-year-old girl who died of a methamphetamine overdose were instead held to answer today on charges of involuntary manslaughter.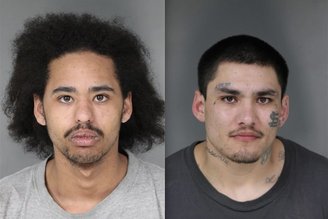 Judge Dale Reinholtsen ruled this morning there was not enough evidence to hold Tavin Dee Evans, 20, and Anthony Manuel Burgess, 26, to answer for murder in the February 2017 death of Eureka resident Alyssa Claybon, found dead at the Best Western Bayshore Inn on Broadway. The judge held Burgess to answer on a theory of "aiding and abetting" in the teen's death.
Claybon's mother Nicole Eldridge Spencer, tears streaming down her face, declined to comment on the judge's decision. She continued to weep as the prosecutor, Deputy District Attorney Joel Buckingham, hugged her and tried to comfort her. Evans' mother, who was in court throughout the three-day preliminary hearing, also declined comment.
PREVIOUSLY
The teen was found dead after motel management, alerted by guests who heard screaming and banging in Room 101 at the motel, called the Eureka Police Department. Evans had refused to let anyone into the room, saying it was a violation of his privacy. Not only was Claybon dying or dead in the room, it contained drugs and firearms.
EPD Officer Ben Altic, first at the scene, testified he found Claybon lying face-down on the floor in a second bedroom in the unit. Evans told the officer he believed the girl was sleeping.
The teen wasn't breathing and had no pulse, Altic recalled, but her body was so warm he thought he might be able to bring her around. He started CPR and mouth-to-mouth breathing, to no avail.
According to later testimony Claybon died from the high level of meth in her body, and she also had a heart defect _ a hole in her heart _ that might have made her more susceptible to heart failure from the drug.
According to testimony during the hearing, a number of people were using drugs in Room 101 the night of Feb. 7, 2017. Claybon had been using for the previous couple of days, including using meth intravenously, and died after being injected with a large quantity of the substance. It's alleged Evans was one of the people who injected her.
Spencer, who testified during the hearing, said her daughter had run away but was in contact with her by cellphone. She had tried to persuade her to come home, telling her she wasn't safe if she wasn't there with her parents. The mother said she was unaware her daughter was a drug user, with the exception of one time she was caught in the act.
But judging by private Facebook messages obtained by former Eureka Police Department Detective John Gordon, the girl was addicted to heroin, methamphetamine and tranquilizers.
As early as November 2016, Gordon testified during the hearing, Claybon messaged Evans that "We have a problem, T. I love BLK (black tar heroin.) I just risked everything and smoked some in my room." She wanted more, and she also asked him for "White," or methamphetamine.
In early February, days before her death, Claybon asked Evans if he had any "bars."
"OMG," Evans responded. "Now you're taking Xanax?"
"I know. I'm doing anything I can."
On the day before she died, Evans picked Claybon up at school. She had been messaging him that she was so sick she almost went to the hospital. She described herself as dizzy, sweating and shaking, nauseous, unable to walk. And she said her veins hurt.
"They're going to be sore," Evans responded. He was trying to convince her to order a pizza.
A friend of Evans' who gave him and Claybon a ride that day said the girl appeared to be "crawling out of her skin and had the devil about her," but insisted she was all right.
Evans and Claybon were not involved romantically, though she reportedly considered him as an older brother who would look out for her. Burgess had never met Claybon until a few hours before she died.
In September 2017 Spencer, desperate to learn what had happened to her daughter that night, tried to visit Evans in jail. He'd already had another visitor that day and couldn't see her, so she visited Burgess instead. The jail recorded their conversation.
Burgess insisted the death was an accident, and "I tried to help your little girl."
He said he had left the room briefly and the teen appeared fine, but when he returned she seemed to be out of her mind, screaming and banging her head against the wall. Burgess said he tried to persuade Claybon to smoke some marijuana and take a cold shower, which he hoped would "shock" her out of the state she was in. She did take a shower, but it didn't seem to help.
Burgess said he told Evans to call an ambulance and report an overdose. He then left because he knew there was a warrant out for his arrest on another matter. Prosecutor Buckingham argued that made him liable, because she was relying on him for help and he abandoned her.
As for Evans, he placed no call for help. At various times during the evening he explained to people knocking at the door that Claybon was having a nightmare, sleep-walking or just sleeping.
Earlier in the evening, Burgess' girlfriend Christina Higgins had tried to persuade Claybon to leave the motel with her. Higgins told Detective Gordon she could tell Claybon was young, and she tried to convince her to stop using drugs.
Claybon responded "I'm a grown-ass woman and I can do what I want," Higgins told the officer.
Reportedly even Evans was trying to discourage Claybon from using, telling her she needed to go to sleep. But he allegedly also is person, possibly along with a another man known as a drug dealer, who injected her with a large amount of meth. Burgess, speaking to Claybon's mother, said it "may have been an 8-ball."
Reinholtsen, in making his ruling, held Evans to answer for involuntary manslaughter based on the fact that because of their close relationship he had a legal duty to her, that he had failed to perform that duty and was criminally negligent. As for Burgess, the judge ruled he aided and abetted the crime.
Neal Sanders, representing Burgess, said outside of court he finds it odd that Burgess is being charged for trying to help.
"If he had just done nothing and walked away he'd be innocent," Sanders said.
Attorney David Celli, representing Evans, had questioned during the hearing whether Burgess had really told Evans to call for help. He didn't say anything about that when he told his girlfriend about the death, Celli said. He also pointed out Claybon seemed determined to use drugs and was "seeking them from multiple sources. "
According to Evans, Claybon was well enough to tell him "Leave me alone" when he tried to talk with her shortly before she was found dead.
The penalty for involuntary manslaughter ranges from formal probation to four years behind bars. Burgess is already serving a seven-year prison sentence for robbing a marijuana dealer at gunpoint. He was brought back to Humboldt to face the murder charge.
Evans, who initially was detained and released after Claybon's death, has been in jail since Christmas Eve 2017, when he allegedly led law enforcement on a high-speed on his motorcycle. Evans and Burgess weren't charged with murder until earlier this year, after the investigation was complete.
They are scheduled for arraignment Sept. 6.