A potential witness in the gang-related murder of a 14-year-old Eureka boy has been sentenced to seven years in state prison for robbing a marijuana dealer at gunpoint.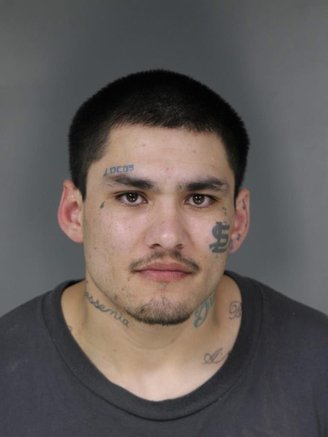 This morning Judge Dale Reinholtsen sentenced Anthony Manuel Burgess, 25, to three years for second-degree robbery and four years for the special allegation of personal use of a firearm. Burgess was sentenced immediately after pleading no contest to both charges.
"On Aug. 10, 2017, the defendant used a firearm and stole three pounds of marijuana ," Deputy District Attorney Whitney Barnes said in stating a factual basis for the plea. "He held a gun to the victim's head and demanded the marijuana."
The victim, a bespectacled man who appeared to be in his 40s, was in court today but did not make a statement.
Burgess's co-defendant in the case was arrested soon after the hold-up. Burgess was a fugitive until Aug. 27, when he was arrested after fleeing on foot during a traffic stop. The driver of the car was Carolyn Snow, another witness in the upcoming trial of three men charged with murdering Jesus Romero Garcia in December 2014. Snow, 28, was arrested for suspected DUI and also booked on a warrant for failing to show up in court on the murder case. She was released from jail a few days later.
This morning Burgess seemed in a hurry to get out of Humboldt County, asking the judge whether he would be on his way to prison within a week. Reinholtsen said he would be on the first available bus.
Prosecutor Barnes told the judge Burgess is a witness in a homicide case, and the judge said a court order may be needed to bring Burgess back from prison. But after the sentencing, Burgess indicated to his attorney, Deputy Public Defender Heidi Holmquist, that he will refuse to testify. He has refused during previous court hearings.
The accused murderers are Mario Nunez, Joe Olivo Jr. and his son Joe Olivo III. All three are confirmed gang members. It's alleged they went to Snow's apartment on P Street, where Garcia was staying, and the younger Olivo fatally stabbed Garcia. The killing was reportedly in revenge for Garcia mocking Olivo for requesting protective custody while in Juvenile Hall.
Another potential trial witness, Michael Grant, is in jail on a charge of attempting to murder his girlfriend. His next court hearing is set for Wednesday. Grant was in Snow's apartment when the boy was stabbed.
PREVIOUSLY (MARIJUANA ROBBERY):
PREVIOUSLY (GARCIA-ROMERO HOMICIDE CASE):
PREVIOUSLY (VARIOUS BURGESS):