An Orick father was arraigned this morning on a charge of murdering his ex-girlfriend's boyfriend by stabbing him in the heart as his own young sons watched from just feet away.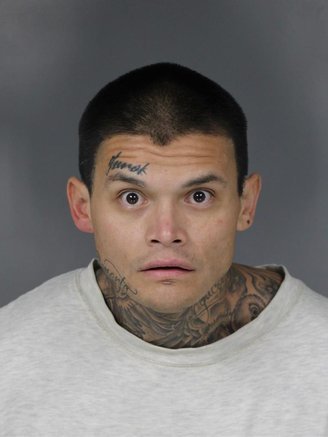 Deputy Conflict Counsel Joe Judge, representing Ronald Loureiro Jr., entered not guilty pleas on his behalf during the arraignment before Judge Christopher Wilson. Wilson advised the 30-year-old Loureiro he is charged with murder, the special allegation of using a knife and three counts of child endangerment. Loureiro's sons, ages 8, 6 and 2, were in the back seat of a car when their father allegedly knifed Vernon James Weatherford as he sat in the front seat.
Loureiro was held to answer on the charges at a preliminary hearing last month. During that hearing, a sheriff's detective testified she interviewed the children and they were distraught that their "real dad" had killed the man they knew as Dad.
Loureiro already has two strikes on his record under California's "Three Strikes and You're Out" law. He was convicted of assault with a firearm in 2007 and assault with a deadly weapon in 2015.
He has been in Humboldt County Correctional Facility since Jan. 4, the day of the alleged murder. Since his mugshot was taken, Loureiro has acquired a pair of glasses and gained some weight. Numerous tattoos are visible above the collar of his orange jail jumpsuit.
This morning Deputy District Attorney Joel Buckingham, who is prosecuting the case, asked that a trial-setting date be scheduled instead of specifying a trial date now. The trial-setting hearing is set for Aug. 16.
During the arraignment, Judge Wilson gave subpoenaed mental health records on Loureiro to the Conflict Counsel's Office.
PREVIOUSLY: