A Hoopa man suspected of gunning down his older sister pleaded not guilty today to charges of murder and being a felon in possession of a firearm.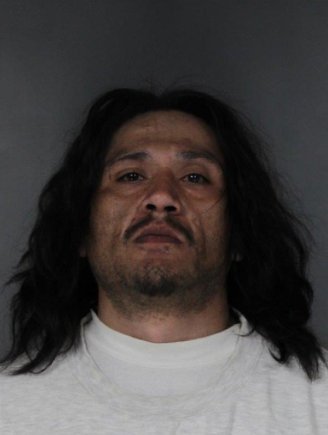 Deputy Public Defender Luke Brownfield entered the pleas on behalf of Antone Richard Aubrey IV, who also is charged with the special "Use a Gun and You're Done" allegation that can add 25 years to life to any prison sentence.
Aubrey, 30, sat quietly with hands clasped, saying nothing but "Yes" when Judge John Feeney asked him if he wanted a lawyer. After the arraignment he spoke privately with Brownfield, at one point smiling and shaking his head.
Feeney added $50,000 to Aubrey's $1 million bail and set his preliminary hearing for March 5. Deputy District Attorney Candace Myers was in court for the prosecution.
On Saturday afternoon, Aubrey allegedly shot and killed his sister, 33-year-old Angel Aubrey, behind the gas station in Hoopa. Angel Aubrey died at the scene, and her brother was arrested nearby shortly afterward.
PREVIOUSLY:
On her Facebook page, Angel Aubrey described herself as "a single native mother set with my ways of the elders. My native laws apply first." She had 561 Facebook friends, but her brother Antone was not among them.
Angel Aubrey's slaying is the latest tragedy in a family that has experienced more than its share of violent death.
In June 1995, her mother Rachel Saxon and 11-year-old brother Issac Lyle Saxon were shot by a high-powered rifle in their home on Bald Hill Road. Rachel, 30, was found dead in the kitchen. The mortally wounded Issac hid under a bed in the bedroom. Antone Aubrey, then 7 years old, lay next to his brother as he bled to death.
This reporter covered the first trial of Rachel Saxon's off-and-on boyfriend, Jon Daryl Matilton, in 1996. The jury hung, and Matilton was re-tried. Again the jury hung, and Matilton was released from custody.
Many years later a witness came forward and implicated three other Hoopa men in the killings. In 2003 Samuel Derick Pratt, then 30, was convicted of two counts of murder and sentenced to prison for life. Pratt is now 45 and in Solano State Prison.
An accomplice, Dana Owen Chisum, pleaded guilty in 2005 to voluntary manslaughter and has already served his time in prison. Charges against the third suspect were dropped.