PREVIOUSLY:

###
When Eric Lively left his job site a couple of hours before his truck struck and killed Jesse Simpson, he reportedly made a strange request of his co-workers.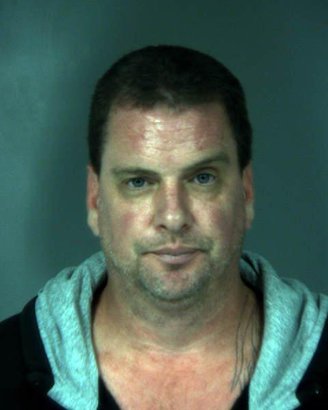 "If something happens to me, sell my belongings and give (the money) to my kids," Lively's former construction boss testified yesterday during Lively's trial on a charge of murder. That statement capped a day of odd behavior, Timothy Mahony said, including Lively telling him he was the only person he trusted, "and when he looks at me he thinks I'm Crystal his girlfriend."
Earlier in the day, Mahony testified, "he mentioned he might go kill his neighbor."
Lively claimed his neighbor had robbed him, Mahony said, and at one point he borrowed his cellphone to call the Sheriff's Department. Later he drove from the job site in Ettersburg to the sheriff's substation in Garberville to make a report in person.
Then, Mahony said, Lively asked him to come with him to his home in Shelter Cove, about 40 minutes away, because he wanted to gather some valuables and he was afraid to go alone. Mahony said he complied. He went into Lively's house but only stayed about five minutes because "It just felt creepy in there."
Waiting outside on the tailgate of his truck, Mahony watched Lively come out with a guitar case, two small suitcases and a garbage bag. He put them in the back of Mahony's truck. He also brought out a compound bow, which he placed in the back seat.
All of this testimony came under questioning by Deputy District Attorney Adrian Kamada. When defense attorney Russ Clanton began his cross-examination, he asked Mahony if he drove Lively all the way to Shelter Cove "out of the kindness of your heart."
Mahony said yes.
Then Clanton listed the "valuables" that Lively went to pick up that day: 5 pounds of hash, 15 pounds of high-quality marijuana bud and 50 pounds of marijuana "shake."
Not only did Mahony know about the weed, Clanton charged, he was partnering with Lively in a profitable transaction of contraband.
"Absolutely not," Mahony said. "Absolutely not."
He said he was a little suspicious about what was in the bag and suitcases, but didn't know for sure. Mahony said he understood that if Lively had been robbed, he would want to clear valuable items out his house.
"You mean the shatter (hash) the bud and the shake," Clanton said.
Mahony said if he would have known about the marijuana "I wouldn't have gone there."
As of May 3, the day Simpson was killed, Lively had worked with Mahony's crew for about two months. Mahony said Lively had spoken more than once about his neighbors in Shelter Cove "messing" with him, and Jesse Simpson's name came up a few times.
"He generally talked about Jesse robbing him," Mahony said.
Simpson, 42, had been weed-whacking for another neighbor when Lively's 2008 Toyota pickup truck struck him at the intersection of Debbie Lane and Eileen Road in Shelter Cove. Clanton contended during opening statements that Simpson was high on meth and was hit when he swung at Lively's truck with the weed-whacker.
Lively's 17-year-old daughter was back on the witness stand yesterday, adding to her previous remarks that her father, who she sometimes refers to as "the defendant," looked not only frightened and jumpy but "guilty" when he arrived home after his truck hit Simpson.
Emma Lively repeated earlier testimony that her father arrived home in his smashed truck, told her not to call police and gave her a leather case containing about $3,000 in cash and some jewelry. She added hat her father unplugged the house phone. But he also said, the girl testified, that Eric Lively said "I've got to go help Jesse. He's still alive."
Under cross-examination by Clanton, Emma Lively acknowledged she is now living in Arizona with her aunt, who wants to adopt her and have her father's parental rights terminated.
"And you agree with that," Clanton said.
"Yes."
There has been some question about whether the aunt, who is in Eureka with her niece, has been intimidating Emma Lively into giving testimony that will "assure a conviction," as Clanton said.
"I don't think she's been influencing me at all," Emma Lively testified.
Testimony was expected to continue today before Judge Christopher Wilson.