The problem for the prosecutor is that Jesse Simpson had a few beers and a lot of methamphetamine in his system when murder suspect Eric Jason Lively ran over and killed him on May 3 in Shelter Cove.

The problem for the defense attorney is that Lively apparently was obsessed with the belief that Simpson had burglarized his house, and he spoke earlier that very day about killing him.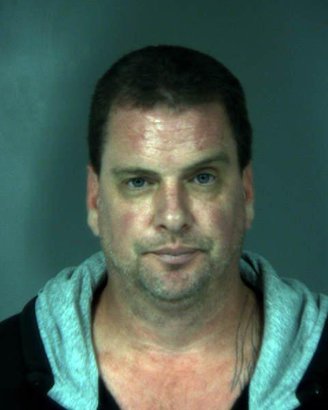 Yesterday jurors heard opening statements and the first testimony in Lively's trial on a charge of first-degree murder. Deputy District Attorney Adrian Kamada and defense attorney Russ Clanton agreed that Simpson and Lively had a contentious history. But Kamada says evidence will show Lively committed cold-blooded murder, while Clanton told jurors they will see Simpson's death was a "tragic accident" that he caused by swinging at Lively's truck with a weed-whacker, only to miscalculate and be struck and killed.
Kamada told the seven-woman, five-man jury that on the day Simpson was killed, Lively was ranting to fellow construction workers that Jesse Simpson was stealing from him and Simpson's brother "was sleeping with his ex-girlfriend."
When the fed-up co-workers suggested there might be someplace else he'd like to go, he reportedly responded "Like go kill my neighbor?"
Lively, 45, had 20 pounds of marijuana at his house, and he was so worried about it being stolen he convinced the construction boss to drive from the work site in Ettersburg to Shelter Cove to pick it up. He also picked up guitars, amplifiers and a compound bow. He reportedly spent the rest of the work day sighting in the bow and taking practice shots.
Around the same time, he called the Sheriff's Department to report his neighbor or neighbors had stolen jewelry and $3,000 in cash from his home. Kamada said Lively then drove home, where he told his teenage daughter that Jesse had stolen from him.

Lively then swapped his brand-new truck for his 2008 Toyota Tacoma and drove off.
Kamada said that "in his own words," Lively described seeing Simpson weed-whacking on the side of the road.
"He stops about 50 yards before the stop sign (at Debbie Lane and Eileen Road), makes eye contact with Jesse Simpson and then accelerates forward," Kamada said. As Lively reportedly told investigators "I hit the gas. I peeled out." Lively told law enforcement he didn't brake until after he'd hit Simpson.
It seems undisputed that Lively was distraught afterward. He asked neighbors for help and tried to put Simpson in the back of his truck. There is no cellphone service in the area, so he drove at high speed toward the Shelter Cove Volunteer Fire Department more than two miles away, not realizing someone had used their land line to call 911.
Kamada said Lively then drove home, where his daughter saw the damaged Toyota and asked what happened.
Lively reportedly said "I hit Jesse. Don't call the police."
Interestingly, he gave his daughter some jewelry and $3,000 in cash before taking off again.
While he was home, neighbor David Reddy stopped to ask him what was going on. Lively was carrying a container of water, and Reddy said he told him he had hit Jesse and needed to wash the blood off his truck.
Clanton pointed out Lively has never denied driving the truck that ran over Simpson. But he said expert evidence will show the fatal collision was an accident caused by Simpson himself.
The scenario, Clanton said, was that Lively didn't see Simpson until he was very close, because a boat and trailer blocked his vision.
When Lively and Simpson made eye contact, Clanton said, "Mr. Simpson left the area where he was working and stood in the middle of the road, preventing Mr. Lively from turning left (toward his home)." So instead, Clanton said, Lively did the unexpected: accelerated and started turning right.
Clanton said Simpson "used the weed-whacker and tried to hit Mr. Lively's truck." He said there is a mark on the truck from the weed-whacker.
"In leaping toward the car to do that," Clanton told the jury, "he was struck by the front end of Mr. Lively's truck."
Clanton promised that expert witnesses "will explain detail how this collision occurred."
Simpson, 42, was still wearing the "industrial-sized" weed-whacker and its harness as he lay mortally wounded on the street. He died shortly afterward.
Clanton said the pool of blood was in the road, not where Simpson had been weed-whacking.
He also offered an explanation as to why Simpson might have done something like swing the machine at Lively's vehicle.
"Mr. Simpson had a potentially lethal amount of methamphetamine in his system at the time of this accident," Clanton told the jury.
Shelter Cove resident Autumn Enright, who had hired Simpson to trim her overgrown grass that day, testified that he showed up that morning "very happy and energetic." It was a hot day and he was wearing shorts, Enright recalled, so he had to go home and put on something more appropriate for the job.
Simpson worked about 15 minutes, then left without saying anything. Enright waited about four hours before she gave up and went to the beach. When she returned home a few minutes before 5 p.m., "I saw an ambulance and personnel around Jesse's body."
Neighbor David Reddy testified he knew both Simpson and Lively and had a cordial relationship with both, though he didn't have much interaction with either.
But he did recall standing on his deck one day a few years ago and seeing Lively walking down the street carrying a baseball bat. He was slapping the bat into the palm of his hand.
"Where's the game?" Reddy asked him.
"I'm going down to Jesse's house," Lively told him. "I'm going to straighten him up."
Reddy said he went into his house "and felt a little uneasy."
Clanton questioned him about why he hadn't called law enforcement. Reddy said his neighborhood is so quiet and the houses so close, he would have heard any altercation.
Reddy also recalled once seeing Lively and Simpson fist-fighting in the street.
Yesterday Lively had traded his orange jail jumpsuit for a dark pin-striped suit, white shirt and blue polka-dot tie. About a dozen of Simpson's friends and family members were in the audience, none of them apparently impressed by his appearance.
"Piece of shit," one man said, not quite loudly enough to be heard by the bailiff.
Testimony was expected to continue today before Judge Christopher Wilson.
# # #