One person convinced that Eric Jason Lively committed murder is his own teen-age daughter.

In the second day of testimony in Lively's trial for the death of his neighbor Jesse Simpson, 17-year-old Emma Lively explained why she didn't call the law after her father came home in a smashed, blood-stained truck and with blood on his hands and shirt. He told her not to, and she was afraid to disobey.
"Well," Emma Lively said in response to a question by Deputy District Attorney Adrian Kamada, "my father was in a state of mind that he went down and killed Jesse, so if I called the police I don't know what would have happened."
Emma Lively spent her time on the witness stand looking everywhere but at her father. Even when she was asked to point him out in the courtroom, she managed to avoid eye contact. Eric Lively sat stiffly, staring straight ahead.
The girl testified that her father came home about 3:30 p.m. on May 3, going straight to his upstairs bedroom and using a key to unlock it. He came out saying Jesse Simpson had robbed them.
Emma Lively said she tried to assure her father that Jesse was innocent, but he was convinced. He had arrived home in his 2017 Toyota Tacoma, but took off in his old 2008 pickup truck. About 20 minutes later he was back at their home on Debbie Lane, with the pickup truck smashed in front and blood "on the smashed part."
The daughter said her father got out of the truck and she asked him what he'd done.
"He ushered me inside and told me not to call the police," she said.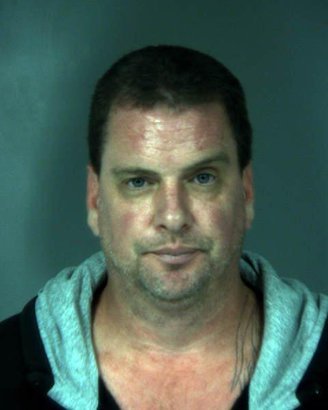 Then, Eric Lively went to his upstairs bedroom. He came out with clean hands and no shirt, and he gave her a bag containing some jewelry and about $3,000 in $20-dollar bills.
A couple of hours earlier, Eric Lively called the Humboldt County Sheriff's Department to report his home had been burglarized of $3,000 and some other items. He said the suspects were his recently estranged girlfriend, plus Jesse Simpson and his brother Thomas Simpson. Lively explained that the Simpsons had been out to get him since he reported a couple of years earlier that Jesse Simpson was selling methamphetamine.
Since then, Lively told the sheriff's dispatcher, "they treat me like I'm a cop or a snitch."
Lively had an elaborate explanation about how the suspects could have gotten his house keys, because there was no sign of forced entry.
There is no dispute that Lively and the Simpson brothers had a long-time history of contention. There's also no dispute that Lively's truck struck and killed Jesse Simpson at the intersection of Debbie Lane and Eileen Road in Shelter Cove. In question, though, is whether Lively deliberately ran his neighbor down, or whether Simpson swung at Lively's truck with a weed-whacker and was accidentally hit in the process.
All witnesses have said Lively was distraught, even frantic, after his truck hit Simpson.
Neighbor Eric Snyder heard the collision, which he testified today sounded like two cars colliding. He walked down to the scene and saw Simpson lying on the ground. Lively was yelling that "we should do something, we should move him."
"He was yelling. He was nervous," Snyder said. "He wanted to touch Jesse."
Snyder said Lively had a pitcher of water and wanted to give Simpson a drink. Others have testified that Lively first used that water at his house to wash the blood off his truck.
Lively also wanted Snyder to put Simpson in the back of his pickup truck so he could drive him to the hospital. Snyder refused.
Snyder seemed uncertain whether he wanted to identify Lively as the person who hit Simpson, sometimes referring to him as just "the man," other times calling him Eric. Even in the courtroom he was hesitant to identify him, saying that with his glasses, suit and tie he looked completely different.
Defense attorney Russ Clanton, cross-examining Snyder, pointed out that he had clearly identified Lively to law enforcement the day of the fatal collision. Clanton also asked Snyder whether it was true he told a defense investigator he was Simpson's friend and on his side.
"I don't know if I said it exactly like that," Snyder testified. "I probably said 'How's Eric doing in jail? I hope he's not going to do very well in jail. I have some anger issues with this person.' "
PREVIOUSLY:
###
Another witness who arrived on the scene shortly after the incident was Tessa Knight, who was on her way to the local pizza place on Wave Drive when she saw something that caught her attention.
"I saw Jesse lying in the grass with his weed-whacker on his chest," Knight testified under questioning by Kamada. She said she stopped, got out of her car and walked over to Simpson.
"His body was in a twisted position and he was covered in blood," she said.
At that time no-one else was around. This was apparently during the time that Lively left, speeding to the Fire Department to seek help and then going home for the exchange with his daughter.
Knight said "multiple firefighters" arrived to assist Simpson. Lively also showed up.
"He was carrying a Brita water filter and a towel," Knight said, and he said 'I didn't do it on purpose' and he was salivating."
According to testimony, the Debbie Lane home where Lively lived with his daughter and two sons burned down after he was arrested.
Testimony was expected to continue tomorrow before Judge Christopher Wilson, with Clanton cross-examining Lively's daughter.
# # #