"This guy has the nastiest tape I've ever seen."@MikeMayock talks Humboldt State tackle @AlexCappa 👀

📺: @seniorbowl coverage LIVE now! pic.twitter.com/5zqO7HAacx

— NFL Network (@nflnetwork) January 23, 2018
PREVIOUSLY: HSU Football Star Alex Cappa Invited to Play in Reese's Senior Bowl Alongside Some of the Best Players in the Country; Game to Air on NFL Network
###
We're three days away from the Reese's Senior Bowl and Humboldt State offensive tackle Alex Cappa has already established himself as a crowd favorite.
Social media erupted with praise for the 6-foot 7-inch Lumberjack after NFL Network draft analyst Mike Mayock praised him live on national television yesterday.
"This guy has the nastiest tape I've ever seen," Mayock told his cohost Daniel Jeremiah as they watched footage of Cappa's in-game highlights.
The moment of analysis was later posted to the NFL Network's social media pages, where it received more than half-a-million views.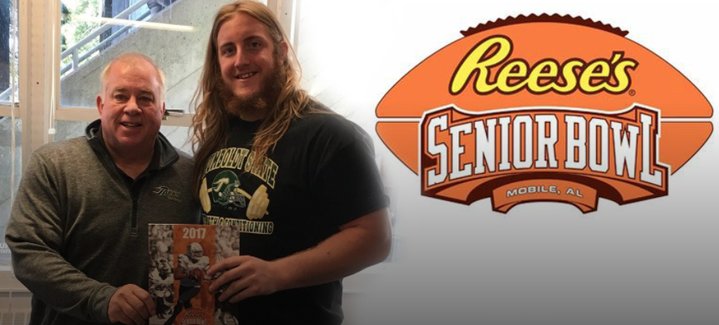 Jeremiah also heavily praised Cappa on Twitter.
"Just studied Humboldt State OT Alex Cappa," Jeremiah wrote on Twitter. "This is some rated R violence. Holy biscuits. Who pee'd in his Cheerios?"

Cappa earned even more social media praise after footage surfaced of him dominating first-round NFL Draft prospect Marcus Davenport during yesterday's practice.
As mentioned yesterday, the guy I was looking forward to watching the most was OT Alex Cappa. It's safe to say that he impressed me during the first day of practices. Dominated top DE, Marcus Davenport in 1 on 1's. pic.twitter.com/HX5u9TYXJM

— Gavino Borquez (@Gavino_Fitness) January 24, 2018
Cappa was speculated to be a possible late-round draft pick for this year's NFL Draft, with the opportunity of raising his draft stock during the Senior Bowl. But it looks like the big fella is already rocketing up the ranks.
NFL fans from across the country have taken to social media, demanding their teams draft Cappa, who's developed a reputation as one of the toughest brutes in his draft class.
Cappa is reportedly being scouted by a number of NFL teams. In a recent interview, he revealed he's had a few brief discussions with the Chicago Bears, who previously signed HSU's last NFL player Taylor Boggs.
"We've had good meetings and I'm sure we'll talk more," Cappa humbly told a Chicago based reported with a big smile. "Just normal stuff."
Alex Cappa is a 6'7" OT from Humboldt State. Knowing Ryan Pace's affinity for drafting small school players I asked if he's talked to #Bears pic.twitter.com/JMg1BYsCkY

— Bears Barroom (@BearsBarroom) January 23, 2018
The Reese's Senior Bowl will air live from Mobile, Alabama on Saturday at 11:30 a.m. on the NFL Network.
Alex Cappa and Isaiah Wynn doing medicine ball drills. Good way to showcase explosion entering pass set and punch strength. pic.twitter.com/x3E7lXMOiS

— John Sheeran (@John__Sheeran) January 24, 2018