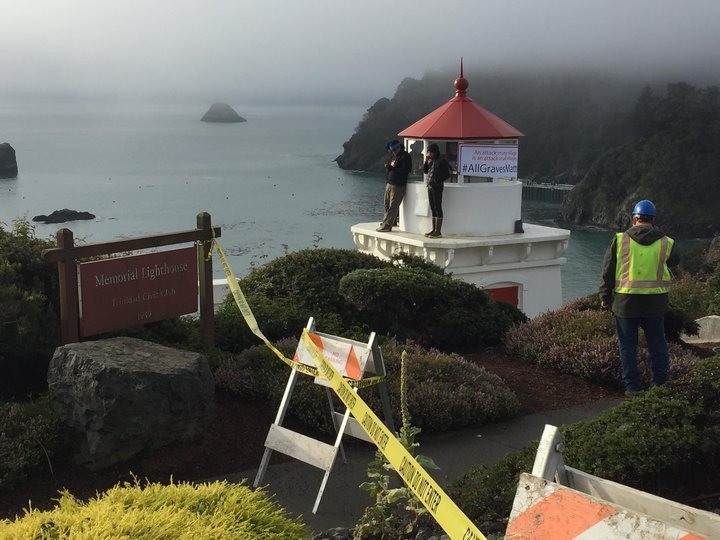 From the the Trinidad Rancheria and the Trinidad Civic Club, who also add: "The crane and truck required to relocate the Trinidad Memorial Lighthouse and Bell are expected to arrive on site tomorrow, January 10, 2018 around 8:00 a.m. and we anticipate the move to occur sometime between 8:00 a.m. and 10:00 a.m.":
The Cher-Ae Indian Community of the Trinidad Rancheria, the Trinidad Civic Club and the Yurok Tribe have agreed to a new temporary location for the Trinidad Memorial Lighthouse and Bell.

Over the course of multiple meetings, the above-listed organizations developed a plan to move the monument, which stood for almost 70 years on Civic Club Property in the City of Trinidad above the historic Tsurai Village Site. In mid 2017, Trinidad Civic Club was notified that the Lighthouse was in danger of sliding from its current location on the bluffs overlooking Trinidad Bay. If the steep slope had completely failed it could have done damage to portions of the Tsurai Study Area below.

On January 5, 2018, the stakeholders arrived at consensus regarding the lighthouse's temporary relocation. The parties agreed to move the monument from the Civic Club Property to the Trinidad Rancheria Harbor Property, where it will be staged until a permanent location is identified.

Parallel to the settlement discussions, a large group of Native and non-Native citizens advocated for the protection of the village and funerary remains by occupying the site for 12 days.

The Tsurai village is one of the largest traditional Yurok village sites. The natural harbor created by Trinidad Head offered access to abundant marine resources as well as ample opportunities to conduct commerce with other coastal villages and tribes.

The Trinidad Memorial Lighthouse, erected in 1949, contains a lens from the original Trinidad Head Lighthouse, which was built in 1871. The Memorial Lighthouse and Bell will be relocated prior to the end of January 2018. The Memorial Lighthouse, Bell, and the plaques commemorating those buried or lost at sea will be moved to a permanent location once the appropriate permitting process is completed and a final location identified.
###
PREVIOUSLY