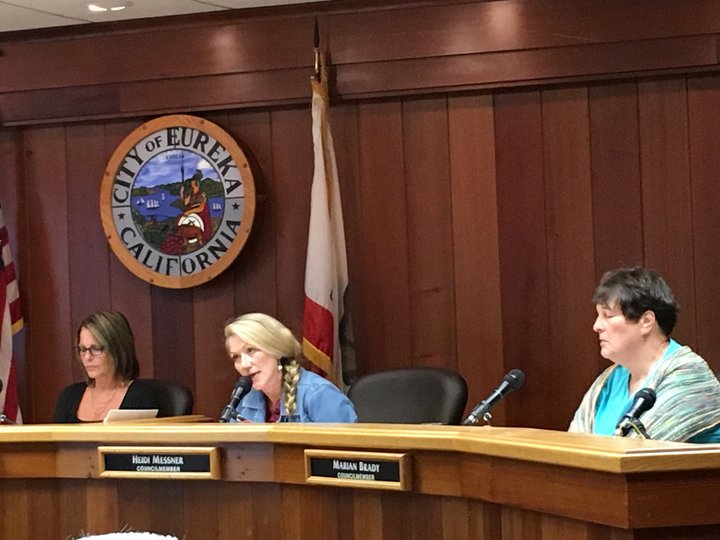 Staff from the Humboldt Area Center for Harm Reduction (HACHR) delivered their bi-annual report to the Eureka City Council on Tuesday evening. Although many of the council's questions about HACHR'S syringe exchange program were answered, the council may discuss rescinding the resolution that allows the program to operate.

"We need needle exchange in our city," Councilmember Kim Bergel said during the meeting. "But I'm not sure that HACHR is the one."
With Humboldt County in an opioid crisis, the City Council has acknowledged that Eureka needs a needle exchange program as a way to reduce the spread of infectious diseases such as HIV/AIDS and hepatitis. In March 2016 the City adopted a resolution authorizing HACHR's syringe exchange program (SEP). Over the last two years, however, the program has been the subject of much scrutiny and critics have accused HACHR's practices of contributing to an increase in needle litter.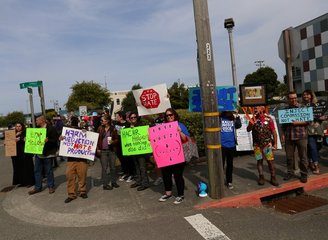 In response to heated June 5 protests surrounding HACHR'S practices, councilmembers Kim Bergel and Heidi Messner felt it was time to do more. The council members attended HACHR's board meeting on June 20 and presented some additional requests for the group's operations.
Councilmember Messner delivered a report about this meeting on Tuesday night, explaining her and Bergel's intentions.
"Before this report tonight we wanted to come to some kind of agreement [with HACHR] that we could report on to the community," she said, "so that people would understand that we really are moving forward in working together to address some of the concerns the public has brought forth."
The request would require that HACHR do two things: provide monthly reports to the city manager about their numbers, including a one-to-one exchange (requiring clients to turn in as many needles as they're given) and participate in an advisory board, which includes two HACHR board members, two community members, one public health official and one or two city council members.
Messner and Bergel both said they felt frustrated with the way the meeting went, feeling that some members of HACHR were not willing to cooperate on these requests.
HACHR Executive Director Brandie Wilson told the Outpost that some aspects of this request came as a surprise. She said the board was aware of and prepared to discuss the advisory board suggestion. But a request for weekly reports had never been discussed. (Initially Bergel and Messner requested weekly reports but changed the request to monthly reports after being told that weekly reports would not be possible.)
HACHR Program Coordinator Jessica Smith said that the request for monthly reports is ridiculous, considering City Council just adopted a Syringe Management Ordinance in March which requires HACHR to provide quarterly reports of their data.
"They asked for these reports before they even gave us an opportunity to present our quarterly data, which is mandated by our ordinance," Smith said.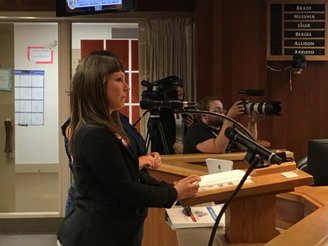 Smith, along with HACHR Treasurer and Board Member Rachel Waldman, presented the bi-annual and quarterly reports at the City Council meeting Tuesday. Smith also pointed out that Messner waited until after their report and the public comment period to deliver her report on the meeting with HACHR, which gave them no opportunity to explain themselves.
As for the second part of the request, Wilson told the Outpost that she is more than willing to participate in an advisory committee. However, she does not think the council should have the only say on who is appointed. Wilson said she and HACHR have been the subject of online threats and there are some people in this community she doesn't feel comfortable working with.
Smith said that she understands that the City Council needs to have a say in who is on the committee. But she feels the selection process should be more collaborative. They would even be open to the council picking one member and the HACHR board picking one member.
Overall, Smith and Wilson feel like the City Council is asking a lot of them, especially considering they provide no funding for HACHR's programs. They feel they've done everything asked of them, including moving to a one-for-one syringe exchange, which isn't required by the ordinance and goes against best practices outlined by the California Department of Health.
"They keep moving the goalpost," Wilson said. "This isn't about policy anymore, it's about personality."
She may be right. Kim Bergel told the Outpost that she does not have an issue with HACHR's practices, but rather their attitude.
"It's the divisiveness," Bergel said "There's the people there who don't get along well with others. Unfortunately there's too much of this victim attitude with people involved with HACHR."
Bergel said that the discussion of rescinding the exchange program resolution will hopefully be made at the next Eureka City Council meeting on August 7.
HACHR's Two-Year report can be viewed here.