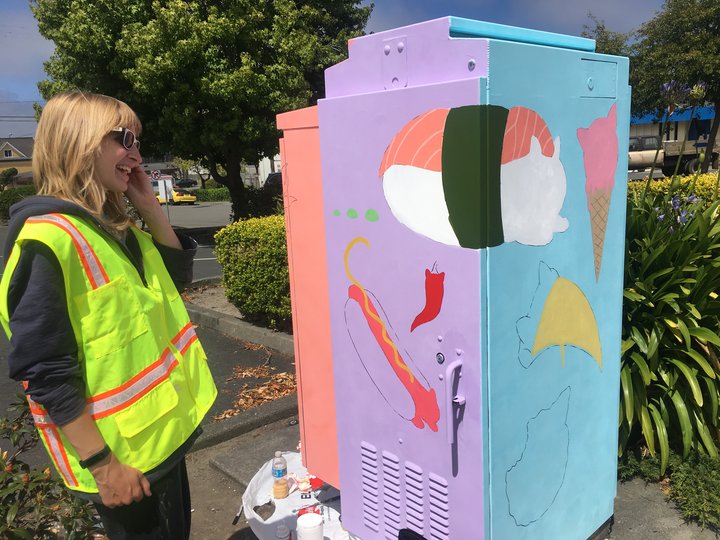 On 6th 5th and L streets in Eureka—nestled between the Humboldt County Jail and Rita's Taqueria— is the utility box which will be home to Samantha Moore's new "Cat Food" painting . Moore's initial painting at the corner of Fifth and G streets in Eureka, was removed after the owner of SCRUB Spa and Event Venue complained about it at a City council meeting.
Since the initial Outpost story on the removal of "Cat Food", Moore has seen a rise in prominence she never expected. The story launched a community dispute over public art which has been featured on KHUM, The North Coast Journal, Redwood News and even Reddit. A group of folks even got tattoos as a tribute to "Cat food."
Moore received a lot of community support over her art being removed and she has since seen an increase in traffic to her website and a surge in pledges for her kickstarter.
"I was not ready for it," Moore said. "I've been working on this for a while, trying to get this scene online. I guess it just came in a different way."
Following the removal of her first work, the City of Eureka offered Moore the opportunity to choose a new utility box and Redwood Capital Bank agreed to sponsor Moore again. She began painting her second masterpiece on Thursday afternoon and expects to finish early next week.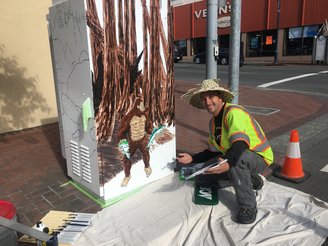 As for the utility box next to SCRUB, the new painting by David Witter is well on its way. When walking past the old utility box, Moore had a chance to meet Witter for the first time. Moore said Witter is really friendly and she is a big fan of his art work.
"I liked his sasquatch. I'm glad he gets to paint something," Moore told the Outpost. "I just hope nobody messes with it. He didn't do anything wrong. He's been super cool about it."
It looks like the "Cat Food" saga will end in a win for both artists.
###