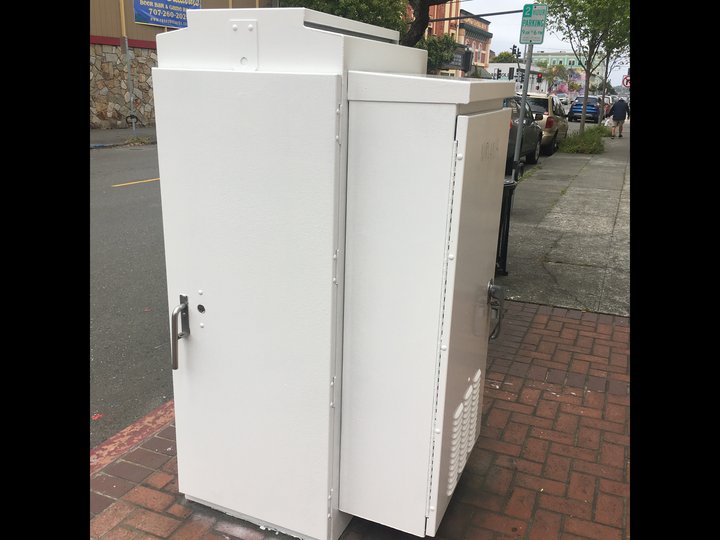 PREVIOUSLY:
###

The utility box on the corner of 5th and G streets in Eureka, recent subject of some cat-art-fueled controversy, will soon be home to a new painting. The Eureka Art and Culture Commission met this morning to approve the recent submissions for the Eureka Box Art Program.
During the brief meeting, the Commission approved all works submitted, including several pieces from local artist David Witter. Last week Witter was chosen by Molly Green — owner of SCRUB Spa and Event Venue — to paint a replacement on the utility box in front of her shop. After voicing a complaint at Eureka City Council Meeting on May 15, Green had the previous painting, done by artist Samantha Moore, removed.
However, it is not yet official which submission will be on the utility box in question. Eureka Development Services Director Rob Holmlund told the Outpost today that the Commission only approves art for the Eureka Box Art Program's catalogue. The final artwork chosen for each utility box is ultimately the decision of the sponsor.
Artist David Witter had planned to sponsor his own work. But Witter told the Outpost today that the city would not allow it.
"They want to make sure the artist gets paid," Witter said.

Rob Holmlund told the Outpost that he is in communication with a couple of different interested parties and is confident that a sponsor — usually a business that offers $500 for the privilege — will be chosen by the end of today. Holmlund wouldn't disclose the names any other potential sponsors, though he did say: "I'm still in communications with Molly. If she chooses to be sponsor then she would choose the artist and the art."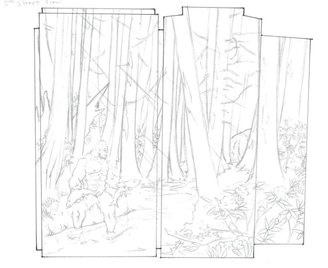 If Witter is selected, he seems to already have a piece picked out. Witter posted a sketch to Facebook on Wednesday, saying "Now I just wait for approval of my art from City Hall."

Rob Holmlund told the Outpost today that the painting of the 5th and G street utility box will likely be delayed because of the weather. But pending the final selection process, the new artwork should be starting soon.

"I'm confident that we'll have an outcome that all parties directly involved will be happy with," Holmlund said.
Here is a sneak peak some of the other newly approved submissions for the Eureka Box Art catalogue. All photos were taken from the Eureka Arts and Culture meeting agenda.