An August jury trial was tentatively confirmed this morning for Gearold Lee Sotolongo, accused of knifing a man to death outside a Hoopa gas station and mini-mart in February 2016.

"We are confirming for trial," Deputy Public Defender Luke Brownfield told Judge Dale Reinholtsen, "with one caveat. We have an expert coming and interviewing Mr. Sotolongo in mid-July and we don't know when the report will be ready."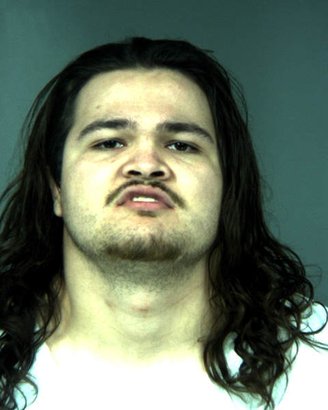 Outside the courtroom, Brownfield said he couldn't comment on what type of expert will interview Sotolongo.

As of now, the estimated five-week trial remains set to begin Aug. 6. Another trial-confirmation hearing is scheduled for July 30.
Sotolongo, 27, allegedly stabbed Rodger Allan Yale once in the heart as Yale sat outside the mini-mart on the morning of Feb. 13, 2016. Sotolongo, also known as Roldo Pratt, was arrested on a warrant about a month later. The fatal attack was filmed by the mini-mart's video surveillance camera.
Yale, 30, had been in an altercation with several people outside the business. The videotape shows him sitting down afterward, then being approached and stabbed. He died in an ambulance while enroute to a helipad to be airlifted to a hospital.
Sotolongo is charged with murder and the special allegation of personally using a deadly weapon. This morning he wore a red jumpsuit, indicating he is segregated from the jail's general population.
Deputy District Attorney Brent Kling was in court for the prosecution, but he indicated Deputy District Attorney Roger Rees will be the prosecutor at trial.
###
PREVIOUSLY