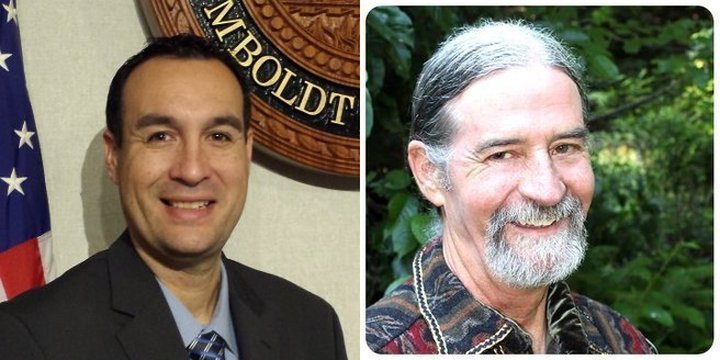 As nail-biter elections go, this one could leave Fifth District voters with some raw and mangled digits.

Incumbent Supervisor Ryan Sundberg and challenger Steve Madrone ended Election Day in a virtual tie, with Sundberg garnering 49.56 percent (2,377 votes) and Madrone landing 50.25 percent (2,410 votes).
This morning, Humboldt County Registrar of Voters Kelly Sanders tells the Outpost that there are almost certainly more than 2,000 Fifth District ballots yet to be tallied.
"There were a lot folks who waited 'til the last minute to vote," Sanders said.
Between Monday and Wednesday the county Elections Office received 6,626 ballots either over the counter or through the mail. Of those, 1,201 are from the Fifth District. Sanders expects yet more ballots to arrive in the mail today. (As long as they're postmarked by Election Day, they count.)

On top of that, 3,233 vote-by-mail ballots were turned in at the polls on Election Day, including 717 dropped off at polling locations in the Fifth District. Some of those ballots could be from other districts, and some turned in elsewhere in the county could be from the Fifth. "Voters can turn in their vote-by-mail ballot to any polling location on Election Day," Sanders said.
So, for example, Eureka residents who work in McKinleyville may have dropped off their Fourth District ballots at polling locations in the Fifth, and vice versa.
And then there are the provisional ballots. These are what voters fill out when there's some question of their eligibility. They may have shown up to the wrong polling location, for example, or they may have just registered to vote that very day. There are 1,263 provisional ballots yet to be counted countywide; 315 of those were submitted to polling places in the Fifth District.
That leaves a current total of 2,233 ballots that were either:
Definitely from Fifth District voters and submitted to the county Elections Office, or
Turned in to polling locations in the Fifth District.
With more vote-by-mail ballots expected to trickle in today and possibly even tomorrow, Sanders said she won't know exactly how many votes are left to be counted until next week at the soonest, and a full accounting could take weeks yet.
Which leaves us with nothing to do but wait and, while we're here, ponder, guess and pontificate.
Let's take a closer look at how the votes have broken down thus far.
Sundberg had an advantage among early voters, taking more than 52 percent of the vote-by-mail ballots tallied on Election Day. But Madrone has had a slight edge in all the ballots cast since, edging out Sundberg at the polls roughly 52 percent to 48 percent.
This follows the historic pattern of early votes trending conservative while later votes trend liberal, and if the pattern holds Madrone will be the victor.
On the other hand, Sundberg's advantage in the vote-by-mail category could continue through the remaining postmarked ballots. If that trend holds, and if the rest of the uncounted ballots break about 50-50, then Sundberg will retain his seat on the board for another term.
This thing is still undecided. Be kind to your nails.
# # #
PREVIOUSLY: