PREVIOUSLY:

###
A traffic flagger on Rohnerville Road may have been the first person at the side of shooting victim Timothy Smith on Sept. 26, 2016.
Benton Chadbourne, an employee of SJL Construction, testified today that he was on lunch break when he heard five gunshots across the street.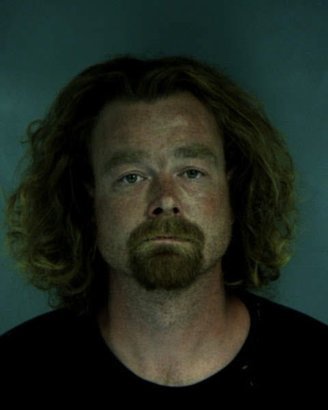 "I saw like a flash of something hitting the dirt underneath a pickup," Chadbourne said under questioning by Deputy District Attorney Trent Timm during day three of Jon David Goldberg's murder trial. "I saw a body underneath the pickup because I could see under the truck."
Chadbourne then saw a man run to his vehicle, a white van, make a fast U-turn and speed south on Rohnerville Road. He said he got a clear view of the man because he looked out into the street as he was running.
Asked if he saw that person in the courtroom, Chadbourne identified him as Goldberg, sitting next to his attorney Casey Russo at the counsel table.
Today Goldberg was wearing a suit, and his curly auburn hair is fairly short. But on that day, Chadbourne testified, he wore a black T-shirt and jeans and had "very curly, bushy hair."
After Goldberg drove off, "I ran across the street. I assisted the person who was lying on the ground."
Chadbourne said he got down on one knee next to the man and asked "Are you OK?"
"There was no response, no motion," Chadbourne said.
Smith was shot five times and apparently died immediately. Chadbourne said he heard five shots. One, and about two seconds later four more in rapid succession.
As he was trying to aid the person on the ground, Chadbourne said, Smith's wife and son were standing on the front porch of their home.
Chadbourne had been directing traffic that day, working as a subcontractor for a Pacific Gas & Electric Co. crew that was painting a gas line. At some point before the shooting, he is hazy on the time, he saw Goldberg slowly drive north past the Smith home, then slowly drive back through heading south.
"He was looking over his shoulder," Chadbourne recalled.
The day after the killing, Chadbourne was able to pick Goldberg out of a photo lineup.
Chadbourne confirmed today that the doors of Tim Smith's red Ford pickup truck were open when he ran to help Smith. This is an important issue for the defense. Russo contends Smith reached into his truck when he saw Goldberg, and Goldberg feared he was going for a gun.
Because Fortuna police never searched the truck, it's unknown whether Smith's guns were inside when he was shot. He had been planning to go hunting that day.
Today Timm asked Chadbourne whether he saw any firearms. He said no. He also didn't see anyone shut the doors to Smith's pickup truck, and he saw no one moving any guns.

Chadbourne's coworker, Ronald Hagquist, testified he ran for cover when he realized he was in the midst of an active shooting incident. He didn't see the gunman, nor did he see the suspect's vehicle.
He does remember, though, a bushy-haired man who drove through the traffic zone an hour or two before the shooting.
"We see a lot of vehicles," Hagquist said. "What caught my attention that day was the guy was really checking out that house," referring to Smith's home. He didn't see the man's face.
"All I saw was a big head of curly hair," Hagquist said, "because he had his head turned looking at the house."
If Goldberg did drive by the house an hour or so before the shooting, that calls into question the defense claim that Goldberg was taken by surprise when he saw Smith's truck outside the house. So far no one has testified that the pickup truck was there when Goldberg drove by.
That day the PG&E crew also was on lunch break when the shooting occurred. One of the PG&E workers, Michael Cyphers, testified today that before he heard what he thought was fireworks, he heard one person say "Get the fuck out of here," and then a woman saying "Don't shoot! Don't shoot!"
Cyphers was sure he heard those statements before the shooting. But his testimony conflicts with that of Smith's wife Jessica Springer. She stated during Goldberg's preliminary hearing that after hearing shots and seeing Goldberg outside her home, she yelled "Did you just fuckin' shoot him?"
Hours before the killing, Goldberg had learned his wife Rachel Goldberg was having an affair with Smith, a well-known volunteer fireman in Fortuna. Rachel Goldberg apparently got involved with Smith when they were both working at Bridgeville Elementary School.
Testimony was expected to continue tomorrow before visiting Judge Graham Cribbs, who is presiding over the trial. Many of Smith's family members are seated in the courtroom, as are Goldberg's father and brother.