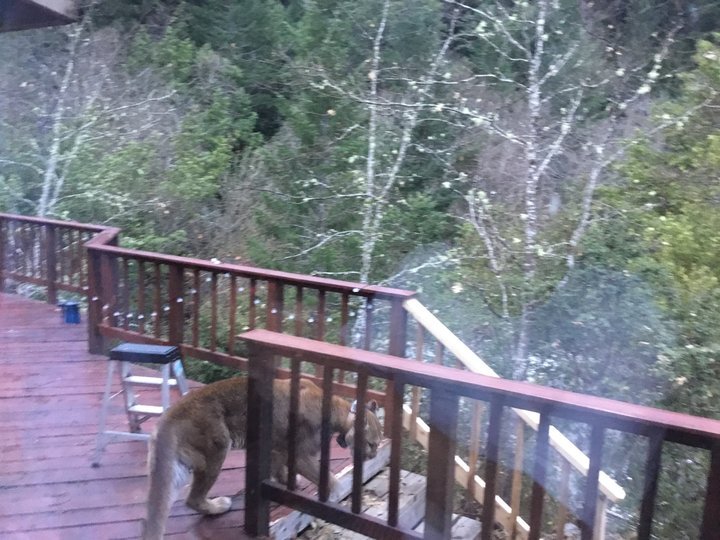 Local mountain lion "M2," which was reportedly seen stalking household pets in the Orleans area over the weekend, has been killed.

Principal Investigator of the Hoopa Mountain Lion Project and Co-Director of Integral Ecology Research Center Greta Wengert told the Outpost today that M2 was lawfully shot to death Monday morning by a resident who was granted a depredation permit by the California Department of Fish and Wildlife.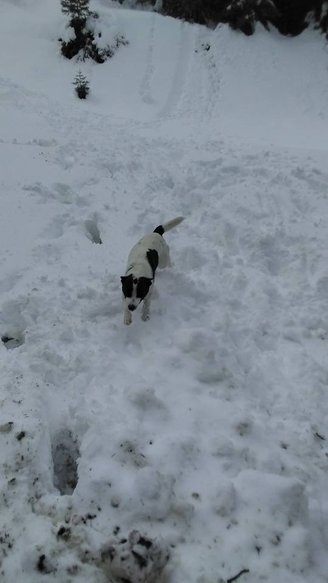 Concerned Orleans residents shared their mountain lion accounts on Facebook over the weekend, like Deborah Hostler, who took several photos of M2 on her porch after she said it banged on her kitchen window in an attempt to eat her cat.
Resident Salena McLaughlin shared a more unfortunate story, saying that her dog "Birdie" was eaten by the big cat on Saturday morning.
"Our dog was attacked and killed five steps from our front porch by a mountain lion on East Perch Creek [Road]," McLaughlin wrote on Facebook Saturday. "It had a collar on. I would keep your kids in. It could [have] been my son!!! RIP 'Birdie' you will be missed."
Depredation permits can be applied for when residents suffer a loss of property due to mountain lions, like when pets or livestock are eaten. The CDFW announced a stricter policy last year, stating that the permits would only be granted if residents already made two attempts to shoo the mountain lion away from their property by non-lethal means.
M2 was reportedly stalking pets in the Orleans area all weekend, causing some residents to fear that the cat was picking off easy prey due to possible health problems. However, Wengert told the Outpost that there is no information available at this time that would indicate the mountain lion was sick.
"M2 went to the [CDFW] for a necropsy happening this week," Wengert said. "That will tell us about the health of the animal, but we won't have results for a while."
The last notable account of depredation permit being granted locally was in 2016, when a mountain lion killed an alpaca in Dow's Prairie.