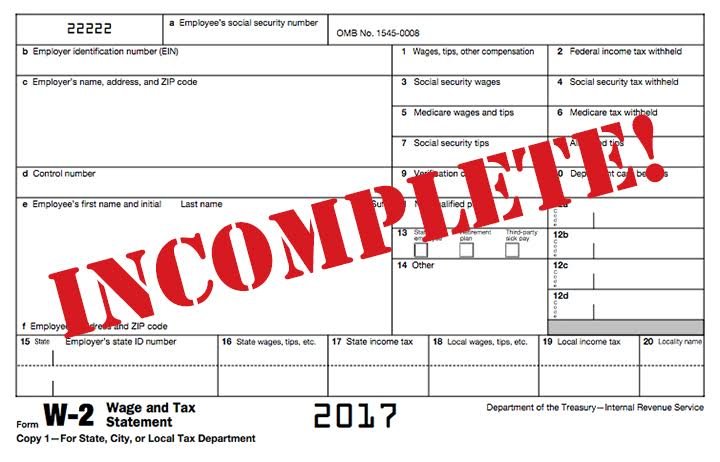 The Humboldt County Auditor-Controller's Office is blaming a software glitch for a tax form snafu that resulted in more than a thousand county employees being sent W-2 forms that were missing data required by both the Internal Revenue Service and the Social Security Administration.
According to staff in the department, three boxes on the federal tax form were mysteriously left blank after being printed out. This occurred on forms for more than half of the county's roughly 2,400 employees, and the mistake wasn't noticed until after the forms had been mailed out or otherwise distributed.
On Feb. 8 the Auditor-Controller's Office sent a message via the county employee newsletter alerting staff that there was "missing information on the forms." That missing info "includes entries for deductions which the IRS requires, for example 457b plan deductions and FSA — dependent care deductions," the message explained.
The Auditor-Controller's Office went on to note that employees could still get the information they need to file their taxes, either by finding it on their final 2017 pay stubs or by calling the county payroll division. The message said, "We want to assure you that we are working diligently to correct the errors. Once the errors are corrected, we will send out new W2s to all employees as quickly as we can."
But that didn't appease everyone. Bill Linn, the county's Healthcare Preparedness Program coordinator, said that after finding out about the error he immediately responded to the county payroll division to tell them, "This is not okay." He told the Outpost when he asked earlier this week how far along staff had come in correcting the erroneous forms they said they'd reached the D's, working alphabetically by last name.
"It's starting to piss me off," Linn told the Outpost. "This year I sold a bunch of property, and I know I'm going to pay [taxes]. But I have no confidence that the documents I'll give my accountant are accurate. This is ridiculous."
Linn said he was already fed up with the Auditor-Controller's Office after last fall, when boxes containing sensitive payroll information (including his own) went missing and later turned up in Trinity County.
Linn cc'd Humboldt County Supervisor Virginia Bass on his email, and she wrote him back, saying, in part:
This is at least the third time the issues have cropped up with the auditors office and it's frustrating as well because people expect the Board of Supervisors to be able to do something, but as the auditor is a separately elected official we don't have a lot of pull …
Indeed, that office has seen a great deal of turmoil over the past year. Staff has complained of being severely understaffed while the independently elected head of the department, Joe Mellett, says he's burning out, depressed and ready to retire, as we reported back in November. In January the county brought in an independent expert to conduct a management and accounting review of the Auditor-Controller's Office.
Meanwhile, the deadline for employers to file complete and accurate W-2 forms to the IRS and Social Security Administration is Jan. 31, and according to the IRS's own website the penalty for failing to do so ranges from $50 to $260 per return, for a maximum fine of more than $3.2 million (if the proper forms with correct information are submitted after Aug. 1).
But in a phone conversation Thursday Mellett said staff alerted the IRS and Social Security Administration of the snafu before the deadline, and while the corrected forms have yet to be submitted to those agencies he doesn't anticipate that the county will be fined.
"My understanding is there are no penalties for what's happening right now," Mellett said.
The Outpost reached out to the IRS to ask whether or not the county will be charged a fine for missing the filing deadline, but we didn't hear back before the end of business hours Friday.
Pressed for a more thorough explanation of how this mistake happened, Mellett demurred. "I would have to refer you to my payroll department if you'd like to get good information," he said.
Assistant Auditor-Controller Karen Paz Dominguez, who is running to succeed Mellett, said the problem was related to a software program used by the office. Information that was visible on employees' computer screens wasn't getting printed onto the W-2 forms. Customer service reps for the software company, Superion Software, "were going to charge us money to look at it, which is unreasonable," Paz Dominguez said. And the county's own information technology department is also understaffed, she said.
So, to fix the errors, employees in the Auditor-Controller's Office have been going back through all the misprinted W-2 forms and entering the missing data one square at a time, in batches of 25. They've been working on holidays and weekends, racking up overtime and making slow progress. [Correction: Paz Dominguez and payroll staff are classified as "Management and Confidential," and as such are ineligible to collect overtime pay.]
Katherine Lorenzo, the county's payroll services manager, estimated that staff has fixed only about 30 percent of the erroneous forms so far, having started on the corrections back on Feb. 19, President's Day (a county holiday).
"We're using all of our available resource to make this project go as quickly as we can," Lorenzo said. "My hope is that we'll be complete within about three weeks."
Bass, in her email to Linn, suggested she's looking forward to the upcoming election. "Fairly soon there will be a new auditor so hopefully issues like this don't continue to happen," she wrote.