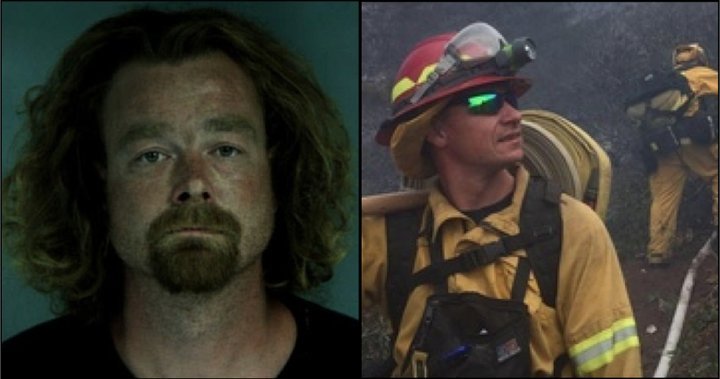 PREVIOUSLY:

###
As a volunteer firefighter, Jessica Springer had become accustomed to seeing people die.
But on Sept. 26, 2016, the dying person was her husband and the love of her life. Timothy Smith, 42, lay on the sidewalk of their Rohnerville Road home, his body riddled with bullets.
"I've had a lot of calls where I've seen a lot of people die," Springer testified today during the trial of her husband's alleged murderer. "So it was like I saw the signs of life leaving his body."
Springer, under questioning by Deputy District Attorney Luke Bernthal, said she was doing household chores when she heard Jon Goldberg's voice outside, saying something like "Man, I thought you were my friend."
Then, multiple gunshots.
Running to the front door, "I saw Jon Goldberg turning around and Tim on the ground," Springer said. She saw a gun or the "reflection of something like a gun" in his hand. Springer tried to scream "Did you fuckin' shoot him?'' Nothing came out because she couldn't breathe.
She was in complete shock and denial. Springer had thought Goldberg might punch her husband in the face. But now Tim Smith was lying on his side with bullet holes in his body and blood seeping from his mouth.
Life as Springer knew it began to unravel the night of Sept. 25, 2016. Her husband had gone on a fishing trip that day with Jon and Rachel Goldberg and their 6-year-old son. Then the Goldberg family, along with the Smiths and their 14-year-old son, went to dinner at a Mexican restaurant in Fortuna.
Back home on Rohnerville Road, Tim Smith went to sleep. Springer picked up his cellphone, expecting to see photos from the day-long fishing trip. But she also clicked on a "Deleted Photos" button and found images of Rachel Goldberg.
"There were some nude photos," she recalled, "and there were some strange photos of like flowers, and her eyes."
She awakened her husband, and an hours-long argument ensued. She was yelling and crying; he was remorseful.
About 2 a.m. she sent a text to Rachel Goldberg, advising her she'd found the photos and she'd better tell her husband. Rachel did. In a matter of hours Tim Smith was shot dead.
Shortly before his violent death, Smith and Springer had agreed to try to put the affair behind them.
"He was very sorry," Springer said, weeping. "He wanted to work things out … He was going to take one last hunting trip to Oregon, and when he came back he'd make things better."
Springer agreed, because "I loved him more than anything."
Smith and Springer had been together since she was 13 and he was 14, she said. They met as students at Bridgeville Elementary School.
The day of the killing Springer communicated with both Jon and Rachel Goldberg. Rachel apologized to her, saying her relationship with Tim Smith "didn't amount to anything" and was over.
Springer figured Jon Goldberg must be feeling like she was. She thought of Goldberg as a good person who, like her, had been hurt and betrayed. She planned to drive up to Bridgeville and see him, she said, but her son convinced her she was too upset to make the trip.
Goldberg responded that he was coming to see her, and she texted him back.
"I believe that at some point I may have communicated back to Jon that I had kicked (Tim) out, and there was no need to come to town because Tim wasn't there."
But Goldberg did come to town, allegedly driving by slowly an hour or two before the killing, then showing up with a loaded revolver and shooting Smith five times as he stood outside his red Ford F-150.
Springer said her husband had been unloading the pickup truck, carrying armloads of laundry and food into the house.
Deputy Public Defender Casey Russo contends there were guns in the pickup truck, and Smith reached for one when he saw Goldberg approaching. But Springer said the guns would have been in the house, brought in by Smith after the couple returned home from a hunting trip two days before Smith was shot.
"He had to have unloaded the truck," Springer testified, "because he used it to haul the boat (for the fishing trip with the Goldbergs) and he had to make room."
Smith owned rifles and shotguns, she said, but he didn't keep them in his truck for a couple of reasons.
First, Smith was a Fortuna Volunteer Fire Department captain who regularly responded to calls.
"If he got a call he didn't want to have guns in his truck," she said. Also, the family lived on busy Rohnerville Road and Smith was worried about the firearms being stolen.
Russo, cross-examining Springer today, pointed out that during a preliminary hearing in December 2016 her testimony was different.
During that hearing, testifying about how she had told her husband to get out, she said Tim responded that he couldn't leave with guns in his truck. And in an interview with a Fortuna police officer a few hours after the killing, she said she had told her husband he should start getting his gear together for his hunt in Oregon, because "he had his guns in the truck" from a previous hunting trip.
Today, Springer said she was certain that at the time of shooting, her husband's guns were stored in their usual place in their bedroom.
When Springer testified at the preliminary hearing, she was grieving but also quite angry. Today she just seemed so sad and tired. Both attorneys finished their questioning of her this afternoon.
Testimony was expected to continue Monday before visiting Judge Graham Cribbs, who is presiding over the trial. The jury consists of six men and six women, and there are five alternate jurors.
As with the previous three days of trial, one side of the courtroom was packed with Smith's family members and friends. In the midst of them sits Jon Goldberg's father and another man accompanying him. Goldberg's brother was in court for the first days but was not there today.
The 37-year-old Goldberg, dressed in dark-gray suit, listened quietly today during Springer's emotional testimony. He has been in Humboldt County Correctional Facility since a SWAT team arrested him a few hours after Smith was killed.