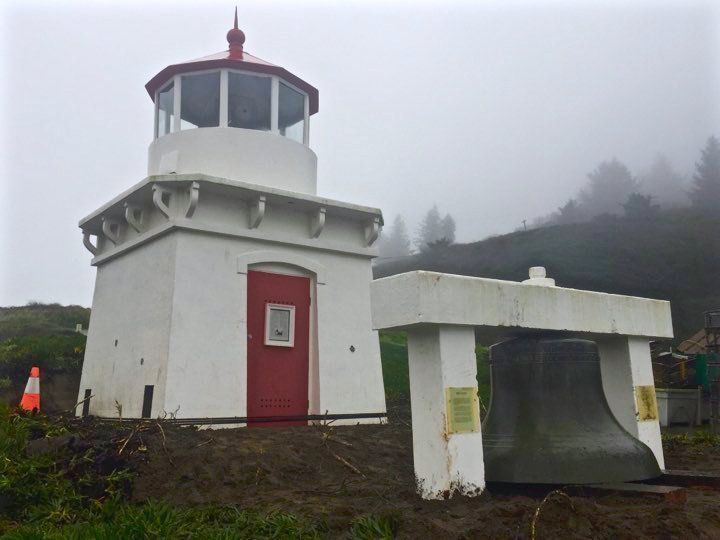 PREVIOUSLY:
The Trinidad Rancheria and Trinidad Civic Club announced Friday they've selected a final destination for the recently relocated Trinidad Memorial Lighthouse. (Spolier: It ain't moving far!)
Read their joint release below:
The Cher-Ae Indian Community of the Trinidad Rancheria and the Trinidad Civic Club are honored to announce that a permanent location for the Trinidad Memorial Lighthouse, Bell, and Memorial Plaques has been determined.

On March 1, 2018 the Trinidad Civic Club selected the Trinidad Rancheria Harbor Property as the permanent location for the Lighthouse Memorial Site with a unanimous vote. At their meeting the Civic Club reviewed the community input and recommendations received at the February 27, 2018 Site Selection Charette and discussed all suggested sites.

The Trinidad Rancheria Harbor Property received the majority of favorable support from the public via written comment and results of the Site Selection Charette. Based on this input and the site selection criteria, which established site requirements, the Civic Club members were in agreement that the most feasible permanent location was the Harbor Property.

"I appreciate that the Charette program Tuesday evening took all community input into consideration for the permanent location of the Lighthouse. Thanks to all who attended or provided written input," said Joan Baker, Memorial Lighthouse Secretary.

Now that a permanent site has been determined, the Civic Club and the Trinidad Rancheria will begin the permitting and preparatory work required for design and engineering of the site and final relocation of the Lighthouse, Bell and Plaques.

The Civic Club, Trinidad Rancheria and the Yurok Tribe will also continue work to remove the remaining two concrete slabs and remaining column remnants for the Bell on the Civic Club Property and restoration of the Axel Lindgren Jr. Memorial Trail.

The Civic Club is relieved to have a permanent site chosen and eager to begin working with its new partner. The Civic Club and Trinidad Rancheria would like to thank the community for their support and participation in the Site Selection Charette.