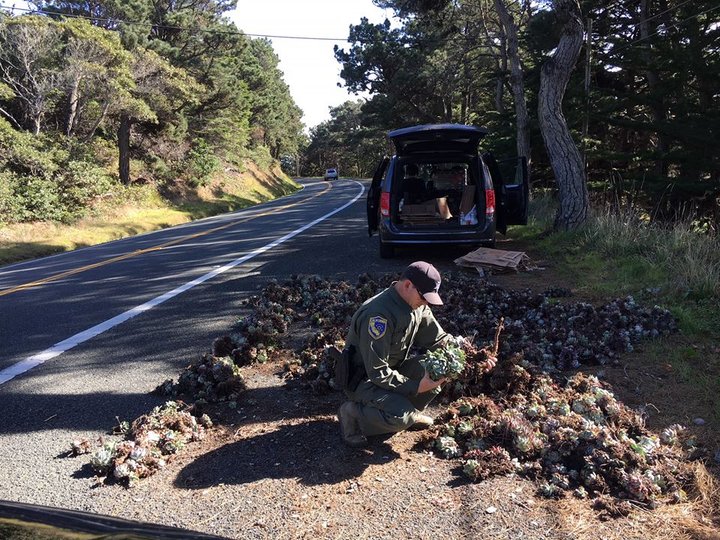 California Department of Fish & Wildlife press release:

CDFW law enforcement is battling a poaching trend in Mendocino County that has an unusual target but is motivated by one of the usual desires – a quick and illegal profit.
The target is a succulent known as Dudleya or "liveforever." The profit is realized by stripping plants from sea cliffs, sometimes on private property, and shipping them overseas to countries including Korea, China and Japan, where they are prized by some for decorative purposes.

The removal of Dudleya can result in environmental degradation of habitat and a destabilization of bluffs and cliffs on the coastline. Illegal harvesting is also particularly alarming because California hosts a number of Dudleya species and subspecies that are rare or at risk of extinction.

CDFW enforcement got wind of this trend, in part, after determining that a man was shipping Dudleya out of a Mendocino post office to China. CDFW subsequently cited three individuals for a series of misdemeanor violations — including illegal take, trespassing, and grand theft, based on the potential selling of an unlawfully obtained plant or plant material and its perceived value — in association with two recent poaching incidents near Point Arena on the southern Mendocino coast.
On Jan. 29, one man was apprehended with approximately 50 succulents, and on March 6, two men were cited after being apprehended with 1,400 succulents. According to a CDFW wildlife officer, the individual in the January incident pleaded guilty to the illegal take of plants and received a sentence that included three years of probation, a $5,000 fine and 240 hours of community service. The March case is pending.