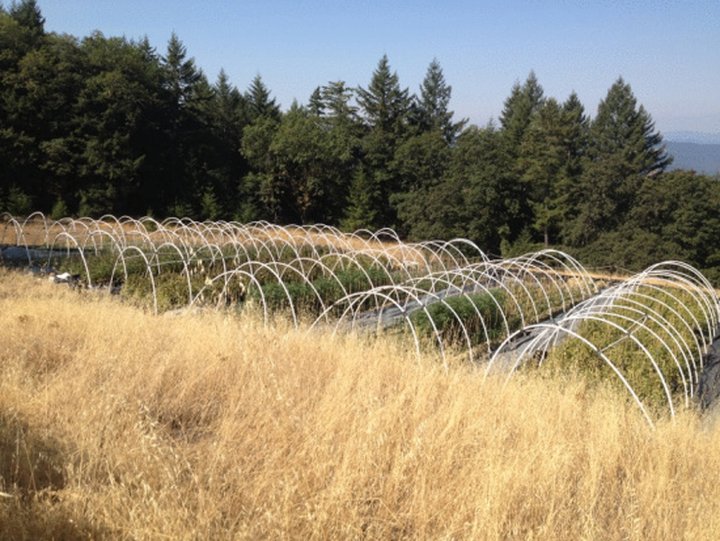 Is California setting marijuana growers up to fail?

With the state's adult-use cannabis market barely two months old, CalCannabis, a division of the California Department of Food and Agriculture (CDFA), has issued more than 2,000 temporary cultivation licenses, sanctioning 400-plus acres of pot gardens.
Collectively these state license holders could produce nearly 4.2 million pounds of weed per year — more than double the amount Californians are expected to consume, according to estimates by the CDFA. More licenses are being approved every day as aspiring growers up and down the state rush to get in on a $5 billion market.
And in Humboldt County, only a small fraction of our local growers have gained access to the legal marketplace.
"This should scare the shit out of any growers," said former Humboldt County Supervisor Mark Lovelace, who's now working with local governments around the state as a cannabis policy advisor for HdL Companies. He's been watching would-be cultivators flood into the state's new regulatory system, and now he's warning growers that California's legal weed marketplace will be overcrowded and extremely competitive — and likely to have a sky-high failure rate.
"It's just gonna be a tough industry, a really tough industry," Lovelace said.

With the supply of product confined by California's track-and-trace system, which follows weed from seed to sale, the state market will also be limited by finite demand. There have been several attempts to calculate that appetite. A CalCannabis study, for example, came up with a total statewide consumption figure of 2.5 million pounds per year. They expect legalization to spur some experimentation (causing a temporary bump in demand of less than 10 percent), but they also expect the black market to hold onto about 30 percent of the state's weed sales, leaving a legal market of roughly 2 million pounds (or less) per year.
Another study, the 2017 California Cannabis Opportunity Report, estimated even lower demand — 1.6 million pounds per year — but for the sake of discussion we'll use the larger CalCannabis estimate.
The next challenge is estimating how much will be produced. For his own calculations Lovelace has been assuming growers will produce a pound of cannabis for every 10 square feet of canopy per harvest cycle, or roughly 45 grams per square foot. He acknowledges that it's challenging to nail down a single number, especially considering the different spacing used in indoor versus outdoor grows, but the 45 grams-per-square-foot estimate is the same figure used in a 2010 Rand Corporation study by Jonathan Caulkins. Plus, Lovelace said growers he's talked to have confirmed its general accuracy.
From there Lovelace has been assuming that only 75 percent of each garden's maximum square footage will actually be utilized for growing plants, leaving some room between plants and space between rows.
"I've been talking to a number of growers in different areas," Lovelace said. "Some say they're getting 60 percent canopy [coverage], some say higher. Seventy-five [percent] is a good average, a little speculative, but pick a figure for statistical analysis."
So, as more growers enter the state's marketplace every day, Lovelace has been watching their collective growing capacity grow higher and higher, prompting his concerns about overproduction.
That problem is in full bloom up in Oregon, where the proliferation of producers has sent prices plummeting. The Eugene Register-Guard this week reported that retail weed in Oregon is selling for as low as $2 per gram and $50 per ounce.
"It's a race to the bottom pretty much, to see who can sell their stuff the cheapest," one store owner told the paper.
Washington state is experiencing the same problem, with grams selling for around $1 apiece and ounces going for as low as $40.
Is California's market headed in the same direction? And if so, how will local growers fare?
Arguably no county has more at stake than Humboldt, where one in every four dollars is tied directly to the marijuana industry. As of Monday CalCannabis had issued 426 cultivation licenses to Humboldt County growers, giving us 20 percent of the statewide total and the capability to produce more than 677,000 pounds of weed per year.
That puts us in second place behind Santa Barbara County, where CalCannabis has issued 468 cultivation licenses with the capacity to produce 861,000 pounds per year.
And that's just the beginning. Locally the county's Planning and Building department has about 1,700 permit applications still awaiting processing, and there's no telling how many more will come into the system. There's an estimated 15,000 (legal and illegal) grows countywide, and in December the Humboldt County Planning Commission proposed capping the total number of cultivation permits at 5,000 (or 1,250 acres, whichever comes first).

Meanwhile, the Planning and Building Department has hired outside consulting firms to help staff work through the stack of applications. On Tuesday the Board of Supervisors approved a request to double the budget for that project. Six firms — Helix, ICF, Kimley-Horn, LACO, Michael Baker and Transcon — had already been allotted $300,000 apiece for a total of $1.8 million; Tuesday's decision gave them another $1.8 million to work with.
From a budget standpoint, the county doesn't have anything to lose. "There is no cost to the general fund," the staff report notes. "Applicant fees pay for the cost of the consultants."
Instead, it's growers taking the risk. As Lovelace said, Tuesday's move marks another "$1.8 million that hopeful growers will pay and might never recover." At a certain point, he said, additional permitting "will just ensure more business failure."
Not universally, of course, but Lovelace says caution is in order.
"Everyone should have an opportunity to be a part of the industry if they want to, and take the risk of being in the free market. But I think everyone should also be very cautious and realistic about the fact that the majority of people who try to eke out space at this point are probably going to fail. There's just not that much room."
Not everyone agrees with Lovelace's grim forecast.
"On the contrary," Second District Supervisor Estelle Fennell told the Outpost via email. "I think that those who are making their way through the permitting process will be very well-positioned to launch a successful business."
She said she's worked with "many, many applicants," mostly small farmers, and they're "looking forward to being successful in the legal commercial market."
But what advantage will they have over the rest of the growers in the state? Lovelace notes that Humboldt County became synonymous with weed largely because our remote, wooded hills gave growers a place to hide from law enforcement. That's no longer necessary, and if California's market follows other states' and becomes a race to the bottom, price-wise, our historical advantages will turn into burdens.
"Every extra mile you have to drive, every bit of dirt road will become costs that are hard to justify," Lovelace said.
Humboldt growers will be better off trying to differentiate themselves through name recognition and quality, Lovelace said, like microbrews competing with Coors and Budweiser.
Or, switching alcoholic beverage metaphors, if we're aiming to be "the Napa Valley of weed," as locals have been saying for years, we'd better not try to compete with the E & J Gallo of weed — cultivators in Salinas, the Central Valley and Santa Barbara who will easily beat locals on price due to economies of scale and proximity to major markets.
Unlike the trend statewide, most of the state licenses issued to Humboldt County growers (243 of the 426) are for outdoor cultivation, and most of those (129) are for small gardens (5,001-10,000 square feet). These growers could potentially manage to carve out a niche in the state market by marketing quality products labeled with our county's established name, but if county supervisors follow the Planning Commission's recommendation and decide to issue up to 5,000 permits, the market will become impossibly overcrowded.
If the current ratios of license types remain constant, Humboldt County alone would wind up licensing nearly 1,100 acres of pot farmland theoretically capable of producing 7.66 million pounds of weed per year, using Lovelace's equations. That would be nearly four times the amount Californians consume.
Third District Supervisor Mike Wilson said local growers do have their eyes open. "No one that I know of is under the illusion that this isn't a high-risk business venture," he said, adding that he's more concerned about the consolidation of licenses by a minority of growers here.
Establishing a permit cap could be a reasonable option, Wilson said, though he added, "Considering how much in flux things are in terms of people getting into the system and people jumping out of the system, it's hard to tell where that cap might be." And he'd also want to know whether the cap would serve to encourage or discourage further consolidation of the local industry, he said.
Lovelace, for his part, said the county should focus on the remaining black market. "Legalization presented the opportunity to create a profit motive to clean up the environmental mess" created by outlaw grows, he said, "but that profit motive is going away." Which means the county will have to go back to a punitive, regulatory approach.
Eventually, though, Lovelace believes the black market grows will go the way of bootleg liquor stills. With cannabis now legal (either medicinally or recreationally) in 29 states, he assumes that eventually the black market will lose its reason for existence.
Either way, there's not likely to be enough demand to justify 15,000 pot farms in Humboldt County, nor enough profit to generate one of every four dollars generated here.
The bottom line, according to Lovelace is this: "The legal industry will not solve all of Humboldt County's economic woes."