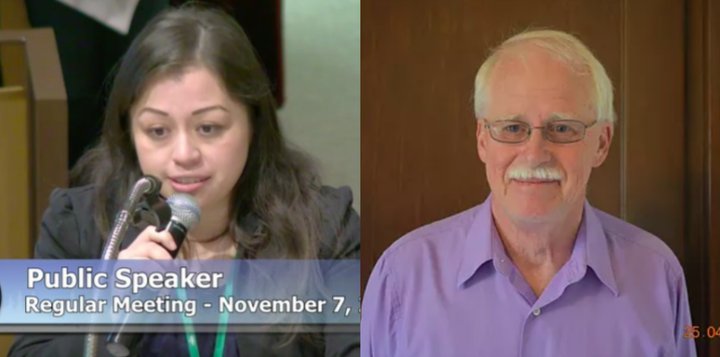 'Tis the season for election chicanery, and some strange turns are taking place in the race for Humboldt County Auditor Controller, a position generally considered thoroughly boring, if it's considered at all.

This afternoon the county released an internal document to several local media outlets, pursuant to the California Public Records Act. It's a letter, dated May 3, from three employees in the Auditor-Controller's office complaining about their boss, Assistant Auditor-Controller Karen Paz Dominguez.
Paz Dominguez is currently facing off against Mike Lorig, an accountant in the Department of Health and Human Services, in a competitive election for the top job. Election Day is less than a month away.
The release of this letter is a bit surprising considering the county's legal counsel had previously refused to do so on the grounds that the document was "exempt from disclosure pursuant to [California] government code section 6254(c)," which allows public agencies to withhold "personnel, medical, or similar files, the disclosure of which would constitute an unwarranted invasion of personal privacy."
In a message accompanying today's release, County Counsel Jeffrey Blanck explains that "upon further consideration" the county has changed its mind and decided to release the letter after all, though it has redacted the names of the three employees who signed it. Part of the county's reasoning for changing its mind is that the letter has already been published "on a public blogsite."
Here's what Blanck is talking about: Last Friday, one day after the letter was submitted, local blogger John Chiv posted it to his page, complete with the signatures and printed names of the employees who had submitted it. (Curiously, the only thing Chiv redacted — or attempted to — was a stamp in the upper right-hand corner showing that the letter had been received by the county's personnel department).
In the three sentences that accompanied the letter, Chiv didn't reveal who leaked it to him, and a couple of hours after his post went up, he changed it without explanation, replacing the original image with a cropped version that didn't include the three (quite legible) names and signatures at the bottom.
Without these signatures, which the county also redacts, the letter loses some context, making it unclear how many employees are upset with Paz Dominguez. In the remaining text the signatories identify themselves only as "dedicated citizens and employees of the County of Humboldt Auditor-Controller's office."
They go on to say they have no confidence in Paz Dominguez and accuse her of fostering "an atmosphere of hostility, retaliation and bullying." As evidence they cite statements Paz Dominguez has made to local media, including the North Coast Journal, "where Paz Dominguez speaks to personnel issues, specifically power struggles between herself and Payroll Division as blame for issues within the department." They go on to say their attempts to resolve these issues have only resulted in more bullying and retaliation. "We can no longer tolerate it and we are asking for relief," the letter states.
Paz Dominguez has been actively criticizing the county's accounting and payroll practices for months now. She first came forward publicly last November, alleging at a Board of Supervisors meeting that the Auditor-Controller's office has been severely understaffed and mismanaged. Her blunt accusations have irked some of her county colleagues, and it's clear that some, including a majority of the Board of Supervisors, would prefer if she doesn't win next month's election.
Reached by phone this afternoon, Paz Dominguez sounded frustrated. "I am very interested in the truth coming out," she said, "but I'm limited in what I'm allowed to say so I'll be issuing a press release through my attorneys as soon as possible."
What caused the county to change its mind and release this letter? Public Information Officer Sean Quincey said it was party due to public interest, including multiple Public Records Act requests for the document, and partly due to the letter's unsanctioned publication online. But ultimately it came down to following the law, Quincey said.
"There's no law enforcement angle that would prevent us from releasing it," he said, noting that the letter contains no personal or medical information. "It's a matter of law that we have to comply with here. That's it."
Read the letter and the accompanying note from county counsel below.
# # #