Video by Entertainment Weekly.
Celebrity chef and Ferndale local Guy Fieri proved once again that he's a good dude despite his reputation for being a media punching bag.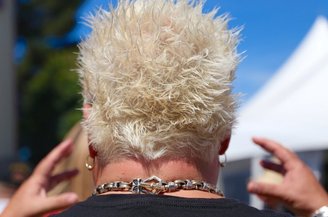 Entertainment Weekly reports that Fieri gave 14-year-old cooking phenom, cancer survivor and Fieri fan Fuller Goldsmith a surprise visit during the Stagecoach Music Festival in Palm Springs last month.
Despite surviving three separate bouts with cancer since he was 3 years old, Entertainment Weekly reports that Goldsmith has gone on to become a Chopped Junior champion, selflessly donating his $10,000 winnings to the Birmingham's Children's of Alabama hospital to help other pediatric patients.
"What you've already accomplished in life is amazing," Fieri told his new friend during their meeting as seen in the video above. "The example you're setting for other kids is amazing."
Fuller Goldsmith wins Chopped Jr.
The Entertainment Weekly video ends with Goldsmith teaming up with Fieri to make a burrito for celebrity celebrity Ashton Kutcher.
Goldsmith dreams to one day attend the Culinary Institute of America in New York City.
Comedian Shane Torres defends Guy Fieri on Conan.
###