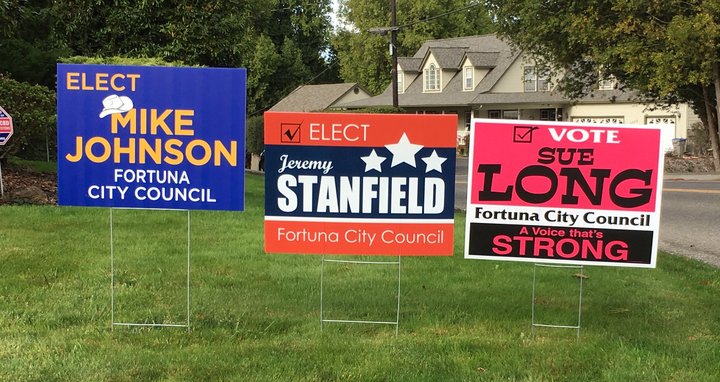 Fortuna is Humboldt-famous for its ban on licensed cannabis businesses within city limits. But it's election time, and with every election comes fresh faces and fresh views for our governing bodies. So is a change on the horizon for Fortuna when it comes to cannabis regulation?
Well, the Fortuna City Council race is uncontested — there are three open seats and three candidates. Two of the candidates will in fact be brand new members of The Friendly City's governing body — realtor Jeremy Stanfield and retiree Mike Johnson. Sitting Mayor Sue Long is running for reelection to the council.
So it's not like weed is a hot button issue for this race. There aren't any hot button issues for this race. But in this LoCO exclusive, we get the lowdown on the candidates' view of legal cannabis commerce anyway, just so we know.
And hey, with these new minds on the council, it does sound like there could be a change with Fortuna's weed policy. Just not anytime soon.
###
Jeremy Stanfield
Long-time realtor Jeremy Stanfield was born and raised in Fortuna. He's always been interested in community service and giving back to the community, and has been attending city council meetings for last three and half years on a consistent basis.
This year, he's ready to go all in. "If you're going to be that involved in local government," he says, "might as well have a vote."
Stanfield calls cannabis a "tough one," because he sees positives and negatives with Humboldt's famed industry. "Born and raised in a fairly conservative home, and it being illegal up until recently, I just believed it was bad," he says. "But I've seen, over time, the definite upside of medical marijuana and CBD and the proper application to people that would otherwise not do well."
"I agree with the council's stance right now," he continues, "that it doesn't belong. Cultivation does not belong in the city limits of Fortuna, around residential neighborhoods." He's also opposed to a dispensary being opened up on Main Street right next to Hoppy's Froyo. (Is that a thing?)
So Stanfield is not about to rock the city council's boat, but he is, however, open minded about medical marijuana products being available in a district "specifically designed for it, with a proposal from an investor that wanted to bring something forward."
He also has a business-minded view when it comes to the potential for manufacturing businesses within city limits, and he throws out the old Palco mill site next to the freeway as a promising location. (See Fortuna's Mill District Area Plan here.)
Here's the hypothetical: If someone came to him, a developer or an investor, and said, "Well what if we brought in a CBD oil gummy manufacturer so that grandma was able to take gummies and gain her appetite back, or [to make] her not nauseous from her chemo medication…" Stanfield will entertain a proposal along those lines, as long as it's "outside of cultivation and a big smelly plant being right next to a residential, right next to a school."
As for the proposed Humboldt Boutique Garden indoor cultivation site just outside of city limits, Stanfield says "I disagree with its location and principle." The Humboldt County Planning Commission recently approved the proposed indoor facility, but the City of Fortuna is appealing. (See Times-Standard coverage from October 1st: Fortuna City Council votes to spend $2K to appeal pot grow in sphere of influence.)
Stanfield explains that since the location is in one of the proposed annexation areas in Fortuna's General Plan, such a business will eliminate Fortuna from its intended future expansion. "And that feels like a taking," he says. "That feels like the county is making a choice for Fortuna, and it doesn't feel right."
Furthermore: "That location is a primary example of how it's going to end up in a residential neighborhood's backyard," he says, "contrary to the desires of the majority of Fortuna."
Can Stanfield speak for all of Fortuna's residents like that?
"No, of course I can't speak for all of Fortuna's city residents, but I would say the majority of the public input that I'm receiving is that they don't want it as close as it's being proposed. I'm friends with the developer, and I'm not opposed to his choice to do something with his property. But I'm opposed to it being in the potential annexation area."
At the end of the day, however, Stanfield's cannabis long game is open-mindedness. "If somebody brings a proposal that makes sense, that's rational… then I'll listen. That's all I can offer, is I'll listen. And I'll react with the best intentions." But his constituents will always come first.
###
Sue Long
Mayor Sue Long has been on the city council for the last eight years, mayor for the last four. In her words: "I'm just really passionate about my city, and I want the best that can happen."
Long says she has not seen anything good when it comes to cannabis operations. "I think that by passing an ordinance precluding it from being in Fortuna at this time protected us from any kind of craziness or overbuilding or anything like that." So while the dust settles from Prop 64 and the county cannabis ordinances, she says, "we can just sit back and watch and see what happens."
She continues: "When you have an ordinance that's tight like that, you can always loosen it up," referring to Fortuna's ban. "But when you have an ordinance that allows things that maybe you decide later that you don't want, it's really hard to go back and take away from it, and take away land rights and all of that."
Long explains that part of the council's frustration with the county and the Planning Commission allowing grows near the city's boundaries is that "the quality of life for the Fortuna citizens has gone down, even though the county has all these rules that they say they're going to enforce. They are not doing it…"
"We have complained since day one about the odor, the lights, the traffic, the criminal activity. All of that, and the supervisors pooh-pooh us." In particular, Long refers to a permitted grow on Pampas Lane, right on the city's boundary. She says it was supposed to be an indoor, but the county is letting them grow outdoor. "The odor travels even all the way down to Ambrosini Elementary School," she says.
(It is worth noting that there are currently greenhouses at this site.)
###
Humboldt County Planning and Building Department Director John Ford responds, saying this is a misunderstanding. "The original concept showed greenhouses, but it was approved to be outdoor cultivation." And this approval came under the original ordinance with what the Planning Commission calls an "R-R-R — a relocation, remediation and restoration plan, which allows a site that is not suitable for cannabis cultivation to be moved to a suitable location."
Since the county's original ordinance identified prime agricultural soils as being appropriate locations and this is one of the permits that was approved under those circumstances, "there was no requirement for odor control on the original permit."
Ford says that one of the things the county did realize when they were modifying the ordinance, in creating what they call "2.0," is that a lot of the prime agricultural soils are in close proximity to areas with higher populations and people who don't want cannabis in their neighborhood.
Version 2.0 requires those projects that were approved under the original ordinance and that are within what the ordinance defines as "special areas," have a certain amount of time to develop a plan to mitigate odor impacts to the surrounding area, and a certain amount of time to implement that plan.
Fortuna's sphere of influence is a special area, and Ford says "this applicant has indicated that they are going to enclose their cultivation site, which means that they are going to put it in greenhouses that have odor control… So everything has to exhale out of the greenhouses through some kind of filtration system."
They have 18 months to submit the plan to and have it approved, and then an additional 18 months to implement the plan.
###
Turning back to the proposed Humboldt Boutique Gardens site, Long says, "It's right across the street from residences. And now you're adding traffic to the road and you're adding all of these people coming in and out. And everyone keeps saying, 'Oh, there's no bad guys, there's no criminal element.' Well, think again."
With regards to Fortuna's annexation plans, Long disagrees with Stanfield on his view that, if ultimately approved, the indoor cultivation facility will prevent Fortuna's future expansion. "So what would happen," she says, "is since Fortuna's ordinance doesn't recognize it, we would have a nonconforming business in our annexation. And if we wanted to do something else there, like if we wanted to have a business park, or whatever it was that we were thinking would fit there, obviously we would have this cannabis thing that we couldn't get rid of."
So Long is opposed to how the county is handling their permitted grows. She is also morally opposed to cannabis use. "It's legal, but it's not really legal, per se, because of the federal laws. So that's a hard one. And, you know I've actually seen people — my brother — I saw what happened to him when he started smoking marijuana. And it wasn't a good thing."
"I'm not saying that's there's not a use for it, in the medical field. But until you can actually walk into your pharmacist and buy it like you buy any other medication, I don't get it."
If people can prove that there's advantages to Fortuna housing cannabis businesses, Long says the council can reconsider their ban down the road. "But until then, we're pretty firm on our stand."
###
Mike Johnson
Candidate Mike Johnson worked for the City of Fortuna in a public works capacity from 1993 until June of this year. Now he's retired, he's a grandpa, and he's running for city council because "I felt like I still had something to offer the community as a council member."
He offers a truism at the start of our conversation about cannabis, saying, "Cannabis as a whole is legal in the state of California, whether people like it or not." He's still waiting to see whether the positives of Fortuna's ban outweigh the negatives.
"I suppose you could look down the road and see how things have worked out in Rio Dell, Eureka, Arcata. And [the ban] can be revisited… I want to see how it goes, to see what happens in other communities."
Although recreational cannabis is now legal in California and there is a strict framework for businesses, Johnson has not forgotten the crime that has played out in the city over the years, crime associated with illegal marijuana cultivation. It's left a bad taste. Fortuna is a nice community, he says, "and I think that's what part of the caution is."
And like Mayor Long, he thinks the way the county is issuing cannabis cultivation permits on the outskirts of Fortuna is "not right." In regards to the site on Pampas Lane, he says, "Out of all the ag land in Humboldt County, especially near Fortuna, why did they pick something that backs right up to somebody's backyard? To put it right there, right in somebody's backyard, and then to allow them to grow outdoors… it's kind of a double whammy."
As for the proposed Humboldt Boutique Gardens site, Johnson says, "Some people I know live off of Drake Hill… they're not very happy about it either. This one guy told me that he's looked at different areas, and wherever the grows have gone in, property values have dropped." And since it falls into the sphere of influence of the City of Fortuna, this is a "quandary" because if the county approves the facility, it means Fortuna will potentially be annexing a business that does not conform to its ordinance.
Another aspect of the legal market that concerns Johnson is seeing the drop in value or drop in price of the raw product in Oregon, Washington and California. However, he calls the state's requirement for the California Department of Food and Agriculture to develop a process for cultivators to establish cannabis appellations a "bright spot" because this will ideally add value to locally grown cannabis. He muses: "Would you rather have it grown in Fresno or Humboldt County?"
The Mill District is somewhere Johnson would consider allowing cannabis businesses, after he sees how things are working other places. "You have to admit, the potential for odor creates a thing where you want to be careful what you're adjacent to. If it's already an industrial area, it may not matter as much as if it's next to a residential or retail commercial. I'm still waiting to see how the filtration works in other areas."
"Nobody wants to turn away something that generates jobs," he adds, "because [with] jobs the dollars go a lot further, even much more so than sales tax… But we need to make sure that it's the right fit for the community."
Last words: "I've had to deal with the public for a while," Johnson says, "and I try to keep an open mind. I try to tell people that I'm not a party voter, but an issues voter."
###
There you go. We have open-mindedness in Fortuna, but a firm stand on the ban in the meantime.