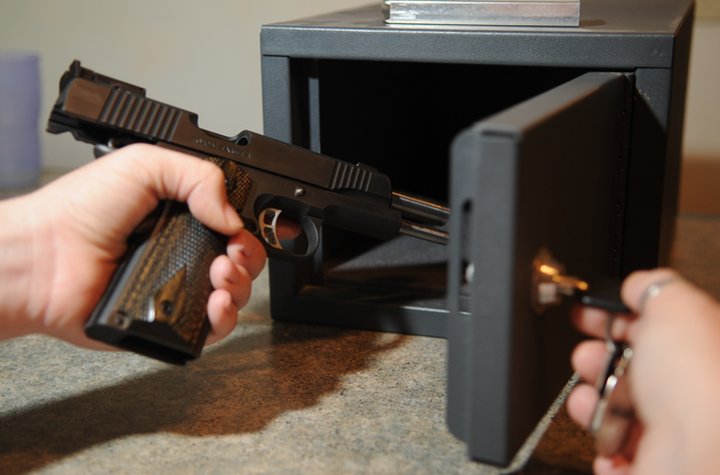 The Arcata City Council will decide tonight if it wants to move forward with tighter gun laws in the town. The council will vote on an ordinance that would require guns be to locked in storage or disabled with a trigger lock when not being carried.
The council decided to have city staff draft a firearm storage law in May, after Northcoast Preparatory Academy High School students Olivia Joachim and Eva Swartz presented a request for a safe storage ordinance at a City Council meeting on May 2.
The issue was brought up again at the Sept. 19 City Council meeting, and the council requested more research be done. Arcata City Manager Karen Diemer told the Outpost that the new ordinance is based heavily on a similar law in San Francisco, which requires a firearm be locked, unless the owner is carrying it on their person.

Diemer said that the main change this ordinance would make to existing state firearm laws is that it would prohibit guns from being stored unlocked when the owner is home. The ordinance also does not require that firearms be kept unloaded, something that was outlined in the initial request.
"We could not find a California ordinance that restricted storage in that way," Diemer said.
Some folks in the community are not too happy with the idea of tighter restrictions on gun storage, including Pacific Outfitters owner Aaron Ostrom. During the September meeting, Ostrom expressed concern that a law like this will infringe on people's right to defend themselves in their own home.
"Your ordinance would prevent me from protecting my family. Therefore, ordinance or not I'm not going to follow it," he said to the council. "You're essentially turning me into a criminal for wanting to defend myself and my family in an emergency with reasonable force."
Ostrom also said during the meeting that he always recommends people keep their guns locked up while they're not home, which is when most break-ins happen.

On Monday, Ostrom posted a message on Facebook calling out to Second Amendment supporters to speak out at tonight's meeting. In his message, Ostrom says that "you can't even clean your firearm without breaking the ordinance, which is punishable up to a misdemeanor charge."
Whether requiring the locking of firearms is a restriction on Second Amendment rights has been the subject of much debate. Diemer said that the city staff researched the Supreme Court case of District of Columbia v. Heller, in which the court determined that requiring guns to be kept disassembled or non-functional in the home was a violation of the Second Amendment. But she says this does not in any way prohibit the city from moving forward with the ordinance.
Diemer also said that those who are worried about the ordinance may be interpreting it very literally and that there is "nothing in the ordinance intended to prevent the cleaning of firearms."
The Arcata City Council meeting is tonight at 6:00 at Arcata City Hall, 736 F Street.
The full agenda can be viewed here.

###