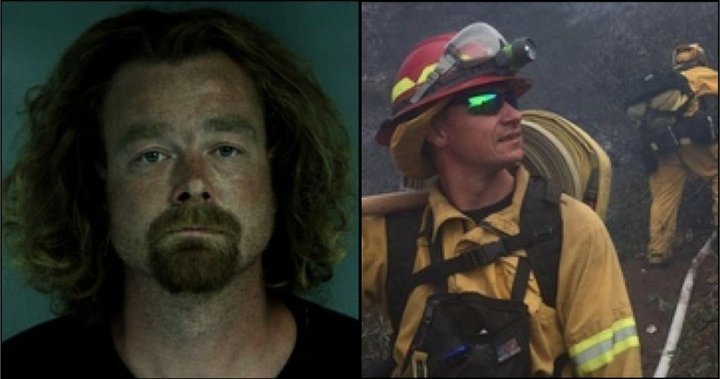 UPDATE, Oct. 19: Jon Goldberg was sentenced to 15 years to life Friday afternoon for the 2016 murder of his wife's lover Tim Smith. Visiting Judge Graham Cribbs denied the defense's request for a new trial and rejected an additional firearm enhancement that would have added 25 years to Goldberg's prison term, according to the North Coast Journal.
# # #
Original Post: As visiting Judge Graham Cribbs prepares to rule on whether convicted murderer Jon David Goldberg will be granted a new trial based on suspected jury misconduct, the jurors in question are being interrogated in what looks like an all-day process.

Jurors, under subpoena, arrived at Humboldt County Courthouse at 8:30 this morning and were called into Courtroom Three as a group shortly before 10 a.m. Then jurors were questioned individually with Cribbs, Deputy Public Defender Casey Russo and Deputy District Attorneys Luke Bernthal and Trent Timm present.
As of noon, when court broke for lunch, only three jurors had been interviewed. Juror No. 2, when she left after being questioned, waved good-bye to other panelists and said "Good luck."
The interviews are being done in a closed courtroom, with today the second private hearing this week in the Goldberg case.
This morning Cribbs announced the Goldberg matter would again be closed to the public, "including the press," and then told reporters they were excused and to vacate the courtroom, even though it was open for two other criminal cases on the calendar.
Defense attorney Russo stood up to inform the judge that the defense hasn't asked for the public to be barred from the hearing.
"It is not Mr. Goldberg's request that the hearing be closed," Russo said.
Cribbs said Russo's remarks would be noted, and "request denied."
Cribbs said during a past hearing he believed there was credible evidence of jury misconduct, though it's never been specified in public what a juror or jurors did wrong. At one point during the trial, however, Cribbs lectured the jury because one or more of them was heard discussing the case outside the jury deliberation room.
Goldberg, after a weeks-long trial, was found guilty of second-degree murder for killing Fortuna resident Timothy Smith, who had been having an affair with Goldberg's wife Rachel. The jury also found Goldberg personally used a firearm to kill Smith, who was shot multiple times outside his home on Rohnerville Road.
Russo has filed a motion for new trial, along with a motion to dismiss the special firearms allegation. Second-degree murder carries a penalty of 15 years to life in state prison, while personal use of a firearm to kill someone means an additional 25 years to life.
On Monday Cribbs said he would issue a ruling Friday morning, but it's unclear whether he meant one motion or both.
PREVIOUSLY: