###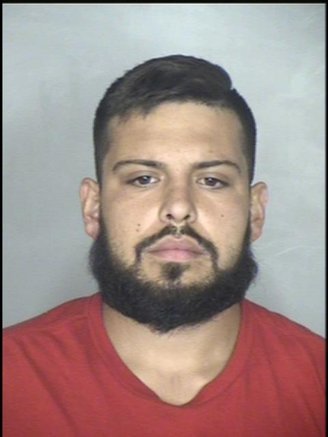 Judge Caleb Cockrum held a 24-year-old Chico man to answer today on charges that he murdered a Southern Humboldt couple in a dispute over stolen marijuana, then burned their bodies after threatening an eyewitness to help him or face the consequences.

At the end of a preliminary hearing for Ulisses Rodriguez, Cockrum ruled there was probable cause to find Rodriguez shot Jeremy Kuemmel and his girlfriend Tiffany Ellebrecht to death Aug. 14 at a marijuana grow site in the China Creek area of Southern Humboldt. The judge also found probable cause that Rodriguez made criminal threats to witness "John Doe," and that he committed arson by setting fire to Kuemmel's Ford Expedition with the bodies inside.
"John Doe" testified through Spanish interpreter Carlos Benemann. Doe was not identified by name for his protection, saying at one point he was afraid after the shooting "and I still am."
Doe, who appears to be about 50, testified there were two grow sites on the China Creek property. Rodriguez was in charge of one, he said, with "Jeremy" and his girlfriend living in a trailer there and working for Rodriguez. Doe lived in another trailer and was watering plants and doing other tasks at the second grow site, which he said was owned by a woman he didn't know.
On Aug. 14, Doe said, Jeremy and Rodriguez argued over the suspected theft of some pot plants. Rodriguez told him he had warned Jeremy to leave and not return.
"He said if he came back that he was going to hurt him or something bad was going to happen," Doe said through the interpreter. Later, he added that Rodriguez told him Jeremy knew what would happen to him if he returned.
"Did (Kuemmel) leave?" Deputy District Attorney Joel Buckingham asked.
"He left but he came back."
"Did anything unusual happen?"
"I was putting the containers (of soil) away when I heard the shooting and this person died."
Doe testified he recalled hearing five or six gunshots, though he earlier told a sheriff's investigator he heard nine.
After the shots were fired Rodriguez showed up carrying a pistol, Doe recalled, and warned that if Doe and another worker named "Chano" didn't help him, "things would go bad for us."
Doe said Rodriguez always carried the gun on his waistband, but now it was in his hand at about chest-level. He said he was too afraid to disobey Rodriguez.
Doe walked up to Jeremy's Ford Expedition, he said, and saw two bodies.
"There was a dead woman there and he was there too," Doe testified.
Rodriguez began giving orders, Doe said, instructing him to wrap a chain around the bodies. He said he then saw Rodriguez hook the chain to his blue SUV. Then he was told to go buy gasoline, he said, and come back in an hour.
"I left and went to a hotel because I was afraid," Doe said, adding later that "he told me to go and get gas and come back but I didn't come back."
During cross-examination by Deputy Public Defender Ben McLaughlin, Doe said he had lived in Humboldt County off and on for three years, staying for a couple of months and then leaving again. His original purpose for being in the county was to help a man named Jose demolish and rebuild a house, he said, but Jose was out of money so he went to work at the China Creek grow. He had been working and living there for just 15 days when the shooting occurred.
McLaughlin also wanted to ask Doe about where he went when he left Humboldt, saying it's possible Doe has been entering the United States illegally, which is a federal crime.
"We're not going into that line of questioning," the judge said. "That issue is not before the court right now."
Sheriff's investigator Scott Hicks testified he questioned "Chano," whom he identified as Roeiciano Sanchez, and Sanchez told him Rodriguez had told him "I shot them" and he really needed help. Unlike Doe, Sanchez didn't say Rodriguez was carrying a gun and threatened to harm them if they didn't assist.
Doe acknowledged under cross-examination that he didn't see the shooting and doesn't know whether another man on the property might have done it. That man, who appeared to be Chinese and has not been identified, was "standing nearby" when Doe put chains on the bodies, he said. He said the Chinese-looking man left the property with Rodriguez in a blue SUV.
Although Doe believed Rodriguez carried a .38-caliber pistol, it was .357-magnum casings that sheriff's officers found on the China Creek property. Seven casings were recovered from a burn barrel, sheriff's Sgt. Diana Freese testified today, and five more were found nearby. There were also two live rounds.
When investigators drove to Chico to arrest Rodriguez, district attorney's investigator Martin Morris testified, they searched a blue SUV and found .357 ammunition in the trunk compartment. They also found a passport issued to Rodriguez in the glove box.
The slain couple's bodies were found in Kuemmel's green Expedition, which had been set ablaze and left in a turnout on the road between Redway and Shelter Cove. The fire appeared to have started in the front passenger seat, and a canister of butane was discovered on the floor.
Investigator Hicks said he spoke to a witness who came upon the vehicle in the early stages of the fire. A blue SUV was parked in front of the car, the witness said, and when he drove up the SUV made a U-turn and sped away eastbound.
There were a number of spectators present for the hearing, apparently friends and family members of the victims. At one point defense attorney McLaughlin told the judge that Rodriguez's father also was there.
McLaughlin declined comment after the hearing. Prosecutor Buckingham said only that "it's very important to remember Rodriguez is innocent until proven guilty."
"This is just the beginning of the process," he said.
In addition to the principal charges, Rodriguez was held to answer on special firearms allegations. One of those, using a gun to kill someone, adds 25 years to life to any prison sentence.
Rodriguez is scheduled for arraignment on Nov. 1 and remains in Humboldt County Correctional Facility on bail of $4 million. He was dressed in red today, meaning he is segregated from the jail's general population.