It promised to be an awkward discussion.

Eureka City Councilmember Austin Allison had placed on Tuesday's agenda a draft letter asking California Attorney General Xavier Becerra to investigate a $10 billion rail-and-port infrastructure proposal for possible securities fraud.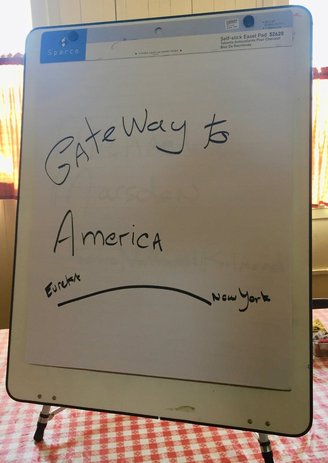 Allison's suspicions were raised by last month's Outpost story on the proposal, which revealed, among other things, that the company attempting to raise $10 million in seed money from the local community, called Humboldt Eastern Railroad (HERR), "is not registered, and does not intend to register" as an investment company because doing so would make the endeavor "subject to substantial regulation." This according to a confidential stock offering HERR issued back in December.

On the other side of the dais, Allison's fellow councilmember Marian Brady has been actively promoting this proposal as she campaigns for a seat on the board of the Humboldt Bay Harbor, Recreation and Conservation District.
The stage was set for a rancorous debate over a project some see as the key to a prosperous new era for the Humboldt Bay region and others see as ludicrous boondoggle, if not an outright scam.
But the debate never happened. At the top of the meeting City Attorney Bob Black announced that two agenda items had been moved to the closed session portion of the meeting, where matters are discussed out of public view. This was done, Black said, "based on the potential of anticipated litigation."
Mayor Frank Jager got more specific a minute later, explaining that the draft letter "has been pulled from the agenda and will possibly be brought back in a December meeting."
So what happened?
Well, one of the key people behind the new east-west rail scheme, local attorney and founder of the HERR Bill Bertain, met privately with the city attorney and City Manager Greg Sparks on Tuesday, Bertain told the Outpost. During their hour-and-a-half-long meeting Bertain argued that the draft letter contained errors and defamatory accusations.
Did he threaten to sue the city?
"I didn't intend to make an explicit threat of litigation," Bertain said, "but I can understand that any discussion of the possibility of litigation could be understood as [a threat]. … My main purpose was to … show the errors and mistakes in the letter and get the matter taken off the agenda."
He succeeded.
The errors, Bertain said, included claims about the nature of the various organizations behind the rail-and-port development proposal as well as their methods and intent. For example, the letter states that HERR contracted with local engineering firm Oscar Larson & Associates (OLA) to provide engineering assistance. Not true, Bertain said. No such contract exists Technically, OLA's services were enlisted by Pacific Charter Financial Corporation, an Orange County firm that's also involved in this endeavor.
As the Outpost reported last month:
According to a budget prepared for submission to the Surface Transportation Board, the people proposing this project stand to make significant profits regardless of whether or not the development gets fully financed or built. For example, Kenneth Davlin's engineering firm, Oscar Larson & Associates, is slated to receive $980,000 for "technical project management and monthly reports."
Bertain also objected to the letter's assertion that shares in the project were being "aggressively marketed locally to vulnerable citizens – particularly the elderly – within our city."
As the text of the stock offering explains, on page 24, shares can only be purchased by "accredited investors," defined as people who earn more than $200,000 a year ($300,000 with a spouse) or who have a net worth of at least $1 million.
Bertain didn't reveal how much money has been raised thus far from the local community, though he said one local couple invested $200,000. (He didn't identify them.)
At some point, Bertain said, he'd like the city to host a study session where project proponents can give a thorough presentation to council and staff.
But it appears that mistakes were made on both sides. Earlier this week Bertain was quoted in the Times-Standard saying, "Any errors we may have made with regulatory agencies are being corrected."
Does that mean he plans to register HERR under the Investment Company Act after all?
Nope.
"We don't have to," he told the Outpost. "We are complying with the rules that apply to us."
The "errors" he was referring to in the Times-Standard story were simply missed filing deadlines for the stock offerings, he said.
Allison said he and his fellow council members agreed to pull the letter from the agenda "as a courtesy" to give Bertain and his cohorts time to fix their mistakes. Presumably the city will also fix their own. Regardless, Allison said that in a way, the letter had the effect he was hoping for, which was to "turn the lights on the issue and see if people scurried around or not."
Scurry they did.
One side note, here. Another backer of the east-west rail scheme has apparently decided to take a different approach to these matters than Bertain, who is nothing if not friendly and forthcoming.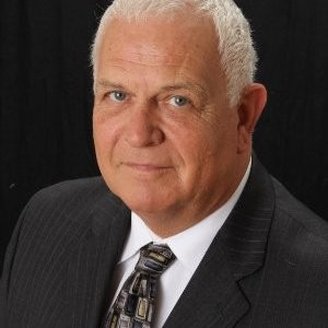 Michael Marsden, vice president of business development for the dubious Orange County company Pacific Charter Financial Services Corporation (a company without a functioning website, dedicated mailing address or even a business license in the state of California), took to Facebook on Tuesday, ahead of the city council meeting, and composed a hyper-partisan broadside in the private group "Humboldt County Conservatives (HCC)."

Deriding skeptics of the project as "far left liberals that do not want to see economic growth," Marsden encouraged conservatives to attend the meeting and show their support for "all the jobs and revenue" he suggests are an inevitable result of the double-tracked, hydrogen-powered train project he's promoting: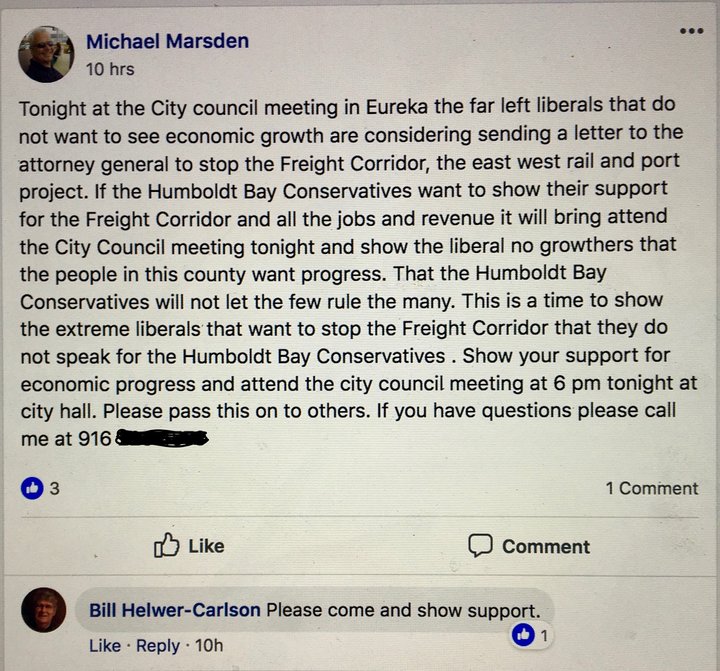 We called Marsden to ask why he thinks this is a partisan political issue.
"My opinion," he answered.
What's that opinion based on?
"Based on what I see," he said.
The Outpost noted that the city councilmembers we've spoken with say they're not anti-growth or even anti-train, necessarily; they're just concerned about a project that looks like a possible fraud. What leads Marsden to characterize this skepticism as the work of "extreme liberals" bent on sabotaging the project?
"It's what I believe," he said.
Okay, but why? we asked.
"Because I believe it," he said.
We asked if liberals were allowed to invest in the project, and he hesitated for just a moment before answering, "Anybody can."
###
[Note: This post has been updated to clarify the relationship between Oscar Larson & Associates and the other corporate entities involved in the endeavor.]
###
PREVIOUSLY: