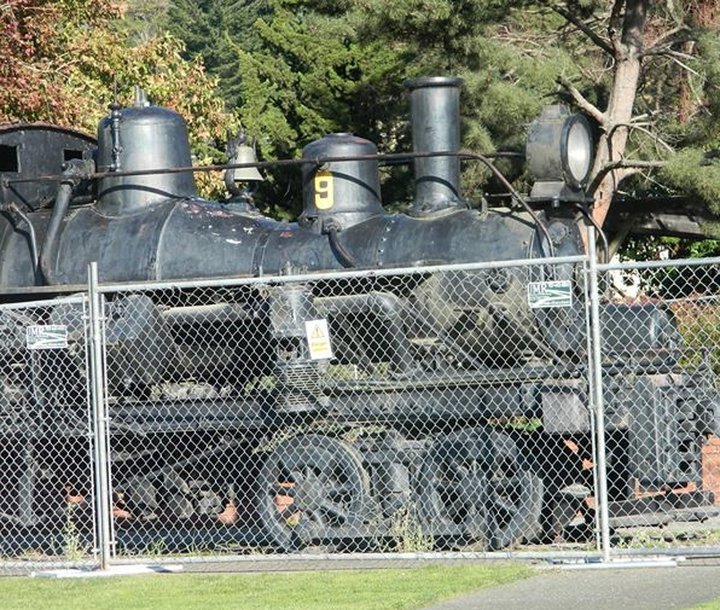 PREVIOUSLY:
###
We knew this day was coming, and now we now know when it is coming. Next week they're going to pack up and move out all the old railroad and timber gear that has decorated downtown since the '50s, in a little space on Main Street across from old Pacific Lumber Company offices.
The centerpiece of the exhibition — the little No. 9 locomotive — was bought by a group based in Marin County, and she'll be put on display down there instead.
If it's any consolation, folks down there are pretty stoked, and they have a moral claim to the engine, too: In her heyday a century ago, Number 9 used to pull thrillseekers from Mill Valley up to the top of Mt. Tamalpais, with side excursions to Muir Woods.
According to the Marin Independent-Journal, the plan is to permanently park the locomotive at the top of Mt. Tam's east peak. She's going out on top.
Press release from the Scotia Community Services District:
The Scotia Heisler Engine No. 9 Locomotive and logging equipment is set to move on Thursday and Friday, October 25 and 26, 2018 during business hours. Be advised heavy equipment and machinery will be in use on the site.

The Surplus Property Bid was Awarded to Friends of No. 9, LLC. on Thursday, March 15, 2018. The group plans to restore the Heisler No. 9 engine and relocate it to Mill Valley, CA where it will be on display along the historic railroad grade and accessible to the general public. The remaining historic logging equipment will be rehomed locally with the Timber Heritage Association in Samoa.