Video by Ryan Hutson.
PREVIOUSLY: Eureka City Council Candidates Politely Disagree On a Number of Matters During Labor Temple Forum
###
One night after candidates for Eureka's first and third wards voiced their opinions on a range of topics, candidates for the city's mayorship and Ward Five seat gathered at the Labor Temple for a public forum, answering (mostly the same) questions from representatives of a variety of local progressive groups.
At one end of the table sat incumbent Ward Five councilmember Kim Bergel and challenger Joe Bonino. At the other end, the three women running to succeed current mayor Frank Jager: Heidi Messner (who currently holds the Ward 2 seat on the council), Michelle Costantine and Susan Seaman.
Here's your visual key: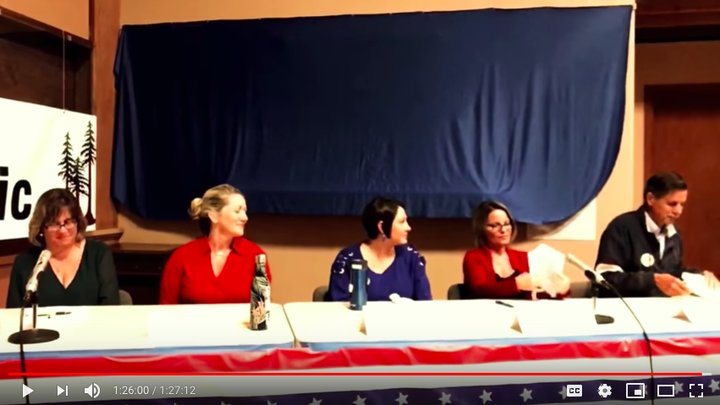 The forum was sponsored and hosted by a variety of local nonprofits — including the North Coast People's Alliance (NCPA), the Humboldt-Del Norte Central Labor Council, Cooperation Humboldt, AHHA (Affordable Homeless Housing Alternatives), Centro del Pueblo, Health Care for All, Move to Amend, the Eureka NAACP, and Northcoast Environmental Center (NEC) — several of which tend to focus on big-picture national issues, so the questions (which candidates had been given ahead of time) touched on such weighty topics as systemic racism, single-payer health care and the Supreme Court decision in Citizens United v. F.E.C.
And the candidates — coincidentally, no doubt — appeared to have been seated ideologically, with Bonino, a conservative Republican, sitting on the far right with Bergel, a progressive Dem, to the left of him. And among the mayoral candidates, Costantine, who founded the anti-homeless Facebook group Take Back Eureka, was on the right with Seaman on the left and Messner in the middle. (Not that this strictly matters; the positions are nonpartisan.)
Ward Five
The difference in worldviews between Bergel and Bonino was apparent from the first question, which concerned homelessness.
"I feel that the city council hasn't tried hard enough to stem the influx of new homeless that find Eureka an attractive place to live," Bonino said. His solution would be to encourage more "non-bureaucratic solutions," like those offered by Betty Chinn and the Rescue Mission, and he said some trailers recently donated to the city should be put into use.
Bergel pushed back. "Our city staff is constantly, constantly working on housing solutions," she said, and she ran through a list of recent initiatives, including an "accessory dwelling fair" designed to encourage residents to open up their mother-in-law units, and some planned low-income-housing developments. And as for the trailers, Bergel said they haven't been implemented yet because someone threatened a lawsuit.
Regarding Measure K, the countywide sanctuary ordinance, Bergel said she's in support. "No human being is illegal," she said, and then repeated the sentence for emphasis. She added that it's important to "support people into citizenship" rather than tear families apart.
Bonino had a different take. "I don't support Measure K," he said, noting that the state already has a sanctuary measure. He also objected to the increase in staff time and paperwork some say the measure will cause, and he said he finds it hard to believe there won't be any lawsuits filed in response if the measure passes.
A labor council rep asked if the candidates would support a living-wage ordinance. Bonino said no because "it would disadvantage the businesses in Eureka tremendously" and the state minimum wage is already slated to go up to $15 per hour by 2023. As a longtime employee at Humboldt State University as a payroll tech, Bonino plugged the labor movement. "That's what unions are for," he said, "to get better benefits and wages."
Bergel noted that four years ago, when she was first running for a seat on the council, she supported the living-wage ordinance Measure R, Eureka's Fair Wage Act, which would have required businesses within city limits that have 25 or more employees to pay at least $12 per hour. That ordinance failed at the ballot box, and Bergel said it was likely because it was specific to the city. She would now prefer a countywide fair-wage ordinance, though she agreed with a point Bonino made, that the term is hard to define.
But the two candidates disagreed sharply on two other matters: single-payer health care (or Medicare for all) and Citizens United, the landmark 2010 Supreme Court ruling that opened the floodgates for political spending by corporations, nonprofits, labor unions and other associations.
Regarding health care, Bonino said there needs to be more competition, not less. "You think it's expensive now, wait until everybody has to have one system," he said. He argued that single-payer would hurt unions and suggested opening insurance markets to compete beyond state lines.
"I believe health care is a right," Bergel said, adding that it makes her sad to see family members who postpone medical care due to lack of insurance. "I absolutely support single-payer," she said, calling the model "a critical piece of our culture and society."
Move to Amend, a group dedicated to reversing the Citizens United ruling, had a representative ask if candidates would sign a pledge of support for that effort.
Bonino said no. "Donations don't control how people vote; reasoned arguments control how people vote," he said with a straight face. "You can have all the money in the world on one side, but if you don't have the argument on your side, you're not going to win anything."
Bergel disagreed. "I would absolutely sign a pledge that money and corporations aren't speech," she said. "That's ridiculous to think that corporations are people. Ridiculous. I plan to continue to represent regular people in our community."
In response to a question from the NAACP both candidates agreed that racism is wrong. Bergel noted that she's been working hard to return Indian Island (or Tuluwat) to the Wiyot Tribe.
"One thing she didn't tell you, though," Bonino said, "is [that] Indian Island is zoned natural resources. So there's really nothing they can do with it. So, you know, it seems like a great gesture, but they can't develop it at all." (To our knowledge, the tribe has expressed no interest in developing the island.)
As with the previous day's forum, the last question made vague reference to news stories based on "misinformation and selective opinions," and again, everyone seemed to understand this as a reference to the needle-exchange debate.
Bonino voiced strong criticism of the Humboldt Area Center for Harm Reduction (HACHR), the nonprofit that runs the program in Eureka. "I'll find a better way to solve this problem than with an unsupervised, unaccountable nonprofit organization that has lost track of over 25,000 needles," he said. "I don't think the [citizen's advisory] commission that Kim set up to oversee the HACHR situation is really gonna do much. It's basically just a fig leaf."
His critique continued. "The HACHR people definitely made a hash of this whole thing," he said, adding, "It was a mistake for council to even let them in."
Bergel looked momentarily taken aback but then launched into her prepared remarks. "I base my policies and ideas on facts and scientific information, and evidence," she said, noting that she and Messner have traveled to Sacramento to review research on needle-exchange programs.
She acknowledged that data and research can be skewed. "There are people that don't believe in climate change," she said, eliciting a smirk from Bonino. "I believe that scientific evidence is critical to moving forward in our community and in our world," she concluded.
Mayoral Race
The three candidates for mayor showed distinct differences in both style and substance. The first question concerned what each candidate would do about NIMBYism and negative, even violent attitudes toward the local homeless population.
Costantine, who was suffering from the double indignities of a cold and a misspelled name sign, said, "I think NIMBYism is a product of our local leaders and staff not communicating with residents of Eureka and business owners." Such attitudes "will always be a challenge in such a small community," she said.
Messner took issue with that. "I must be wasting my time if we're not working on this because I've spent so many hours, [taking] trips around the state trying to discover ways we can do this the best and collaboratively," she said. She's also supported Betty Chinn, the Rescue Mission and Adult Teen Challenge and voted for Waterfront Recovery, an in-patient rehab facility, to come into the city. NIMBYism, she said, "is a problem of sticking our head in the sand."
"I like to start with the commonality," Seaman said. "We can all agree on the magnitude of this problem. What we need to talk about now is more specifics about what we need." How many beds are needed? How many beds with accompanying substance abuse treatment? How many with mental health care? Such questions are important to consider, Seaman said, "so when we're approaching a new project we can talk about how well it's addressing the issues."
Regarding Measure K, Costantine said she doesn't support it because it would offer "a false sense of security" and because the state already has a sanctuary ordinance.
Messner told a story about friends raised in the U.S. after their father had been granted amnesty from the Philippines during World War II. When the dad died in the 1990s, his children were deported. "Due to the current political climate, I voted for a resolution to protect every member of our community in Eureka," Messner said.
"I will be voting yes on K," Seaman said. Eureka's policy is good, she added, "but the national climate now demands that we make a decision about how we treat immigrants. We have to say we won't condone the harassment of documented citizens, and absolutely not the torture of undocumented [residents]. I really feel it's important we make a statement that this is who we are and celebrate what immigrants bring to this community and to America."
Regarding single-payer health care, Seaman said it can't come fast enough. Her kids are approaching age 26, when they'll no longer be covered on her insurance, and they have medical needs, including a son with asthma. "It's a very, very scary time for me," she said.
Costantine said she doesn't think it's much of a local issue, probably nothing she'd be able to influence as mayor, but added, "I don't think the state can afford single-payer health care right now." A moment later, though, she said, "What I do support is a national health care for all."
Messner said she agreed with Seaman that health care is a right rather than a privilege, but she questioned whether a single-payer model is affordable. She said she's lived in countries that offer universal health care and "up to 70 percent of their taxes go to pay for that." The Outpost tried to find documentation of such a country online, without success, and reached out to Messner's campaign for more information on Thursday. We have yet to hear back.
The candidates were asked whether they support Proposition 10, a bill on the November ballot that would allow local jurisdictions to implement rent-control policies.
"I do not support Prop. 10 because while it may help in larger cities I think it will hurt us here locally," Costantine said. Rent control would de-incentivize property owners and developers from creating new rentals and maintaining the ones they have, she said. "And I don't believe that the government should be telling people what they should charge for their property."
Messner largely agreed, saying there would likely be "unforeseen consequences" to rent control measures. "Generally homeowners cannot maintain their rentals," she said, adding that the policies "result in slum housing," which is "not good for anyone."
Seaman said she does support the repeal of the 1995 Costa-Hawkins Act, the state law limiting local control on managing rents, because communities should be allowed to decide such issues for themselves. "That said, my housing priorities are to create more housing," she said. She'd also like to see substandard housing brought up to code and noted that rent-control measures don't support either of those goals. She said the city currently has too many regulations, making it difficult and expensive for developers, and suggested focusing on infill, accessory dwelling units and tiny houses to add more options.
Larry Glass, executive director of the Northcoast Environmental Center and a former Eureka councilmember, said that appointing people to local boards and commissions may be the mayor's most important job, and he suggested the current boards are too homogenous. Taking specific aim at the planning commission (on which Bonino sits), Glass said it's comprised of "all white dudes and developers."
"Would you pledge to add socioeconomic and gender diversity to local boards and commissions?" Glass asked.
Messner got first crack at answering, and she was beaming. "I absolutely love that you're the one asking this question, Larry," she said. She went on to say she believes in appointing qualified candidates as well as having a wide range of voices at the table, and in recent years candidates for some commissions have been rejected in an effort to bring more diversity, she said.
Seaman said appointing a diverse and representative mix of people to the city's boards and commissions is "one of the more important things we can do." She recounted meeting an elderly woman who has issues with transportation, suggesting that such a voice would be useful on the transportation commission, and she said "people who are not huge police fans" might be valuable members of the police advisory panel.
Costantine had a bit of a mixed message. She said, "I am 100 percent for the most qualified person getting the job regardless of race, religion or socioeconomic status." But she also said, "I think diversity is one of the most important things that you can have in governing" before returning to her initial position: "[I]f I am elected I will make sure that the most qualified person gets the position."
You can watch the forum in its entirely in the video at the top of this post.