Note: With an uncommonly crowded field of candidates for city council and mayor in Eureka this year, the Outpost is taking a closer look at some of the city's most significant and oft-discussed issues, including economic development, crime and homelessness and, in this installment, needle litter.
###
Whether in the news, on social media, during Eureka City Council meetings or during Eureka candidate's campaign speeches, unwanted syringe litter has become one of Eureka's most heated, frequently discussed topics.
At the heart of the controversy is a Eureka-based syringe exchange program (SEP) — a service where people turn in their used needles in exchange for new ones — operated by the non-profit group Humboldt Area Center for Harm Reduction (HACHR).
With Humboldt County experiencing an opioid crisis and high rate of HIV and hepatitis, the Council and many community members note that syringe exchange programs have been proven to help prevent the spread of infectious disease.
The Council adopted a resolution authorizing HACHR to operate the exchange program in March 2016. Around that time there was a shift in the community with regards to needle litter. Many people seemed to see an increase in the syringe waste on the streets or in parks, with groups like PacOut Green Team reporting large stashes of needles turning up in their monthly cleanups.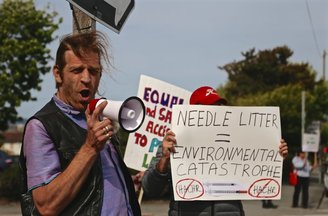 "2016 is when our eyes sort of opened. Something changed," Pacific Outfitters owner and Green Team organizer Aaron Ostrom told the Outpost. Though the team had found syringes in their cleanups before, he said, there was a noticeable increase around that time.
Many thought of HACHR as the primary contributor to this increase in needle litter, especially since the organization, at least initially, adhered to a "needs-based" policy (distributing the amount of needles consumers need) rather than going to a one-to-one exchange (only distributing exactly the amount of needles returned.)
Some community members have insisted that HACHR change to a one-to-one exchange, holding demonstrations protest the organization. The phrase "one for one or done" has become frequent slogan used on social media and from representatives from groups like "Take Back Eureka."
In response to the community concern, the City Council has made several attempts to further regulate the syringe exchange program.
In March, the Council adopted a Syringe Management Ordinance, which requires HACHR to provide quarterly reports on the number of needles collected and distributed, the number of referrals made to other services (such as drug treatment programs) and the number of law enforcement incidents related to the SEP. Previously, HACHR was required to provide a two-year report on that data.
HACHR provided its quarterly and two-year report to Eureka City Council on July 17. The organization reported that 735,823 syringes had been distributed and 688,390 syringes had been returned in 2017 — a return rate of over 93 percent.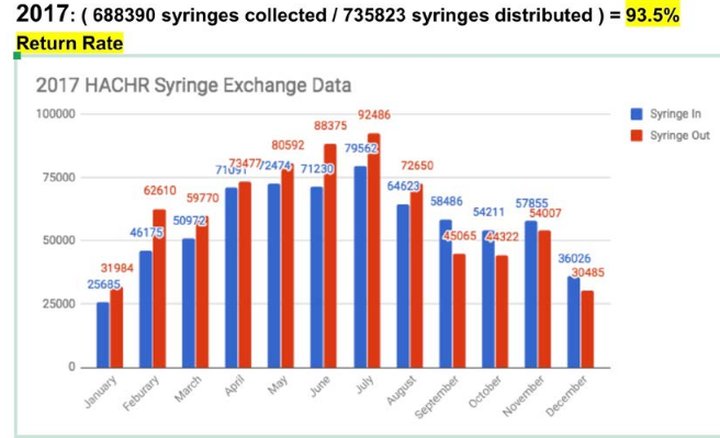 Some members of the community and the Council questioned the accuracy of these numbers, given that HACHR cannot open sharps containers and count needles individually.

The Council then debated whether HACHR's syringe exchange program was the right fit for the Eureka, and even discussed rescinding the resolution that authorizes HACHR to operate the syringe exchange.
STATE OF EUREKA

• As Candidates Promise Job Creation, Holmlund Says the City is Already in 'a Renaissance'

• Following Citizen Outcry, the City is Ratcheting Up the Pressure on Needle Litter (and Hoping Things Won't Snap)
However, the Council did not rescind the resolution, instead stipulating that HACHR board members participate in a Community Advisory Board, a committee designed to discuss issues relating to needle exchange and make recommendations to the City Council.
The now fully formed committee consists of HACHR board members Sarah Kerr and Rachel Waldman, medical health care professional Dr. Donald Baird, Sgt. Leonard LaFrance from the Eureka Police Department and community members Judy Sousa and Aaron Ostrom, with City Manager Greg Sparks acting as secretary.
The board had its first meeting on Monday, and will report to the Council within 90 days.
One might wonder why, throughout the syringe exchange debate, the City has never mandated that HACHR moved to a one-to-one exchange. The answer is that one-to-one exchanges are frowned upon by the California Department of Health, which holds that restrictive policies like it can undermine the goal of harm reduction:
The California Department of Public Health, Office of AIDS advises syringe exchange programs (SEPs) to adopt needs-based distribution policies with the goal of ensuring that program participants have a new, sterile syringe and other injection equipment for each injection.

Restrictive syringe access policies such as variations on one-for-one exchange or the imposition of limits on the number of syringes participants may acquire per transaction are not supported by public health evidence and may impose harm upon SEP participants.
Due to community demand, HACHR has reportedly changed their practices to "progressive needs-based," meaning a primarily, but not strictly, one-for-one exchange. HACHR has maintained that they follow the CDH's best practices.
Sparks has been helping facilitate the relationship between HACHR and the Eureka City Council since 2016. He acknowledges that it has not always been easy, and agreed that sometimes HACHR employees have been impolitic in their response to community and city staff concerns.
However, Sparks told the Outpost that he feels HACHR has been made a scapegoat for the problem and there are other factors that have contributed to needle litter. Sparks pointed out that spring 2016 was also when the city vacated the Palco Marsh — an area vastly used for camping by homeless people known to many as the "Devil's Playground."
"I think sometimes people jump to too quick a conclusion about cause and effect," Sparks said.
Ostrom agrees that the closing of PALCO Marsh may be a contributing factor to the increase in needle litter PacOut Green Team has seen since. Although the team and HACHR have had some issues in the past, Ostrom says that when it comes to the advisory board, he is not interested in casting blame. He only wants to come up with solutions.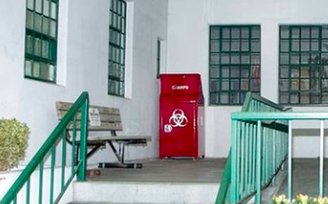 "[I'm] not there to say who is a good organization or a bad organization," he said. "I do understand that there can be several reasons for it. I just want to address the problem."
One solution, Ostrom said, could be increasing the number of disposal sites in Eureka. In December 2017, the Department of Health and Human Services installed two syringe disposal kiosks in Eureka, with the City of Eureka and Humboldt Waste Management adding five more earlier this year.
Coming up with solutions will surely take time and a lot of consideration. However, Sparks told the Outpost that the city's efforts hae already been making a difference, and he believes that syringe litter is on the decline.
"Everything I'm hearing from EPD and others is that we're seeing less syringe litter in the last six, seven months than what we had seen previously," Sparks told the Outpost. He said that groups like PacOut were reporting fewer needles, too.
Map of syringe pickups reported to EPD since April, 2018

Ostrom said that he could not confirm an actual decrease in the number of syringes his cleanup team has gathered. He did say, however, that he has noticed a decline in the large needle piles that they have found during cleanups.
HACHR board member Rachel Waldman also says that the HACHR cleanup team members have reported a decrease in the number of needles found and the number of calls they have been getting reporting syringe litter.

Waldman also said she had noticed a dropoff in reports on Needle Clean-Up of Humboldt County, a public Facebook group for folks to post public syringe sightings. Waldman did not have any compiled numbers available to confirm this, however.
There is a chance, though, that if Eureka city government presses HACHR too hard, the organization could seek authorization to operate from a state agency, rather than the city. And that state agency is the same one that most forcefully argues against one-to-one exchanges.
In April 2018, when they were fearful of a Eureka crackdown, HACHR members applied for authorization from California Department of Public Health. The application is still pending. After the application, there is a 90-day public comment period, which closed on July 4. Waldman told the Outpost that HACHR has not heard back from the CDPH on this matter since August.
Although the Eureka City Council decided not to rescind its resolution, Waldman sees the potential as an ongoing threat to HACHR, especially with the upcoming election. But Waldman told the Outpost that, with or without state authorization, she feels it is important for HACHR to comply with the desires of the community and the City Council.
"We want to maintain a relationship with the city of Eureka rooted in mutual interest, mutual benefits and based on collaboration, data and evidence-based practices," she said.