Two men accused of killing a 16-year-old Eureka girl who died from a methamphetamine overdose are scheduled for trial in late October.

This morning Judge Timothy Canning set an Oct. 29 trial date for Tavin Dee Evans and Anthony Manuel Burgess, who were arraigned on charges of involuntary manslaughter.
Evans, 20, also is charged with transportation or sale of a controlled substance and causing great bodily injury.
The two suspects were initially charged with murder in the February 2017 slaying of Alyssa Claybon, who was found dead in a room at the Best Western Bayshore Inn on Broadway. But after a lengthy preliminary hearing last month, Judge Dale Reinholtsen ruled the evidence did not support murder charges. He instead held Evans and Burgess to answer for involuntary manslaughter.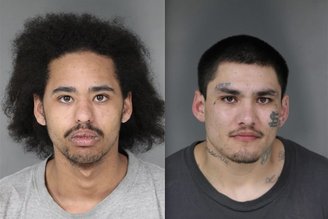 Attorneys David Celli, representing Evans, and Neal Sanders, defending Burgess, entered not guilty pleas this morning on their behalf.
Both defendants remain in Humboldt County Correctional Facility. Burgess, 26, is already serving a seven-year prison sentence for the armed robbery of a marijuana dealer. He was brought back to Humboldt County to face the new charges.
According to testimony at the preliminary hearing, Claybon was using a variety of drugs and was already ill when she was injected, allegedly by Evans, with a large dose of methamphetamine. A pathologist testified the girl also had a congenital heart defect, which could have made her more susceptible to heart failure from the drug.
Burgess had left the motel room before the teen died, after allegedly trying to help her and telling Evans to call an ambulance and report a drug overdose.
Claybon's grieving mother attended the arraignment today.
The maximum penalty for involuntary manslaughter is four years in prison, though Evans could face more because of the additional charges. He also has three other criminal cases pending.
###
PREVIOUSLY