Note: This story contains graphic descriptions of child abuse and molestation.
###
Two of the alleged six victims of former Correctional Officer Cory Fisher Sr. say they endured years of sexual abuse, including forced oral copulation and repeated attempts at anal sex.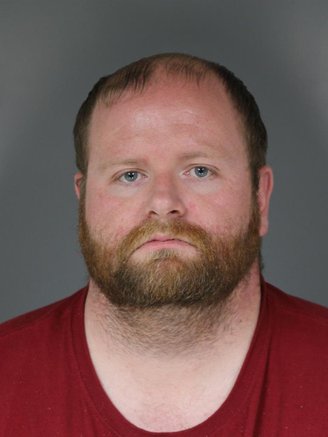 Today, the first day of Fisher's preliminary hearing, Eureka police Detective Ron Harpham testified he read affidavits from three victims, then spoke with two of them about their experiences with the 31-year-old Fisher. John Doe 1 said Fisher had repeatedly molested him from the time he was in sixth grade until he was 17. John Doe II told Harpham he was molested several times a week for about 18 months, and it consisted of Fisher giving him oral sex and attempting to sodomize him.
"In all of the instances he would struggle to get away but he'd be overpowered," Harpham said under questioning by Deputy District Attorney Stacey Eads.
During one of the alleged attempts, Harpham said, John Doe II recalled he was "fighting and twisting to get away and Cory Fisher turned him over and ejaculated on him."
Doe I said the abuse started with Fisher telling him to fondle his penis, then progressed to oral sex and attempted sodomy.
"I told him I was going to scream," Doe 1 said, and he stopped. Then, "he forcibly performed oral sex on me."
Doe I kept the abuse a secret because he was afraid. He later discovered Fisher had other victims.
"It tears at my heart," he said in his written affidavit detailing what had happened to him.
He said Fisher forced him into allowing him to perform oral sex, "too many times to count."
John Doe III was molested only once, when Fisher fondled his genitals. He knew he was 10 years old at the time, because he had been counting down the days to his 11th birthday and it was about two weeks away.
Harpham said he was in a private viewing room when the boy was being interviewed by a special team that investigates child molestation.
"He said (the molestation) made him feel afraid," Harpham said.
In addition to the sex-related charges, Fisher is accused of beating up Doe II and breaking his nose.
Fisher, who worked as a correctional officer for about 11 years, faces life in prison if convicted of just one of the charges, which is continuous sexual abuse of a child. He also is accused of molesting three "James Does," although the charges are much less serious.
Harpham said today that he began his investigation on Aug. 11, 2017, and learned about an hour later that Fisher had resigned from the jail. He moved to San Bernardino and was arrested there on a warrant shortly afterward.
Three jail inmates have also claimed they were sexually assaulted by Fisher. No criminal charges have been filed, though civil cases against the county are pending.
The preliminary hearing is expected to continue tomorrow morning, with Deputy Conflict Counsel David Lee cross-examining Harpham. Fisher, dressed in red because he is segregated from the jail's general population, sits at the counsel table next to his attorney. Today he listened quietly, though at least once he shook his head as though disputing the testimony.
###
PREVIOUSLY