PREVIOUSLY:
# # #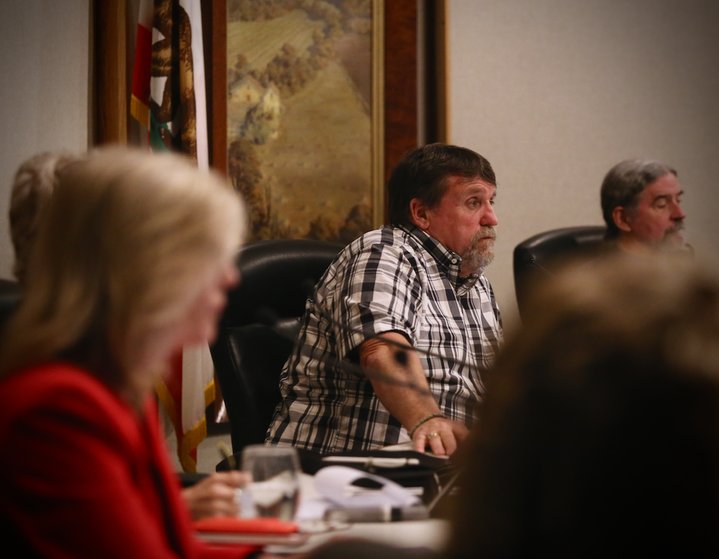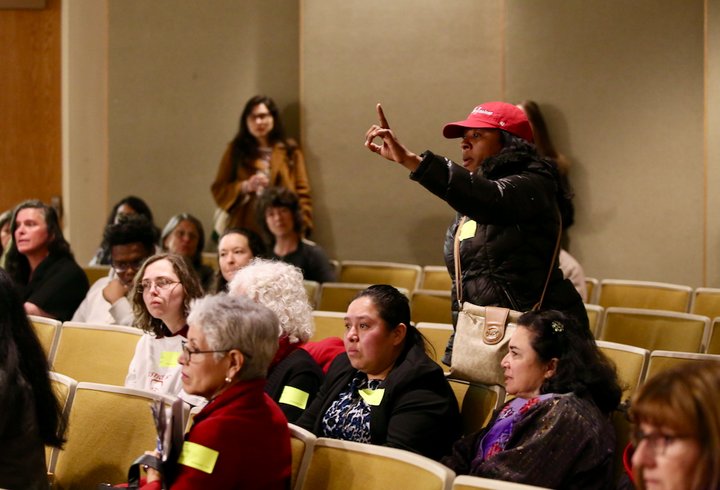 Humboldt County First District Supervisor and Board Chair Rex Bohn abruptly adjourned the Board of Supervisors meeting this morning, banging the gavel and then leaving the chambers as protestors called on him to atone for the disparaging joke he told at a recent nonprofit fundraiser implying that Mexicans are inherently criminals.

For those who missed it, Bohn was overheard asking whether some tamales were authentic enough to "make you want to go out and steal hubcaps," or something to that effect. His initial comments to local media vacillated between remorseful and dismissive, and he eventually issued a formal statement of sorts on his Facebook page.
A series of public speakers addressed the controversy, with some saying Bohn should recognize the racism in the local community and study up on white supremacy while others called on him to resign.
When Bohn sought to move the meeting on to the next agenda item, the assembled protesters — including Charmaine Lawson, whose son Josiah Lawson was killed at an off-campus party in Arcata two years ago — clamored for him to respond, and all semblance of order crumbled.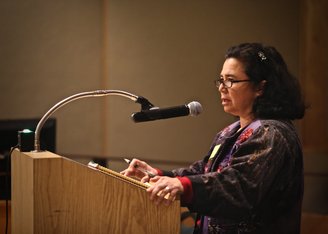 The protest was organized by Renee Saucedo, a community activist with the group Centro del Pueblo. She was among the first to address the board.

"Why are comments like [Bohn's] exceedingly dangerous, supervisors? Because language, especially from public officials, become part of the culture, which leads to discriminatory practices and policies," Saucedo said. "If it's all right to say or hear that an entire community tends to be criminal or dangerous, then it becomes more justified to racially profile, to separate families, to exploit people at the workplace, to humiliate them in the public schools, which is what is happening in Humboldt County … ."
Saucedo said she wants her 9-year-old son to grow up proud of his Mexican heritage, as she is, rather than absorbing the stereotypes he hears in the dominant culture.
The first speaker on the issue, an Arcata resident named Karpani Burns, identified herself as both white and racist, saying there's no other way she could be having emerged from a "slaveholding, capitalistic, racist society." But she said she has chosen to explore ways to change and invited Bohn to do the same by accepting her gift of the book White Fragility by sociologist Robin DiAngelo.
Bohn said he would "gladly" accept the book.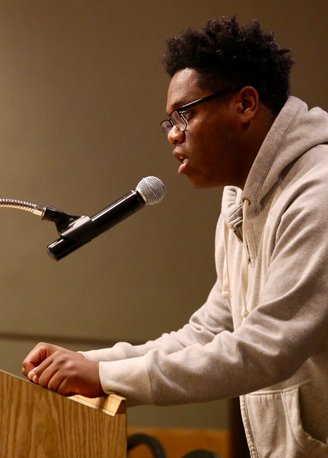 A Humboldt State University student named Isaiah Alexander said, "I come to you right now as a black man in Humboldt County, and there hasn't been a moment when I've felt safe." Noting his similarities to Josiah Lawson — both black men who came to HSU from Southern California — Alexander addressed Bohn directly.

"If we truly believe the representatives that we trust, if we truly believe that they should have integrity, if we truly believe that they should not be racist, then I believe that you have a very, very, very difficult decision to make," he said. "And I'm asking you — no, I'm saying that the decision that you need to make [is] in regards to your resignation."
This earned scattered applause, which Bohn allowed contrary to common practice: The board chair often tells people in the audience not to audibly respond to other public speakers, but not today.
Eureka resident Meg Stofsky lambasted Bohn for the way he phrased his public apology, couching it as hypothetical regret "if" anyone was offended.
"[Y]ou gotta be kidding me," Stofsky said angrily. "'If' anybody was offended? Well I'm offended. Lots of people were offended. Lots of people were hurt."
Stofsky invited Bohn to attend the weekly meeting on white fragility arranged by the local chapter of the NAACP. "I think you need to resign unless you are willing to do the work that is required of people that are elected," she said. "This country hasn't done it. This county hasn't done it. Start. Take the first step. Join us. It'll be hard. It's not fun to look at how we participate every day in this racist society. But we do."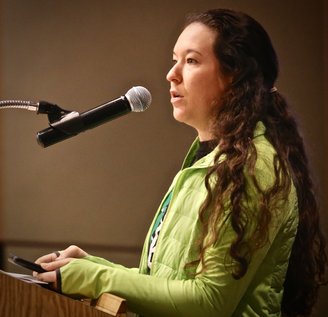 Kelsey Reedy, chair of the Green Party of Humboldt County, tied Bohn's behavior to the national political climate, saying President Donald Trump's rhetoric has spread the message that it's okay to hate and dismiss people who don't look like you.

"You're being a Trump right now, Rex Bohn," Reedy said, sparking another smattering of applause. "Your apology needs to be redone, because you didn't apologize for what you did. You just apologized for the potential offense of it. You didn't take any responsibility."
Bohn thanked her as the three-minute timer atop the lectern beeped, indicating that her time was up. But Reedy slipped in one more remark: "Resign or we'll recall you," she said, and the applause grew louder.
Christina Lastra, who identified herself as a local teacher and scholar, said many people defended Bohn on the grounds that he's a nice guy, and she recalled meeting him a couple of years ago at the North Coast Co-op.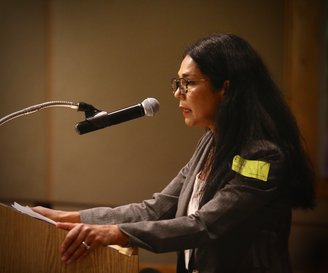 "You were a gentleman. You were inclusive, you were charming, you were engaging … ," she said. "But the issue is not you being a nice guy. The issue is not political. The issue at hand is to address the history of the disparaging, disrespectful racial rhetoric that you have been speaking. This issue at hand is to make it very clear that we as members of this community will not tolerate this kind of demeaning, racist language, especially from an elected official."

The final speaker on the topic got straight to the point: "Good morning; my name is Brenda; I'm from Mexico, and I don't accept your apologies, Mr. Bohn," she said. "This is not a joke. You are in a power position and your jokes are hurtful."
She recalled being traumatized locally, yelled at on the street by people who accused her of not being a citizen based only on her skin color. "You are making fear among us," she said. "And that is why, in your position, I ask you to resign. Because you have to set up an example."
With no one else standing in line to address the board, Bohn closed the public comment period and moved on to the next agenda item. But as Third District Supervisor Mike Wilson began to speak about the concept of ranked voting there was muttering in the crowd. People shouted out for Bohn to show respect by addressing their concerns.
"We can't comment on non-agenda items," Bohn said into his microphone. "Thank you, though. I do appreciate the public comment. It was taken in. We do appreciate it, but we can't comment on non-agenda items."
This didn't placate the protesters.
"Racism kills and your rhetoric kills!" someone shouted.
Wilson then took a stab at quieting the room. "We really can't address something that's not on the agenda because it's unfair to the rest of the public," he said. "That's how the law works. It is awkward, I appreciate that part. This construct is not really great for dialogue; I agree with that, but it's the construct we work within."
"It's colonial!" a woman from the crowd shouted.
"And that might be true, too," Wilson said. "But I want to say that we're working under the laws and bylaws that we're bound to."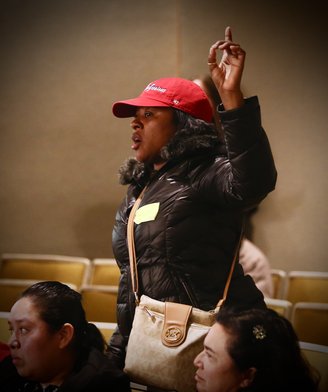 At that point, Charmaine Lawson stood up in the crowd, identified herself and called across the room as Bohn attempted to call for a break.
"No, excuse me. I haven't heard your apology, Supervisor Rex," Lawson said. "I have not heard your apology. But I've listened to all these people speak about what you've done and how you have insulted this community of black and brown people. I want to hear your apology, because I haven't heard it."
As Lawson continued, Bohn interjected a couple of times, saying "Thank you" and, "Again, we won't comment on non-agenda items." Eventually, a woman in the audience lost her patience and shouted angrily, "Stop saying thank you! Be a human being! Have a heart and soul! Say you're sorry!"
"We're adjourned," Bohn said into his mic. He then stood up and walked out of the chambers as the commotion continued. The rest of the supervisors remained seated as people in the crowd voiced their discontent.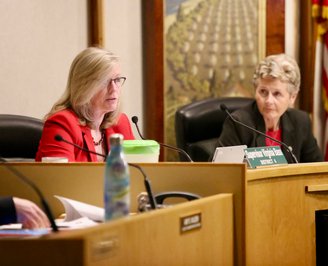 Reedy noted that the Arcata City Council responds to public comment, so why can't the board. Fourth District Supervisor Virginia Bass spoke up — reluctantly, she said — and explained that the county board tries to maintain a different level of decorum.
This comment seemed to be the last straw for the protesters, who immediately launched into a chant of "Justice for Josiah! Justice for Josiah!"
Bohn, meanwhile, was standing around the corner and down the hall, separated from the uproar.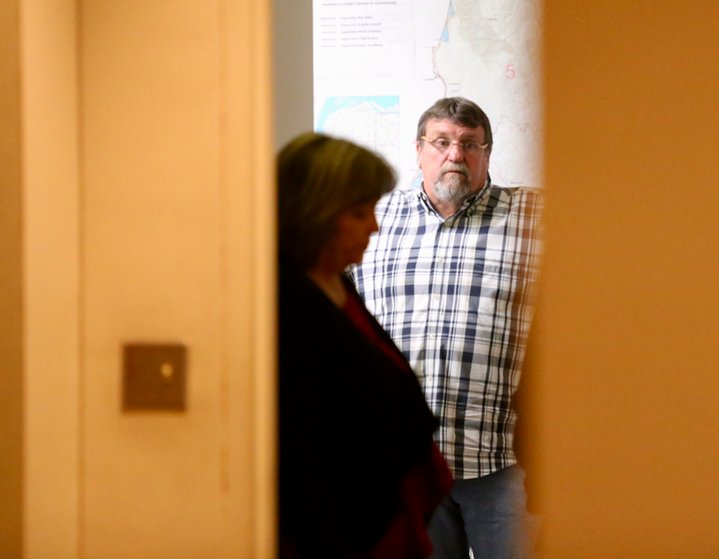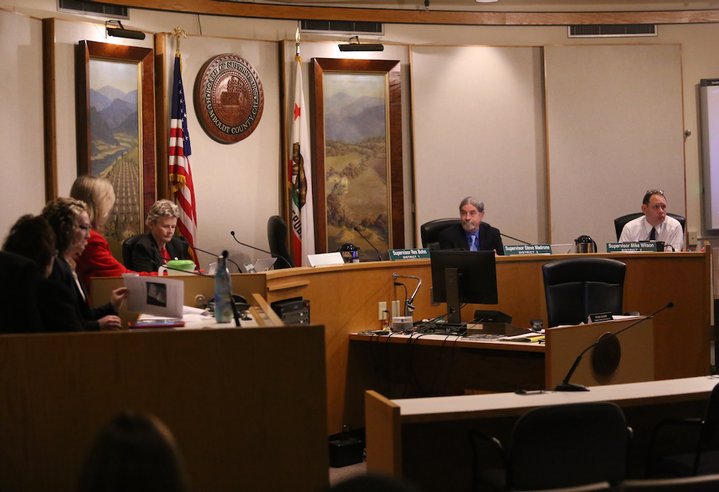 Eventually the crowd dispersed. Bass came out into the public seating area to speak directly with a couple of the protesters. Sheriff's deputies showed up a couple minutes later, but by then the meeting was breaking up, and after about a 10-minute break the meeting recommenced.