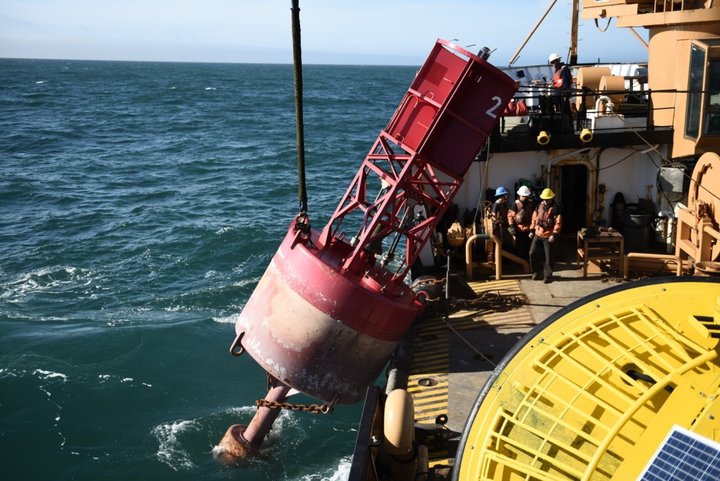 ###
PREVIOUSLY:
###
Press release from the U.S. Coast Guard, 11th District:
A San Francisco-based Coast Guard buoy tender traveled to Humboldt Bay Tuesday to recover displaced aids-to-navigation and attempted to restore missing navigational aids to assist mariners in transiting the Humboldt Bay Bar and Entrance Channels.

Severe shoaling has affected Humboldt Bay since November 2018, causing breaking surf inside the harbor and making the transit dangerous to mariners.

The crew aboard the Coast Guard Cutter Aspen coordinated their spring Northern California buoy run with the Humboldt Harbor Safety Committee to reestablish the seasonal Humboldt Bay Lighted Bell Buoy #2, which was removed in November 2018 due to annual heavy weather causing the buoy to drift off station.

"This is a great opportunity to showcase our aids-to-navigation program and the challenges of setting a buoy near the break-wall with the local maritime community," said Cmdr. Brett Thompson, the Coast Guard District 11 Chief of Waterways Management. "The Humboldt Bay Lighted Bell Buoy #2 historically moves off station and interferes with traffic routes. The buoy becomes unreliable during the winter months and reduces navigation safety for entrance to Humboldt Bay."

The Cutter Aspen invited the Humboldt Harbor Safety Committee members aboard to witness buoy operations and see firsthand the teamwork to keep maritime commerce flowing. The Harbor Safety Committee had raised concerns about Humboldt Bay Lighted Bell Buoy #2 continuing to be a seasonal aid. Therefore, the Coast Guard and Humboldt Harbor Safety Committee members are evaluating all future options for this specific aid.

The Aspen's crew also attempted to replace Humboldt Bay Lighted Buoy 9, which had broken free from its mooring in mid-December during heavy breaking surf inside the harbor. Due to shoaling and dredging operations, the Aspen was unable to replace the buoy, but did recover the displaced aid from where it had been temporarily stored at Coast Guard Station Humboldt Bay.

"The primary goal of our trip was to reestablish a seasonal buoy marking the Bar and Entrance Channels, as well as to assess the shoaling conditions inside Humboldt Bay," said Lt. Cmdr. Jeff West, the commanding officer of the Aspen. "Working alongside our federal, state and local partners, our mission is to provide mariners in Humboldt Bay and throughout California with aids-to-navigation that mark safe and navigable waterways."

Coast Guard 11th District waterways personnel will continue to work with the Army Corps of Engineers and the Harbor Safety Committee to evaluate the effectiveness of aids-to-navigation in Humboldt Bay and the shoaling conditions.

The Army Corps of Engineers is scheduled to continue dredging operations throughout the spring.

Once deep water is available near Humboldt Bay Lighted Buoy 9, the Aspen is scheduled to return and reestablish the buoy.