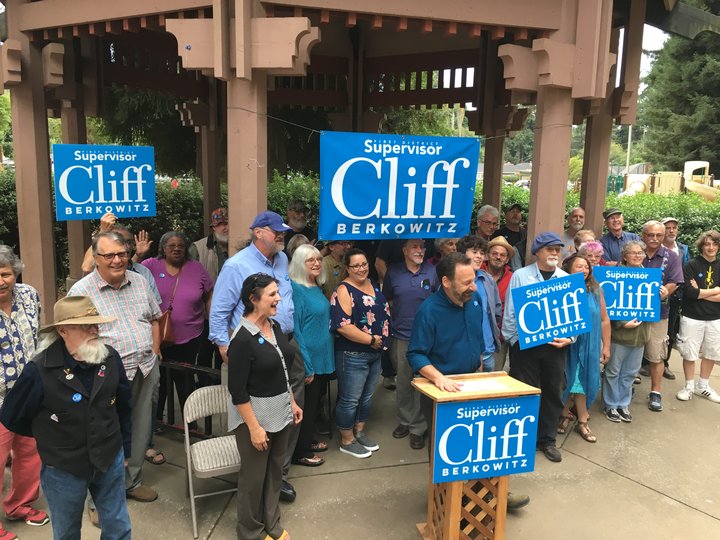 ###
FULL DISCLOSURE: Cliff Berkowitz, candidate for First District Supervisor, is still, for the time being, a coworker of everyone here at the Outpost, which is a massive headache. There's no good solution to this problem that we can think of at the moment except to disclose it, here at the top of this story and subsequent stories we write about this race, which will likely and mercifully be over in March.
In addition, the current reporter — Stephanie McGeary — is a former student of Berkowitz's. It's really messed up.
Many will point to these complicating conflicts of interest and say — hey, look, this must mean that LoCO is in the bag for Berkowitz! And they're welcome to think that and say that, of course. The only thing I'll say back is: Consider your own relationships with coworkers and former professors. Are they ones of slavish devotion? No? — Ed.
###
A crowd gathered at the gazebo in Eureka's Sequoia Park Wednesday evening in support of well-known local radio personality Cliff Berkowitz, who officially launched his campaign for Humboldt County's First District Supervisor.

The rally began with a blessing and prayer performed by Cheryl Seidner, a former tribal chairwoman for the Wiyot tribe. "I thank you, creator, for this day that we've come here in this park to ask for your blessing upon this campaign that Cliff is beginning," Seidner said.

"We ask you, Creator, to watch over him. Give him the right words to talk. May he speak from the heart, not just from his mind."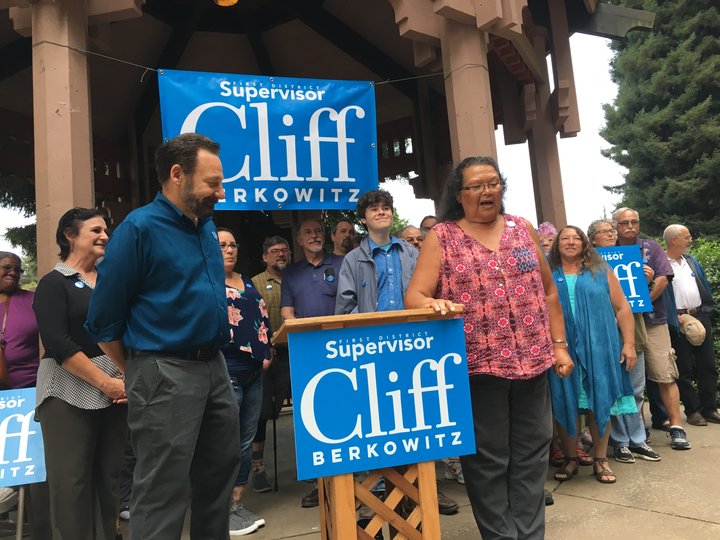 Berkowitz then took the stage, with a group of his supporters standing behind him, and explained why he should be the first district's next supervisor.
"Many of you know me from my years at KHUM, and I have to say I'm proud of the work that I've done over the past 25 years for the community," Berkowitz said. He then listed some of his accomplishments, which include organizing the Stop the Violence campaign, working with CASA, the Humboldt Rape Crisis Team, Food For People, the Discovery Museum, and his many years helping to promote the Kinetic Sculpture Race.

Listen to Berkowitz's full speech here:
Cliff Berkowitz Campaign Launch, Aug. 29

Berkowitz, a KHUM-FM morning DJ, Lost Coast Communications founder and HSU lecturer, announced last month his plans to run against two-term incumbent Rex Bohn. Because of the Federal Communications equal time rule, Berkowitz will not be able to serve as a DJ while he is an active candidate. He plans to leave the position in November (when the filing deadline arrives) and says he will not mention his candidacy or any political issues on air before then.

Since former candidate Allen McCloskey has left the campaign, Berkowitz is one of two candidates, so far, challenging Bohn for the seat. Nineteen-year-old Elias Garcia-Munguia has also announced that he is running, though he has not held any campaign rallies yet.

Berkowitz highlighted some of the issues he felt he could represent better than the current supervisor, emphasizing the importance of climate change preparation and the protection of our forests, water and agricultural land.
"I'm also running because we need a supervisor who works for all the people of the district, not just the well-connected and the powerful," Berkowitz said. "All land use decisions need to be made with full transparency. No backroom deals. No deciding matters before they come before the board."

As supervisor, Berkowitz said, he will also continue to work with cities and county governments to prioritize working on a regional trail system, and will focus on improving the availability of affordable housing. Though he acknowledged some of the progress which has already been made with housing, Berkowitz said there is much more that can be done.

Though he knows there is a long road ahead, Berkowitz said he is ready for the challenge.
"I plan to be out there knocking on doors and talking to voters every single day," he said. "But I can't do all of this alone. I need your support and I'm gonna need your vote. It's gonna be a tough campaign. I know that. But, with your help, we can do this."
Berkowitz told the Outpost that he will have a campaign website up and running soon. In the meantime, you can follow his Facebook page.
###
PREVIOUSLY:
###