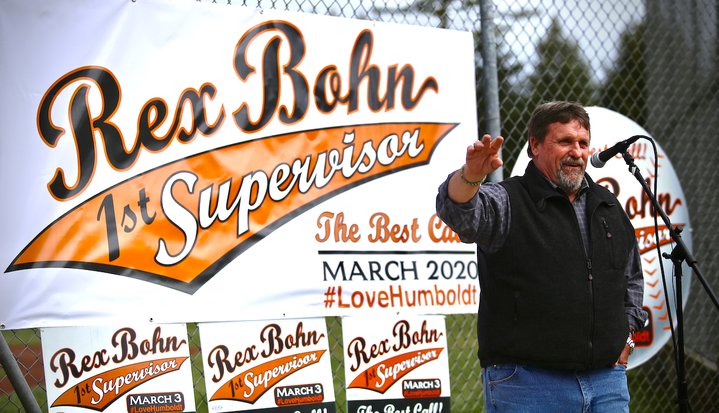 PREVIOUSLY:
###
The drizzly gray skies above Cutten's Redwood Fields let up long enough for supporters of the two-term incumbent First District Supervisor to sing his praises this afternoon, and long enough for the man himself to make his case to the 150 or so in attendance at the inaugural reelection rally of this election cycle.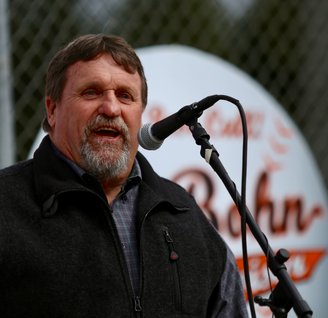 At 12:15, as people milled around the Fields — a place near and dear to the candidate's heart, as he would later recall — the people scheduled to warm up for Bohn began to assemble in front of a backstop. They were Sheriff Billy Honsal; Jamie Barney, president of the Humboldt Deputy Sheriffs Organization; Ferndale contractor Dennis DelBiaggio; and Connie Stewart, former Arcata city councilmember and executive director of the California Center for Rural Policy.
Their main pitch, which each speaker hit again and again, was: Goddamn, Rex works hard.
"Every day Rex makes me feel lazy," said Stewart. "Because from about 4:30 in the morning until about 10 o'clock at night, he is working hard and thinking of this community.
"I called him one day and I said 'Rex, there's this really bad piece of legislation in Sacramento, and we really need to do something about it.' And he said, 'I'll pick you up at 4:30 in the morning.' And we drove down to Sacramento together, and we drove back. That's an average day for Rex."

When it came time for Bohn to make his own case, he didn't have a lot to say about policymaking, or meetings of the board, or how he voted on this item or that. Instead, he talked about the things that happen outside the board's official proceedings — meeting with constituents, or lobbying state and federal representatives on behalf of the county. He also spoke about county efforts to solve homeless, and about recent projects that have happened outside the county's immediate purview, such as the return of the nursing program at Humboldt State and College or the Redwoods.
He reflected, too, on his signature achievement before he was elected to the board, when he spearheaded the construction of the community park where they were all standing, working together with land owners and construction companies and regulators to build a ballfield for the neighborhood.
"When you do this job, you think about what your parents would think," he said. "My dad died when I was 19. My mom died quite a while ago. They always said the kind of the community you live in is the kind you make it. I can't do it by myself. You can't do it by yourself. But together we can get a lot of stuff done."
Full audio of the speeches below:
Audio: Rex Bohn Reelection Rally, March 29, 2019.
After the speechifying was over, the eating began. There were hot dogs, as promised, and also a selection of desserts. Among the crowd: Former state assemblymember Patty Berg; former county supervisor Ryan Sundberg; Eureka politicos Marian Brady, Chet Albin, Antony Mantova, Joe Bonino and John Fullerton; former Arcata mayor Alex Stillman; former Trinidad mayor Julie Fulkerson; and Jacque Smith, widow of former First District Supervisor Jimmy Smith.