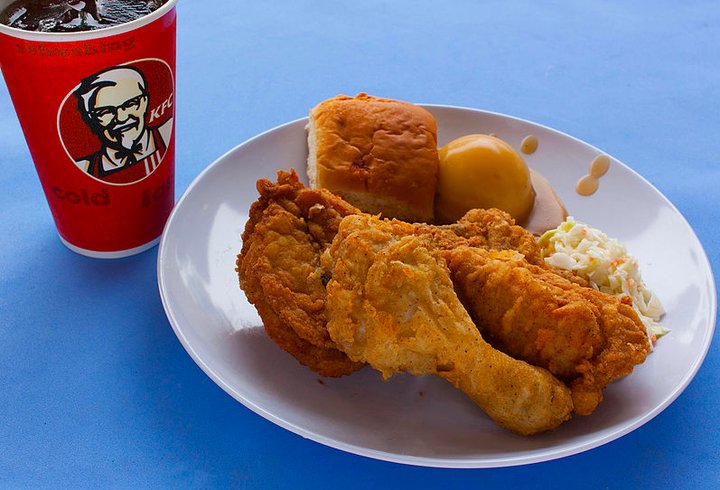 As hungry Eurekans are patiently awaiting the arrival of the highly anticipated In-N-Out, the LoCO reminds you that another fast food chain is in your future! Finger lickin' good fried chicken, mashed potatoes and biscuits from KFC may soon again be on the menu of your guilt-ridden lunch options.

About a year ago, the Outpost reported that KFC had purchased the property on Broadway which used to house the Blue Heron Motel. Since then it has pretty much been crickets on the Colonel front. But now some progress is finally being made. The Eureka Design Review Committee will be looking over the proposed KFC plans at a meeting next week.

Eureka Development Services Director Rob Holmlund told the Outpost that if the committee approves the KFC developers' design, they will only have to apply for a building permit (a fairly simple process) and can then begin construction pretty much as soon as they like. Because of the zoning of the land, no other city approvals are necessary.

If the Design Review committee does not like the plans, it will likely still approve the project, but ask that certain conditions be met. An exciting thing about the KFC project, Homlund said, is that it is the first project coming before the committee since the city adopted new rules for design review.

The committee, which used to have very loose guidelines for approval (basically the committee wouldn't approve projects the members thought were ugly), now must adhere to a more specific list of design criteria. This list includes components such as safety considerations, landscaping standards — such as using low-water use plants and only using native plants and that the building "fit in" with surrounding architecture in the area.

Holmlund said that the city had received a lot of complaints about the old design review process and this new criteria should streamline things and make the process more consistent.

"Hopefully this new design review process will help produce the best KFC possible in that location," Holmlund said.

The Design Review Committee meets on Wednesday, August 14 at 8:30 a.m. in Eureka City Hall — 531 K Street. You can view the full agenda here.
And, since LoCO knows that you are going to ask: yes, we checked with Holmlund on the status of In-N-Out. It is still coming and is now completely in the hands of the developers. Demolition of the existing building on the site began in May and Holmlund is not exactly sure when construction will begin, but said he believes In-N-Out is still slated to open in early 2020.
###