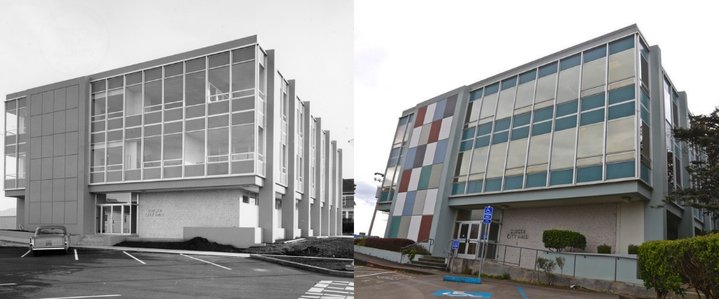 Eureka residents have so much to celebrate. We have awesome trails, beautiful parks, a buttload of murals and, of course, a majestic City Hall standing proudly on the corner of Fifth and K streets.
What's that, you say? The City Hall building is not attractive or worth celebrating?! Well, the city disagrees and invites you to a birthday party for its hall, which turns 60 this week.

The building was dedicated on December 19, 1959 and, as city staff reminds us, was the "most modern municipal building in California" on that day. However, it eventually became the second-most modern, as soon as another municipal building was built.

Although it may not be as pretty as its predecessor —the original Eureka City Hall, which was demolished in 1960 — the building is not without its "mid-century" charm, as city staff points out. If you've spent much time in the hall, you might not be surprised to learn that the building has maintained most of its original elements, including the elevator and bathrooms (because you definitely want both of those things to be 60 years old).

And in 60 years, the hall has certainly seen its share of excitement. Think about how many city council meetings have happened there during that time! Think of how many permits have been filed! Oh, if those walls could talk… So, whether or not you're a fan of the building's retro look, its history is still something worth celebrating.
And it would be pretty rude to skip someone's birthday party just because they're not cute. Plus, there will be cake. Everyone loves cake.
The city hall celebration will be held Thursday, Dec. 19 at 2:00 p.m. in the Eureka City Council Chambers in City Hall — 531 K Street.
Press release from the City of Eureka:
Eureka City Hall will be celebrating 60 Years on December 19, 2019. The building, located at 531 K Street, was the most "modern municipal building in California" when it was dedicated in 1959. The architect was Gerald Matson and the contractor was Singleton Construction of Redding, CA. Most of the original components of the building such as the elevator, boiler, windows and bathrooms are original and its "mid-century" charm remains.

In 1995 the building underwent a seismic retrofit and in 2006 the first floor was remodeled and the movable metal walls were replaced with drywall. Old growth redwood waterpipes from the Sweasey Dam have also been repurposed and used in the Council Chambers, lobby and conference room.

Newspaper articles from the era and photos of the dedication and building are available on the City of Eureka's website at the following link: https://www.ci.eureka.ca.gov/depts/city_clerk/eureka_city_hall___60_years.asp

Please join us to celebrate City Hall's 60th Birthday on Thursday, December 19th at 2 PM in the Council Chambers for a short presentation and celebration with cake.