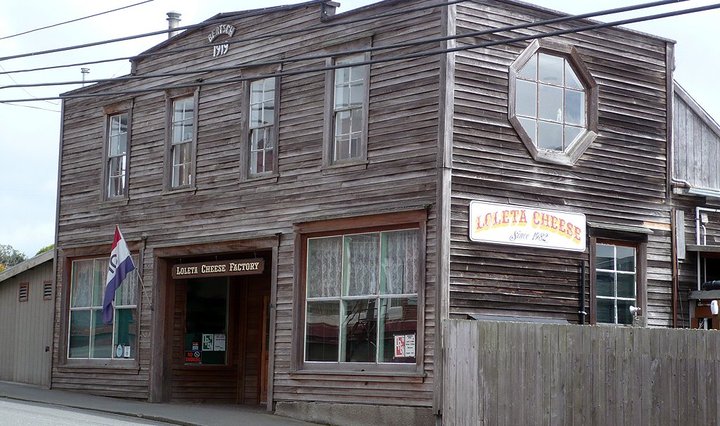 After more than 37 years of producing cheese and attracting tourists, the Loleta Cheese Factory is at serious risk of going permanently out of business before the week is out.
According to owner and founder Bob Laffranchi, Umpqua Bank plans to foreclose on a business loan this Friday and auction off the 100-year-old building that houses the cheese factory, Queso Kings restaurant and the second-floor living quarters that Laffranchi and his wife, Carol, have called home for nearly four decades.
There are some last-ditch efforts being made to save the business. First District Supervisor Rex Bohn said he and county staff are hoping to arrange financing through the North Coast Small Business Development Center (SBDC), the Arcata Economic Development Corporation (AEDC) and private funders in hopes of helping Laffranchi out of his current financial hole.
"Right now we're throwing everything against the wall to see what sticks," Bohn said.
Laffranchi said he's not interested in soliciting donations. In fact, he rejected suggestions from acquaintances to launch a crowdfunding effort because, as he put it, "charities need that money."
"What we're looking for is a way to refinance our business, not handouts," Laffranchi said.
That's a challenge with the business under foreclosure proceedings, which prevent other banks from loaning the company more money.
A variety of factors led the business to this breaking point, and Laffranchi said he takes full responsibility for where things stand. But many of the contributing factors have been outside his control. The 2008 recession, for example, hurt business, and the increasingly globalized economy has increased competition. So, too, has the rise in imitation dairy products, such as soy and nut milks. Plus, the local economy's transition away from the cash-rich black market weed days has had an impact, Laffranchi said.
The Loleta Cheese Company declared bankruptcy five years ago, not long after being featured on the "Hometown Tour" episode of local celebrity Guy Fieri's Food Network show "Diners, Drive-Ins and Dives."
The company emerged from bankruptcy a year-and-a-half later with a new majority owner, Robert Stokes. The Laffranchi family continued to run things, including a new grilled cheese sandwich bar, Queso Kings, and in July of 2017 they bought the business back from Stokes.
Late last year, Laffranchi said, Umpqua Bank raised the interest rate on their business loan from around seven percent to above 11 percent, increasing the monthly minimum payment from $4,440 to nearly $8,000. Laffranchi said he's not sure what prompted this move — late payments from himself or former owner Stokes, perhaps.
"It's not my job to say that we're innocent," Laffranchi said. "Obviously we made mistakes, too. But the fact that they raised [the interest rate] so dramatically … . You'd think if they're helping a long-term customer, maybe they'd try to work things out."
The latest blow to the family business came with Pacific Gas & Electric's recent Public Safety Power Shutdowns.
"PG&E's interruption was huge," Laffranchi said. The outage affected not only their own operations, causing the company to lose un-refrigerated stock and halt production, but it also smothered demand for cheese orders from local stores and restaurants whose owners weren't sure when or if they'd have power.
"The bank thing was one issue; that was my cash flow issue," Laffranchi said of the power shutdowns.
Laffranchi studied dairy science at California Polytechnic State University before getting drafted in 1969. He served three years in the military, spending time in Thailand and Okinawa, and when he was discharged he moved to Eureka to teach agriculture at Eureka High School.

He's told the story of the Cheese Factory's founding before — to Fieri and others. One day at school a student asked him, "How do you make cheese?" Having studied management of dairy cattle, including their genetics and breeding, Laffranchi didn't really know. So he told the student to get a book about it, and they'd make some cheese together. Four decades later, he's still making cheese.
The Laffranchi family moved into the old building on Loleta Drive in 1981 and opened the cheese factory the following year.
"My parents have lived there for 39 years," said Michelle Laffranchi, who is also a resident in the building. "They're about to be homeless. … We have 30 days to vacate."
The company currently employs 15 people, two of whom are parents of kids with special needs, Michelle said.
Asked what the family will do if the bank does foreclose and auction off the property, Laffranchi said, "We really don't know."
He's now 72 years old, but he refuses to feel sorry for himself. He said he knows some folks outside the state. Maybe he can do some dairy industry consulting work. "I can clean horse stalls; I can do a lot of things. I'm not afraid of work," he said. "It might be a real positive thing. I could lose some of the weight I've gained over the years."
At one point in our phone conversation, Laffranchi asked himself a rhetorical question: Why was he talking to reporters about this situation?
"One, because I want to say 'thank you' to all the people who supported Loleta Cheese over the years," he answered himself. "Even if we don't make it … they helped build a business that was nothing in 1982 into, in the heyday we were producing 2.5 million pounds of cheese a year and we had over 25 employees."
While he may put on a brave face about his own future, Laffranchi clearly cares a lot about the business.
"Basically, it's our baby, and it's so hard to give up our baby," he said. "I wish I could turn the clock back, take care of some things. Me, I take full responsibility for where I'm at. The bank just happens to be the problem I have to face."
Customer service reps at Umpqua Bank said they can't release any information about private accounts. Bohn said he's trying to convince the bank to give the Laffranchis some more time.
Laffranchi himself is trying to stay optimistic.
"Someplace there is a solution," he said. "When we started we didn't know if we could make a cheese factory, and we did. Now we need to figure out how to save it."