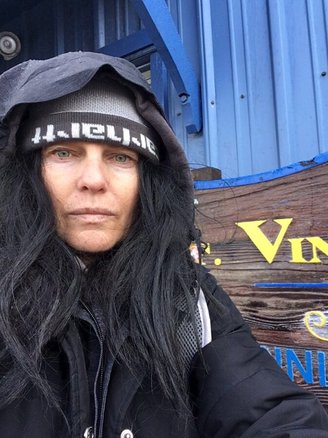 For most people who have never experienced homelessness, it would be difficult to imagine living that life. Could you picture sleeping outside in the wet and the cold? Could you imagine life without your car, your job, your family, your shower or your bed?
Last week Eureka City Councilmember Kim Bergel decided to take part in the "Homeless Challenge," attempting for 48 hours to shed herself of her usual comforts and experience life on the street.
"I would highly recommend this to anyone who works with the [homeless] population or officials or any people who feel that homelessness is a choice," Bergel told the Outpost. "After a while you lose the power to choose, or you're so beaten up you don't feel like you're worth it."
The challenge was brought before Eureka City Council last summer and again at the end of January by Vernon Price, a previously unhoused person and advocate for the homeless. The challenge, based on the Homeless Challenge Project designed by the National Coalition for the Homeless, asks that the participant suspend the advantages of wealth and spend a few days experiencing life through the eyes of a homeless person.
Those who agree to take part in the challenge are paired up with a guide — someone who lives on the street and can teach them and show them around. Participants are asked to make themselves look like a homeless person by dressing in dirty clothes and not showering for a few days ahead of time.
Bergel's journey began on Thursday morning, when she met with her guide at the St. Vincent De Paul, where free meals are handed out. Before beginning her challenge, Bergel prepared by dressing down in a large winter coat, a beanie and a black wig to help make herself less recognizable. She brought with her only her phone and a single blanket. She also purchased a pack of cigarettes to have to share with folks she met, which was recommended as a way to break the ice with people she encountered through her experience. As her pseudonym, Bergel used the name "Ward."
After Bergel and her guide (a woman whose name Bergel did not want to disclose) got their free lunch, they walked down the boardwalk and through Old Town. Bergel said that people walking past them gave them disapproving looks. Some people would try to look away and pretend they weren't there.
This experience was eye-opening for Bergel, seeing how people reacted differently to her when they perceived her as being homeless. This was one of her main reasons for taking part in this experience.
"I wanted to see how people treated me," she told the Outpost. She said it was not a good feeling. "I would smile or say hello and people were less likely to engage with me than they normally would."
Bergel's guide scolded her for being so polite, telling her that she smiled too much. She said that people on the street do not smile that much. She also told her several times that she looked too clean and it wasn't believable.
After walking through Old Town, the two continued to walk across the city. Bergel's guide had several dogs with her. She walks dogs for people as a way to make money. At one point, the guide stopped to buy a bottle of whiskey from a corner store, later taking periodic nips during the long walk. Eventually they arrived at a friend of the guide's apartment, where they could spend some time out of the cold.
The woman who lives there is disabled and it is difficult for her to do things on her own. The apartment was dirty and completely infested with cockroaches, Bergel said. The disabled woman was having her hair done by a friend and the friend pulled a cockroach nest out of her hair.
Bergel and her guide then went to another home, where they were fed dinner. But they were forced to leave when the guide got into a fight with the people living there. By this time, her guide was quite drunk, Bergel said, and things started to get really chaotic.
"Once the alcohol took over it really went straight to hell," Bergel said. Bergel did mention that her guide, a self-described meth user, did not use any illegal drugs in front of her out of courtesy.
And Bergel said she understands why her friend feels the need to use drugs and alcohol, especially after experiencing the harsh realities of homelessness. "One of the things that spoke volumes to me is my guide said, 'I do this to cope. I don't know what I would do if I couldn't cope,'" she said.
Once the two left the house, they began searching for a place to sleep. By this time it was around midnight and it was extremely cold. They walked through a field and were soaking wet, Bergel said. It was very difficult to find a good, dry spot to sleep outside. Bergel's guide decided it was too cold to sleep outdoors so she lead her to a shack behind someone's house where she sometimes sleeps.
Bergel was not certain at first if they were even allowed there, but her guide assured her that it was OK. The shack was filled to the brim with stuff, was dirty and stuffy. Bergel said it was difficult for her to breathe and she couldn't get any sleep.
At roughly 3:30 a.m. Bergel decided she could not withstand these conditions any longer. While her partner slept, Bergel decided to walk home. She had not even made it 24 hours. But she felt that she had gained the perspective of what a day in the life was like for some of the homeless population.
Bergel said that she felt bad for not completing the full 48 hours. But she was humbled by the attempt. The fact that she could not even make it an entire day in that life made her realize how much she takes for granted. "I'm so grateful for my house, my kids, my jobs, my life," she said.
Though her experience was difficult, Bergel was also amazed by the kindness and camaraderie she experienced. Her guide was generous, sharing anything she had with others. Bergel also learned that though she and her guide have very different lives, the same basic emotions drive them. She said she realized how alike people are, no matter how different.
Price agrees with Bergel on the impact this challenge can have on someone's perspective of homelessness. This is why he presented this challenge twice, to not only the Eureka City Council but also Arcata City Council and the Humboldt County Board of Supervisors.
But so far, Bergel is the only local official to have attempted the challenge and Price says he admires her for it. "Kim Bergel is the first and only official in Humboldt County who has shown any concern to see the hardships of homeless people living where we live," he told the Outpost.
Price hopes to see more local politicians attempt this challenge, which he believes will help them to make more informed decisions. "I believe this will add power to the effectiveness of policies already in place and will add empathy to future policies," he said.
But both Price and Bergel realize that no one can truly understand what it is like to be homeless unless they have actually lived it. Any housed person who takes this challenge gets to choose when they do it. And they know that if they become too uncomfortable they can choose to return to a hot shower and a warm bed at any time. Those living homeless do not have the choice to end their reality whenever they like.
Although Price understands that this challenge does not provide the solution, he believes that it will help reduce people's anger and negative attitudes toward the homeless population.
"We have to learn to trust one another again. We have to learn to communicate with one another," Price told the Outpost. "Through this challenge we can improve the quality of life, build a stronger community and we can build a more vibrant county."
Price encourages anyone who wants to find take part in this challenge, or to find out more about resources available, to contact the Affordable Homeless Housing Alternatives (AHHA).