The father of hit-and-run victim Faith Lorraine Tsarnas, killed by a drunken driver in July 2016, pleaded not guilty today to fleeing the scene after running over a woman on Fernbridge on Nov. 27.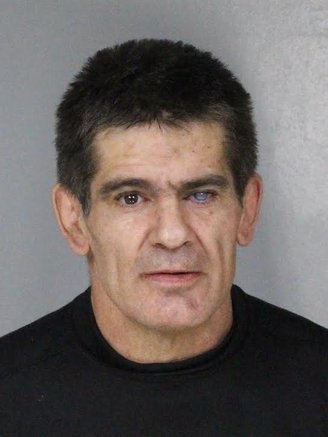 Jeffry Tsarnas told a witness that at the time he hit the woman, he had been using methamphetamine and drinking, attorney Patrik Griego told visiting Judge Joseph Hurley at Tsarnas' arraignment this afternoon. Griego, who once defended Marcia Kitchen, the woman who ran over and killed Faith Tsarnas and her own daughter Kiya Kitchen, is now representing Jeffry Tsarnas' alleged victim Marie Kelley.
Griego said Jeffry Tsarnas also told the witness he had lied to the California Highway Patrol when he told them he hadn't been drinking and thought he had hit an animal.
"He said he was driving 60 mph and the pedestrian flew a long distance," Griego said.
He said Kelley, a 47-year-old Garberville resident, has a severely fractured ankle and is unable to walk.
"Will she be able to?" the judge asked.
"We don't know that," Griego said. "She's still in a wheelchair." He said Kelley won't be able to put any weight on the ankle for months.
Deputy County Counsel Meagan O'Connell, who also served as Marcia Kitchen's attorney, was appointed to represent Jeffry Tsarnas. O'Connell said Tsarnas is a Humboldt County native who works as a wood supplier and has a residence. Tsarnas does have car insurance, but he told the judge he doesn't know what the liability limits are.
PREVIOUSLY:
The 54-year-old Tsarnas lives in Myers Flat, where he was arrested on a warrant Tuesday.
Hurley set a bail hearing for Tuesday. In the meantime, at the request of Deputy District Attorney Roger Rees, the judge raised bail from $25,000 to $35,000.
After the Nov. 27 incident, the CHP found a side mirror to the vehicle involved. Two days later Tsarnas went to the CHP office and admitted being the driver.
Rees pointed out that because Tsarnas fled, it's unknown whether he had alcohol in his system.
Jeffry Tsarnas is one of three people who have filed civil suits against Kitchen for the collision that left the two 14-year-old girls dead. The others are Stephanie Baldwin, Tsarnas' former wife and Faith's mother; and Joe Kitchen, Marcia Kitchen's ex-husband and the father of Kiya Kitchen.
Jeffry Tsarnas has one misdemeanor conviction for possession of marijuana.