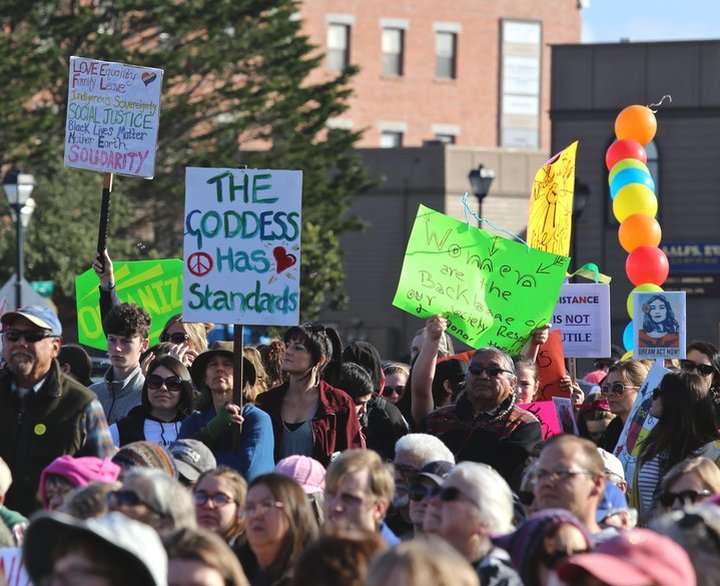 ###

The Eureka Women's March is back on, this time with different organizers. Former Eureka City Councilmember Linda Atkins applied for the permit with the city and says that she and a handful of other people are organizing the event for Jan. 19, as originally planned.
"I did that because everyone around me was so disappointed that the march was cancelled," Atkins told the Outpost Friday evening. Atkins said she kept waiting for someone else to take out the permits and plan another march. But when no one did, she decided to take charge herself.
Organizers for the women's march announced last week that they were cancelling the event due the organizers being "overwhelmingly white." The statement stirred up some controversy and made national headlines, many news outlets interpreting the statement as referring to the march's participants. The story was picked up by Fox News, the Washington Post and Newsweek, to name a few.
Though the organizers did issue a follow up statement to clarify their intentions, many people still felt that the decision to cancel the march was unwarranted.
Last year's organizers said that they were planning to reschedule the event for March, near International Women's Day. But Atkins feels it is important to have an event in January, at the same time as the other national women's marches.
When asked how she plans to address the other organizers' concerns of diverse representation, Atkins said she is trying be as inclusive as possible and to line up a diverse group of speakers. Though she didn't have anyone scheduled yet, as she had just begun organizing that day. She also feels that as a gay woman, she will help ensure the event is inclusive of the LGBTQ community.
With the march now only two weeks away, Atkins realizes that it will be difficult to pull off. But she's not too worried about the participation. "If we have it, people will come," she said.
Atkins also said she had not made an attempt to reach the organizers who cancelled the event. The Outpost's attempt to reach the organizers has been unsuccessful at the time of publishing.
The march is schedule to meet on Jan. 19 at noon at the Madaket Plaza in Eureka. You can find more information on the event's facebook page. If you are interested in volunteering, Atkin's can be reached at lindaatkins61@gmail.com.