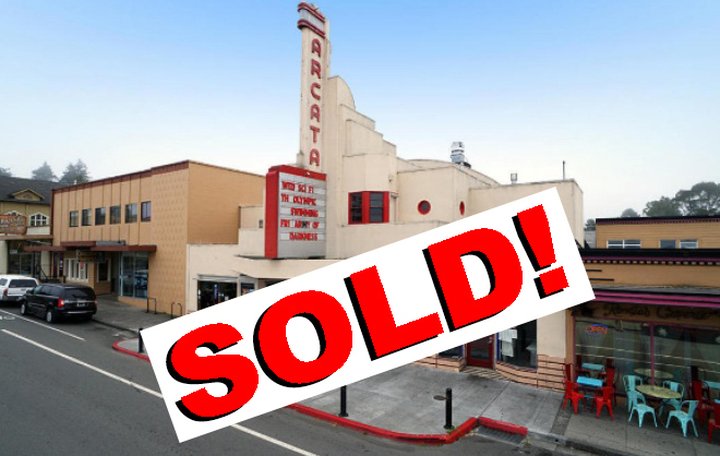 Outpost file photo of the Arcata Theatre Lounge.
After sitting on the market for nearly three years, the Arcata Theatre Lounge is in the process of being sold to two young businessmen with plans to revamp the historic movie house.

Co-buyer Joseph Ostini told the Outpost that the business is expected to change hands next month, after he and his 23-year-old business partner Timothy Overturf made an offer in June under their newly-formed company Joseppi's LLC.
"We are in escrow and set to close in early August," the 27-year-old said. "We inspected the space and it passed all that. We're in the final stages of the purchase."
Ostini and Overturf said they have exciting new ideas for the 80-year-old venue, but also plan to preserve many of its traditions like Sci-Fi Night, the Mr. Humboldt Pageant and Sunday night movies.
Current owners Lara and Brian Cox, who purchased the theatre in 2004 and remodeled it in 2009, told the Mad River Union in 2016 that they decided to sell the theater because they were in their mid-50s and feeling "kinda burnt."
"Lara and Brian have spent the past 15 years helping to develop the live music scene in Humboldt County," Ostini and Overturf said in a statement. "They are ready to move on and we are very excited to bring our vision to this one of a kind building. We have a lot of plans for the ATL including a remodel at some point in the not so distant future."
The business partners said they plan to build upon the Coxes' work by adding more business days, new menu items and more screens for live sporting events.
"We do plan on having more of a sit down environment with table service instead of counter service like it is now," Ostini said. "On Sundays, in addition to family movie night, we're going to have a sports day with a couple of different screens showing multiple games."
Ostini said they plan to add the additional screens by September in hopes of offering football fans multiple NFL games on Sundays, as well as food specials and bottomless mimosas.
While the average twentysomething isn't buying up historic landmarks or opening bottomless mimosa restaurants, Overturf is no stranger to business operations. He's served as the CEO of his own investment company, SISU Capital, since 2014. Ostini, meanwhile, gained business experience while attending Humboldt State University, where he earned a degree in environmental science with a minor in business.
"Overturf" is likely a familiar name for some North Coast residents as Timothy Overturf's father, Hans Overturf, was arrested by the Del Norte County Sheriff's Office in 2004 after he allegedly urged an elderly Crescent City couple with progressive dementia to invest $730,000 in Redwood Parks Lodge Co. (Overturf settled the case in exchange for a large payment, and charges were dropped.)
Timothy Overturf, who was 9 years old at the time, said he isn't especially familiar with the incident, but said that his father is not involved in any of his business operations and added that he moved back to Switzerland roughly 15 years ago.
It's unclear how much Ostini and Overturf will pay for the beloved Art Deco theater due to a non-disclosure agreement they signed in the deal. However, according to the realty website Zillow, the business was initially put on the market for $1.85 million. The asking price was then dropped to $1.65 million in 2018, and finally $1.5 million earlier this year.
The Outpost attempted to contact the Coxes for comment but did not receive a response.