In an email address to the city council and sent to staff sent this morning, Eureka City Manager Greg Sparks announced that he will retire by the end of the year.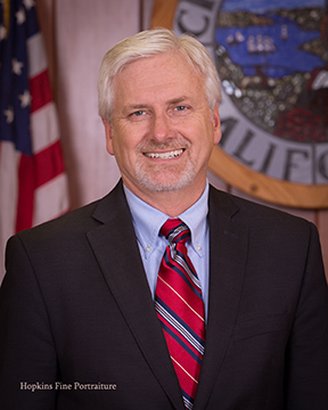 Sparks has served as the head of Eureka city government for the last five years. He was officially hired in March 2014, taking over a few months after the turbulent reign of former city manager Bill Panos, who lasted less than a year.
During his tenure, Sparks shepherded the city through a political sea change and a number of high-profile projects, including the dismantling of homeless encampments at the Palco Marsh, a crackdown against slumlords and problem motels, the drafting of a new General Plan and the completion of the Waterfront Trail. When he was first appointed, back in 2014, the council was controlled by the city's conservative faction; today, all its elected officials are from the progressive side of the aisle.
We'll have more about Sparks' legacy later. His email to city staff members this morning follows:
Dear Mayor Seaman and City Council:

It has been my great personal and professional pleasure to have served as City Manager of Eureka since May of 2014. After forty years of working in local government, I plan on retiring by the end of 2019.

I would particularly like to thank Mayor Seaman, former Mayor Frank Jager, and the current City Council and past councilmembers for your leadership and commitment to making Eureka a great place to live, and for your support to myself, the city's management team, and our employees. The one thing that stands out to me the most about our elected officials are your consistent level of sincerity, honesty and courage that you bring to governing and decision making.

I am extremely proud of the city's management team. They are smart, innovative, creative and dedicated to high quality government services for our community. Our employees at all levels of the organization strive to provide excellent customer service and to meet the needs of all of our residents. To be a part of such an organization — one that makes government work for everyone — is why I entered local government.

And finally, to the 28,000 people who call Eureka home: Eureka will continue to change, thrive and prosper due to the resiliency of all who live here.

I look forward to assisting the Mayor and City Council in the recruitment and hiring of a new City Manager, and will do all that I can to accomplish an effective transition.

Sincerely,

Greg L. Sparks
City Manager