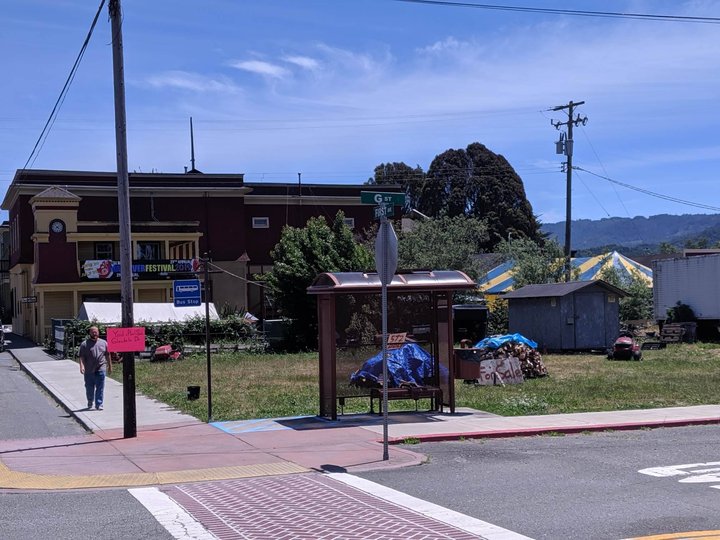 For a city of only about 1,200 people, Blue Lake kind of has a lot going on. It's home to the Dell'Arte Theatre, the famous Logger Bar, the Blue Lake Casino, the Roller Rink. But what is the one thing the city is missing? Other than a lake, of course?
Unlike its neighbor to the west, Arcata, Blue Lake has no plaza.
In order to mend this hole in Blue Lake's heart, city officials are working to develop the vacant lot on First and G streets into a public park, which would serve as a town square.
"I think it will be a nice addition to the community," Blue Lake City Manager Amanda Mager told the Outpost. "It's a very small space we're looking at, But it connects well to the Dell'Arte outdoor performance space. It doesn't have to be huge, it just has to be nicely done."
The parcel in question is pretty small. Mager was not sure of the exact square footage. The space spans less than one city block. But Mager believes that if it's properly designed, the park could hold some impressive amenities. One potential idea for the park, Mager said, is an interactive water feature. Mager thinks that would be very popular on those hot summer days in Blue Lake.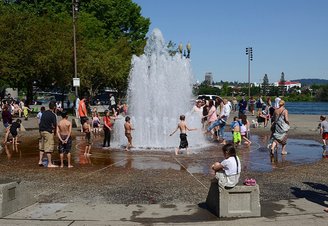 But before you get too excited about the idea of frolicking in a refreshing fountain, you should know that the project is still in very early planning stages. Mager said the city is still discussing buying the property with the current owner. City staff are also in the process of pursuing grant funding for the project.
Mager believes that building a town square will help spark economic development in Blue Lake by creating an appealing area for new businesses and helping to promote more tourism. With the city also gearing up to start building the Annie and Mary Trail — a multi-use trail which will connect Blue Lake and Arcata, and will also be the beginning of the Great Redwood Trail — Mager says the city is working hard to promote Blue Lake as a regional recreation destination.
But the city really wants to know what ideas the community has for creating a beautiful, functional town square. There will be a public meeting on Monday June 17 at 5:30 p.m. on the lot on First and G streets. Attendees will have an opportunity to explore the site, ask questions and share their input on this project.
"We're hoping people will bring their creative minds and help us determine a pathway," Mager said.
Info is posted on the City of Blue Lake's Facebook page. You can also contact Blue Lake City Hall with any questions.