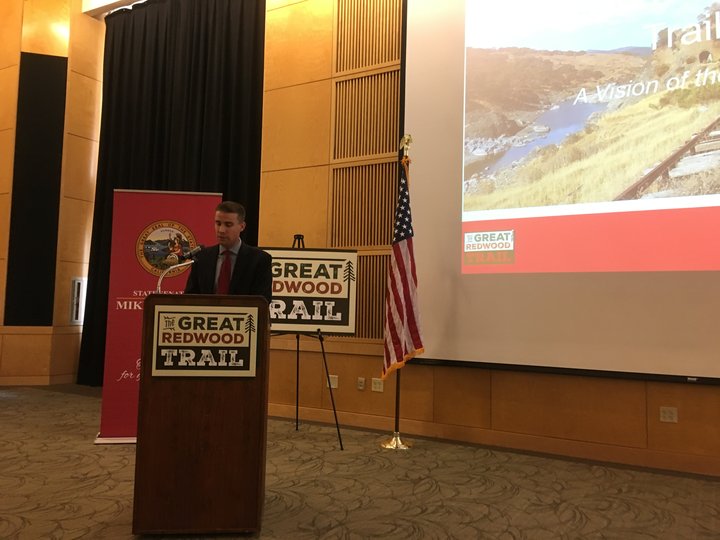 Elected officials, trail enthusiasts and supporters packed into HSU's Kate Buchanan room Saturday morning for the the third annual Humboldt Trails Summit.
Hank Seemann — Humboldt County's Deputy Director of Public Works — began the summit presentation by highlighting some local trail projects including the Humboldt Bay Trail, which is nearing its final stage of completion and the Annie and Mary Trail, which is in the planning stages.

"It's great to see the commitment and effort to make these trails happen," Seemann said.

But the main focus of today's summit was the Great Redwood Trail — a proposed project that would convert 300 miles of railway into a trail stretching from Humboldt Bay to San Francisco Bay. Sen. Mike McGuire hosted this portion of the presentation, providing information on the current state and future of the project.
"We are here at the formal launch of the transition from the bankrupt North Coast Railroad Authority to the creation of a world class trail system," McGuire said to the crowd.
This ambitious project has become more of a reality since the passage SB 1029, known as the Great Redwood Trail Act, which eviscerates the North Coast Railroad Authority (NCRA) and prioritizes the creation of trails along the inactive railroad.
But there is a lot of work ahead for this vision to be realized, McGuire explained. One step, he said, will be forming a successor agency to the NCRA. Dissolving the NCRA also presents a challenge because the of the agency's massive amount of debt. The state legally has to pay off the NCRA's debt, which McGuire said is estimated to be at least $10 million. McGuire said that an audit has been launched into NCRA's debt, which is expected to be completed by June 2020.
Some other steps which will be necessary for completion will be railbanking the line (which allows the abandoned rail lines to be used as trails), launching a boundary assessment to establish all the specific properties the trail would run through, completing a full trail assessment and launching a trail master plan.
The trail also requires the collaboration of many counties and cities. For Humboldt County's part, completion of projects like the Humboldt Bay Trail — which will eventually connect to the Great Redwood Trail — help to advance the ambitious project.
McGuire said that the project will take many years to complete. But he is confident that it will happen.
"We've always known that creating the Great Redwood Trail is not gonna be quick and it's not gonna be easy," he said. "It has to be done carefully, not fast. It has to be done right."
###