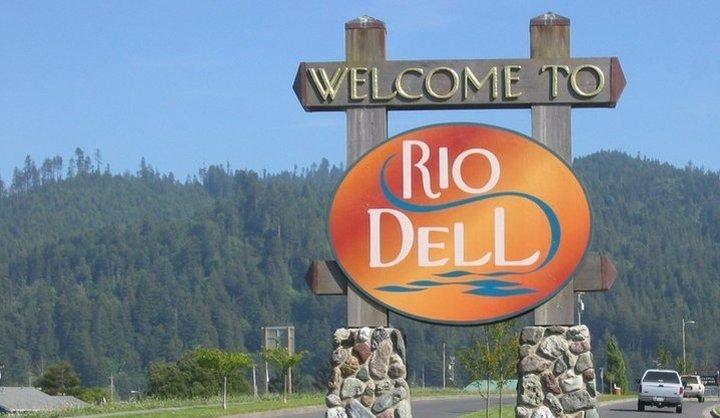 The tiny, charming town of Rio Dell will likely soon have three places to buy legal weed. The Rio Dell City Council is set tonight to approve applicants for cannabis retail permits in the town center. These would be the first cannabis dispensaries in the city.
Rio Dell has been opening its arms to cannabis businesses for some time now, approving the development of the Rio Dell Business Park — a complex of three cannabis facilities on the site of the defunct Eel River Sawmills — which is currently under construction.
In March of this year, the City introduced a cannabis reform package, which included an amendment to the land use codes to allow for three cannabis retail dispensaries in Rio Dell's Town Center Zone. (Previously, cannabis permits were restricted to the business park.)
Rio Del City Manager Kyle Knopp told the Outpost that the decision to allow for cannabis dispensaries in the town center was partially because the City took a big financial hit when the Eel River Bridge, which runs between Scotia and Rio Dell, was closed between March and August of 2018.
"The summer is our big time of the year," Knopp said. "The bridge being closed without warning really negatively impacted our local business."
So, the city put out a request for proposals for cannabis retail outlets and received six applicants. Of those, city staff is recommending four for the council's consideration, of which three will be able to receive the conditional use permits.
Once the council approves the applicants, which Knopp said is likely, the businesses will be able to go through the normal permitting process. The permits will then go before the Rio Dell Planning Commission for final approval.
Knopp said he is excited for these new developments, which he hopes will help revitalize Rio Dell's downtown.
"Potentially we have an opportunity here where free, underutilized structures — some that have been unoccupied for many years — will be remodeled and brought to use," he said. "We're really excited about what it can do to help other business down there and to spur additional investment into downtown Rio Dell."
The Rio Dell City Council meets tonight at 6:30 p.m. at Rio Dell City Hall — 675 Wildwood Avenue.
You can view the full agenda here.